31/08/2022
The KEDGE Foundation has published its annual report
Find out what actions we were able to carry out thanks to the generosity of the sponsors and Alumni donors. Download the PDF "Annual Report" (pdf) at the bottom of this article. We would like to express our warmest thanks to our patrons for their commitme
Despite the challenging conditions of 2020-2021, which were impacted by health and social crises, the KEDGE Business School Foundation for Responsible Management was able to draw on the generosity of its patrons to support its students and projects.
A total of 1,045,583 euros was collected to finance the school's projects, and was apportioned as follows: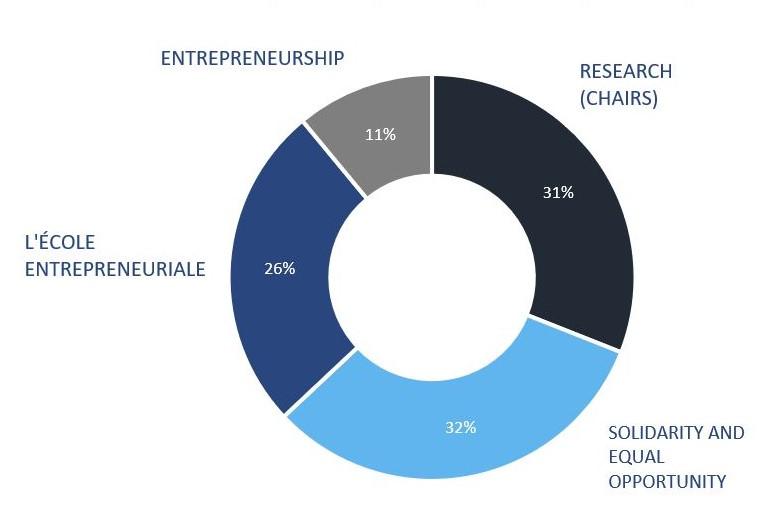 THE ACTIVITIES FINANCED BY THE FOUNDATION HAVE THREE MAIN FOCUSES
Promoting research
The Foundation supports managerial research in order to offer its students teaching that is always up-to-date and that corresponds to the challenges facing companies and the ecosystems in which they operate. To this end, it finances the creation of research chairs in promising and innovative sectors. 
Almost 1.5 million euros has been distributed to the five research Chairs since 2011:  
Putting people at the heart of our actions
The Foundation's partners have provided support for our students through the financing of social grants, an emergency fund that can be mobilised in the event of a crisis (health or humanitarian), particularly during the Covid crisis, and Wellness. (In French)
300,000 euros for the  Wellness scheme since 2013
More than 300 grants in 2020-2021
Creation of an emergency fund to respond to the needs that arose out of the Covid crisis
Fostering an entrepreneurial spirit
The Foundation finances the school's incubator, (Business Nursery) which operates on all four of the school's campuses in France, as well as the scholarships awarded to the participants. One of its partners also sponsors The Wonders, a network of women entrepreneurs co-created by KEDGE Entrepreneurship and Fatou Ndiaye, an Alumna of the school. 
2021-2022: 139 entrepreneurs have received support 
246,300 euros paid to the Business Nursery since 2013
THE ENTREPRENEURAL SCHOOL
At the intersection of its social policy and its expertise in entrepreneurship, KEDGE Business School has created an innovative and 100% philanthropic programme: the Entrepreneurial School. This Centre of Excellence is intended for young people from priority urban neighbourhoods or rural areas who have at least a bachelor's degree but no professional skills. The Entrepreneurial School provides them with support for three years in two ways: they obtain a specialised certification issued at the end of their studies, and their entrepreneurial project is incubated in the Business Nursery.
In 2021, there were 34 students in Marseille and Bordeaux 
Since 2020, nearly 392,000 euros have been invested in this programme. 
Click on the button below to download the full report. 
DID YOU GET A PROMOTION, OR ARE LAUNCHING A PROJECT OR A START-UP?