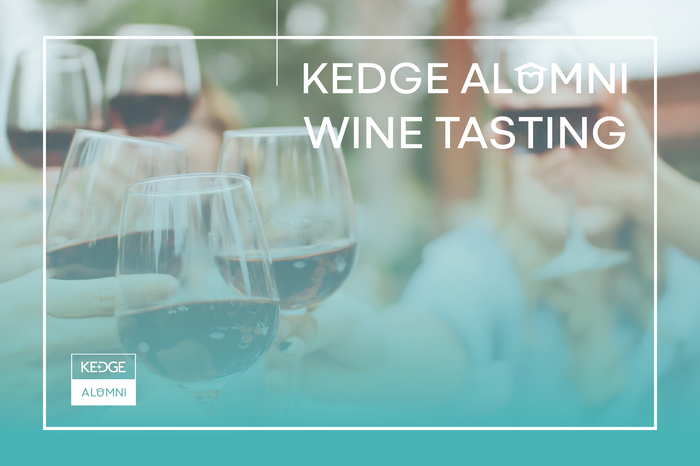 03/09/2021
KEDGE Alumni Wine Tastings
In-person, and online on the Bordeaux campus
🍷 New year for the KEDGE Alumni Wine Tasting courses! 🍷
The principle is simple: meet and have a good time learning about a theme, a variety, a wine region, or a country. These events, which have taken place for 20 years now, are led by Muriel Petit, professional oenologist, and KEDGE Alumnus Olivier Mora.
Historically, meetings were held on the Paris campus, but after the pandemic, we went digital. As these events were available to anyone throughout the world, As such, 117 participants – graduates, students, or members of the general public – were able to get together over the year for these meetings, attending from France, Germany, Belgium, Spain, United States, Luxembourg, Switzerland, and others.
---
For this year, both formats are offered
🍇 Online sessions
Online sessions are held once a month from 7:00 to 9:00 pm.
Dates and sessions:
FIRST SEMESTER
SECOND SEMESTER
🍇 In-person sessions on the Paris campus
Sessions will begin again on the KEDGE BS Paris location, once every two months from 7:30 to 10:30 pm.
The wines chosen by our oenologist will be presented and tasted during the session, accompanied by dishes that go with the theme of the evening.
Session dates and themes:
Led by:
Muriel Petit has been an oenologist for many years. She conducts courses in both large and small companies, associations, schools, and restaurants. Muriel's website is : "Muriel Petit chef à domicile et formation". "Muriel Petit has been a wine and cooking instructor since 1997 for catering professionals, companies, and individuals. She offers her services as a home chef, as well as courses and oenological and culinary events for all audiences (professionals, companies, individuals, works councils, associations, adults, and children)."
YOU ARE NOMINATED, YOU LAUNCH A PROJECT, A START-UP?