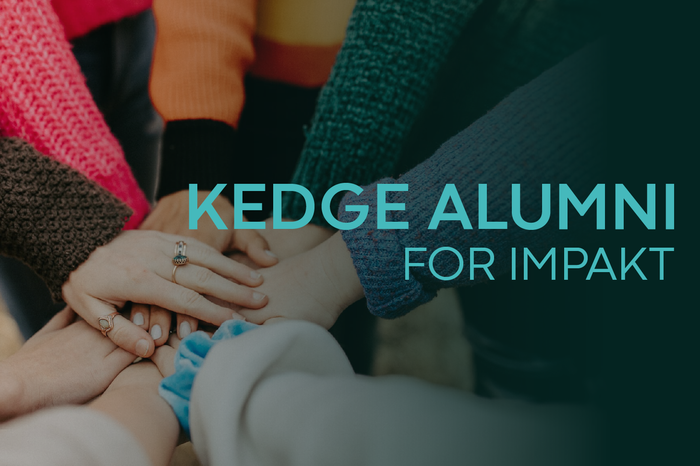 07/11/2022
KEDGE Alumni for Impakt: We can create this new network together!
The movement has begun! Below are the next steps to further define the objectives and priorities of the network.
Following the call for input we made in October, several hundred of you have (already) expressed your interest! Here are the next steps to be taken in order to jointly define the objectives and priorities of this new network.
IT'S YOUR TURN TO ACT 🎓
We are using a new form where you can:
Identify what you expect from the "KEDGE Alumni for Impakt" network
Start working on defining a common vision for the network, reflecting the diversity of your backgrounds and fields of expertise
PARTICIPATE IN OUR FOCUS GROUPS 🎯
Following the initial feedback responses we received from you, we would like to give you a say in the matter! This is why we will soon be organising several online focus groups to survey graduates in order to define the future of the KEDGE Alumni for Impakt network. Now is the time to give your input in shaping this network!
Participez à nos Focus Groups : KEDGE Alumni for Impakt
Comme vous le savez, nous lançons le réseau KEDGE Alumni for Impakt destiné à fédérer nos diplômés qui contribuent d'ores et déjà ou souhaitent contribuer à la transformation écologique et sociale des organisations, et des différents secteurs d'activité. C'est le moment ou jamais ...
You can now begin to participate in the next steps:
January 2023: Pooling and sharing of the concept for the network's positioning and presentation
January - March 2023: Co-construction of the network's management ( overall functioning, ambassadors, etc.)
Spring 2023: Official launch event of the network (on campus & online)
Please contact Dorian SIMON-MESLET, Direction Transition & Impact, for any questions dorian.simon-meslet@kedgebs.com
 
The KEDGE Alumni team and the KEDGE Transition & Impact department.
YOU ARE NOMINATED, YOU LAUNCH A PROJECT, A START-UP?