01/06/2021
Georges Klenkle, KEDGE Alumni Association's new President
KEDGE graduate (GEP 1995), Member of the KEDGE Foundation, Co-founder of Degetel, Eugeka and FreemiumPlay, Georges Klenkle has just been named the new President of KEDGE Alumni.
On 18 May, Georges Klenkle was elected as the new President of KEDGE Alumni, the graduate association of KEDGE Business School.
A 1995 graduate of KEDGE Business School and a Member of its Foundation since 2010, Klenkle has a significant 25 years of experience in the entrepreneurial world. Passionate about new technologies, he is an expert in the IT industry, services, user experience, e-commerce, mobile applications, and digital strategy.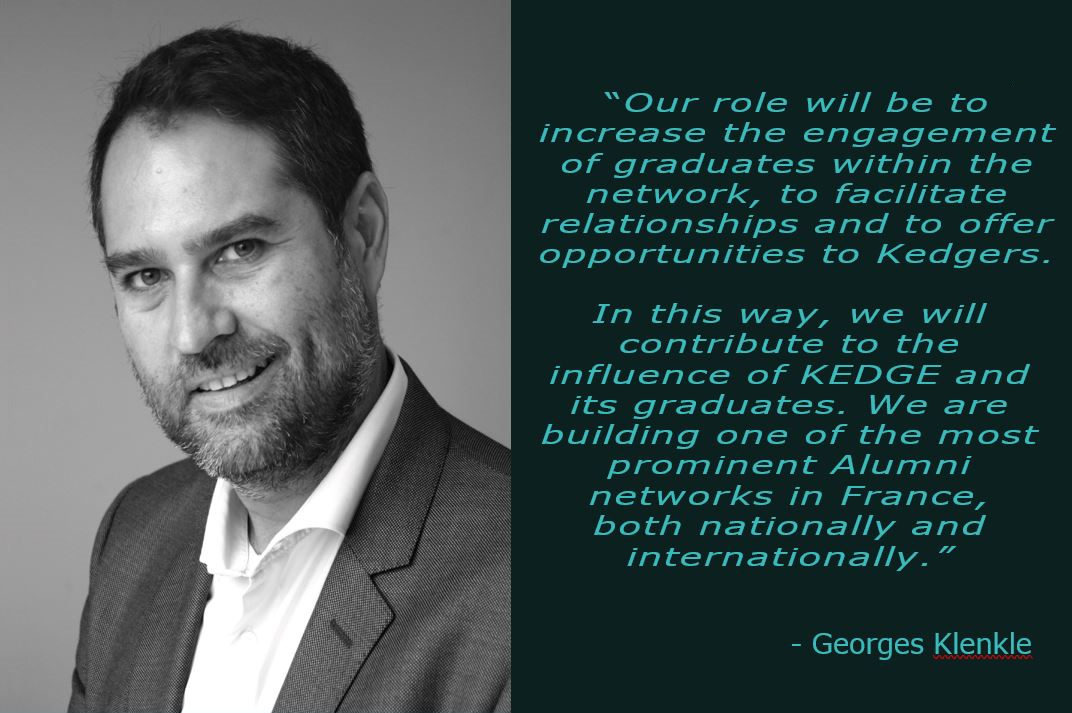 PORTRAIT - GEORGES KLENKLE LINKEDIN - GEORGES KLENKLE
Members of the Board of Directors: Fabrice Deblock, Bertrand Espitalier, Isabelle Voet, Anthony Deydier, Evelyne Manalich Nold, Sylvie Ducos, Thomas Bonnaud, Julie Katz, Vincent Goalard, Bérangère Ferrier, Rozenn Marechal, Dimitri Mieral, Grégoire Durival, Jean-François Thunet, and Florian Turcon.
---
Georges Klenkle succeeds Xavier Abadie after 10 wonderful and happy years as President of the Association. "From the beginnings of the adventure with BEMlents to the fusion between the associations of the Bordeaux and Marseille schools", Xavier Abadie has managed and guided the KEDGE Alumni Association with passion and commitment.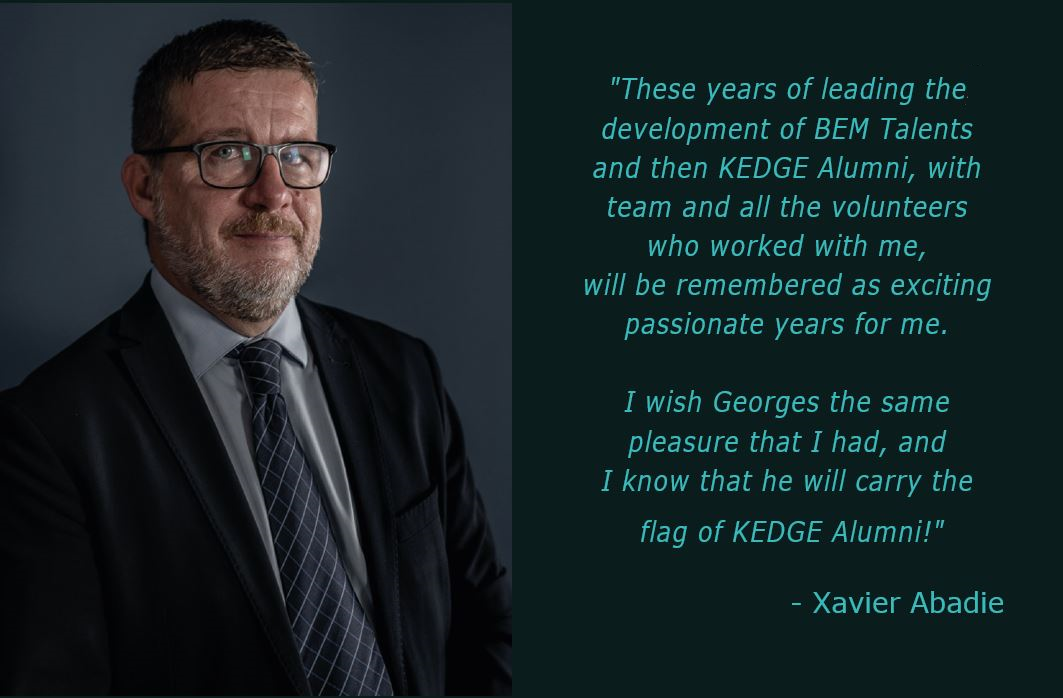 (That's it, all finished.... I wanted to express the pleasure and pride I've felt over the last 10 years as President of KEDGE Alumni. From the very beginning of the adventure with #BEMTalents, to the merger of the associations of the #Bordeaux and #Marseille schools, what a journey it's been! It's time to say thank you. Thanks to: -All the #volunteers who keep the association going by managing the branches, the Board of Directors, by giving their time. You are all wonderful. -Nathalie DUMAS LAMBORGHINI for our pair! - Stéphanie Pallas, Aurélie Prouillac for the fantastic graduation days awarding diplomas in Bordeaux -To the Admin at KEDGE Business School, to Agnès GRANGÉ its President, and a very special hello to Jacques Faurens- The team in charge of the network: Frédérique Gobert, Brigitte Van Roy, Lola Gouitaa, Noellie LAMBERT, Robin Larroze, Hugo Curtil, with a special thanks to Julie PACHON-MOULIS for your support from the very beginning, your professionalism, and your good mood. It's thanks to you that the Association is what it is today: You Rock! Good luck to Alexandre de Navailles and Anil Benard-Dende: I sincerely believe that your direction is the right one. And of course, I end with my best wishes for the newly elected President Georges Klenkle and all his team! Kudos!)
XAVIER ABADIE - LINKEDIN
DID YOU GET A PROMOTION, OR ARE LAUNCHING A PROJECT OR A START-UP?