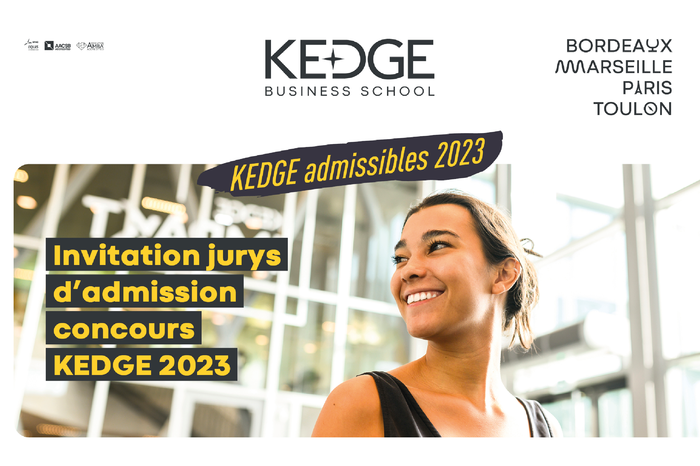 31/03/2023
Become a jury and participate in the recruitment of future KEDGE students
KEDGE graduates, we need you. The school would like to invite you to the selection juries of the future students who will be joining the school next year. Your participation is essential!
Dear graduate, 
We are here ! Like every year, the season of oral admission tests is about to begin and the future KEDGERS need you!
Accompany us in the selection of the best candidates who will continue to make the reputation of your school and make it rise in the rankings, and live a global experience. Indeed, this year, we offer you an experience that goes beyond the jury, on our campuses of Paris, Marseille, Toulon, Bordeaux. During your visit to the KEDGE BS sites, you will be able to take part in networking lunches: an opportunity to exchange ideas between alumni, with our partner companies and with professors, to interact with the startups we host and, for those who wish, to visit the spaces that our campuses make available to professionals (business nursery, alumni space...)
We count on you, and we thank you in advance, on the following dates:
From April 17 to 29 for the KEDGE Bachelor

(post-baccalaureate program that delivers a Bac+3);

From April 27 to May 16 for the EBP International

(post-baccalaureate program that delivers a Bac+5) and the International BBA (post-baccalaureate program that delivers a Bac+4);

From May 15 to June 30 for the Grande Ecole Program

(which recruits students from preparatory classes and students in parallel admission with a minimum of Bac+3).
As a graduate, whether you are experienced or a young professional, you have an important role to play in evaluating our candidates (approximately 12,000 this year) during their oral interview.
Each jury is composed of two people: a professional (graduate, corporate partner) and a professor or an executive from KEDGE BS. The jury meets in half-days in the morning starting at 9am and/or in the afternoon starting at 2pm and receives 5 to 6 candidates during each half-day.
You can register by choosing the campus and program(s) of your choice by clicking on the button below:
Please note that we offer several coaching sessions for those who wish to become an admissions jury. Do not hesitate to register.
The future KEDGERS thank you in advance for your involvement in the quality of recruitment which makes the reputation of the school and the value of your degree
Good to know:
Participation in our juries is on a volunteer basis. You will be invited to have lunch with us on the day of your jury.
Please note that KEDGE does not cover travel expenses.
YOU ARE NOMINATED, YOU LAUNCH A PROJECT, A START-UP?