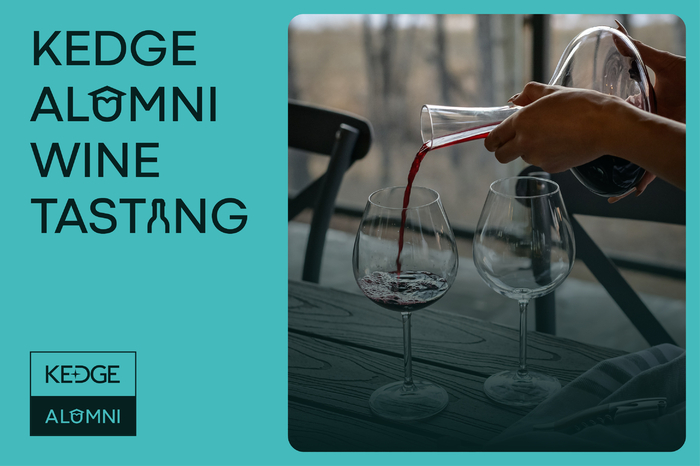 Paris Kedge Alumni Wine Tasting
Presentation
Presentation
Paris Kedge Alumni Wine Tasting is led by Olivier MORA (ESC 1999) since 2004 and by Muriel Petit, a professional oenologist (since 2000). The principle is simple: the alumni gather around a table, once a month on Thursdays, for three hours (7:30 p.m. to 10:30 p.m.) to explore a theme, a grape variety, a wine region, or a country. All the wine bottles are carefully selected by Muriel, Olivier, and different wine merchants. You will also have the opportunity to discover different foods that combine perfectly with the wines chosen for the evening. No prior knowledge about wine is required. The professional oenologist is here to reassure you, not only about the quality of the class but also about the quality of the wines you will taste.
Objectives
The oenology class take place in two parts: from 7:30 p.m. to 8:15 p.m. you participate in a comprehensive course on the chosen topic and receive teaching materials, then from 8:30 p.m. to 10:30 p.m. you get to taste the chosen wines. Specific foods will also be chosen to accompany the wines. We don't just drink wine! We observe it, smell it, taste it, and then talk about it! You will learn to identify grape varieties, recognise aromas, understand the sensations the wine provokes and learn the specific vocabulary... Unlike some of us, wine gets better with age! Therefore, we will taste younger and older wines in order to learn about age markers. Why is a wine from one region and not from another? Why is it that two winemakers in the same area don't produce the same wine? We will try to provide a friendly answer to all your questions. :) Now, it's up to you to join us for a fun evening! You can sign-up for an entire semester, or per session.
About Muriel Petit
Muriel has worked as an oenologist for several years. She conducts classes in big, as well as small companies, non-profits, schools and in restaurants. Muriel has her own website: Muriel Petit chef à domicile et formation. "Muriel has been a wine and cooking instructor for restaurant professionals since 1997. She is also a private chef, and conducts wine and cooking workshops for various groups (professionals, companies, individuals, Boards, non-profits, adults, and children)".
Olivier MORA (1999) - Manager

Olivier Mora (Kedge 99) vous propose avec l'aide d'une œnologue professionnelle, Muriel Petit, une session de 3h au sein du Club parisien d'Œnologie de KEDGE Alumni sur un thème choisi. Aucun niveau n'est requis pour participer à ces ateliers. Vous êtes déjà très nombreux à nous avoir rejoints depuis plus de 10 ans. Alors pourquoi pas vous ?

Email :