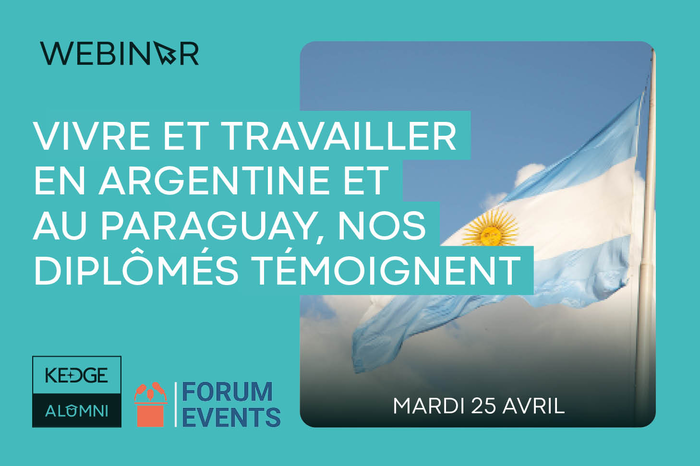 Webinar: Living and working in Argentina and Paraguay, our graduates tell us all
As part of our monthly "KEDGE Alumni Around the World" conference series, two graduates living in Argentina and Paraguay tell us about their experiences
Today, it's the countries of Argentina and Paraguay's turn to be studied and reported on by those who know it best: our expatriate graduates who, despite the distance, receive support from KEDGE Alumni throughout the year thanks to our range of online services.
SEE ALL SERVICES FOR KEDGE ALUMNI LIVING ABROAD
🧭️

Conference Objectives

Run by our branch hosts, on-site alumni, and the teams of KEDGE Alumni, and in association with the members of the student association Forum Events, this participative conference strives to bring our graduates and students closer together, while answering the questions of Kedgers who are curious about living and working abroad.
👤

Who's this online conference for?

This conference is open to all Kedgers, whether they be graduates or students, as well as the entire KEDGE community (partners, teachers, staff, etc.), and anyone else interested in the topic. Have you dreamed about doing an internship abroad, attending a partner university, or living abroad? Then this webinar is for you!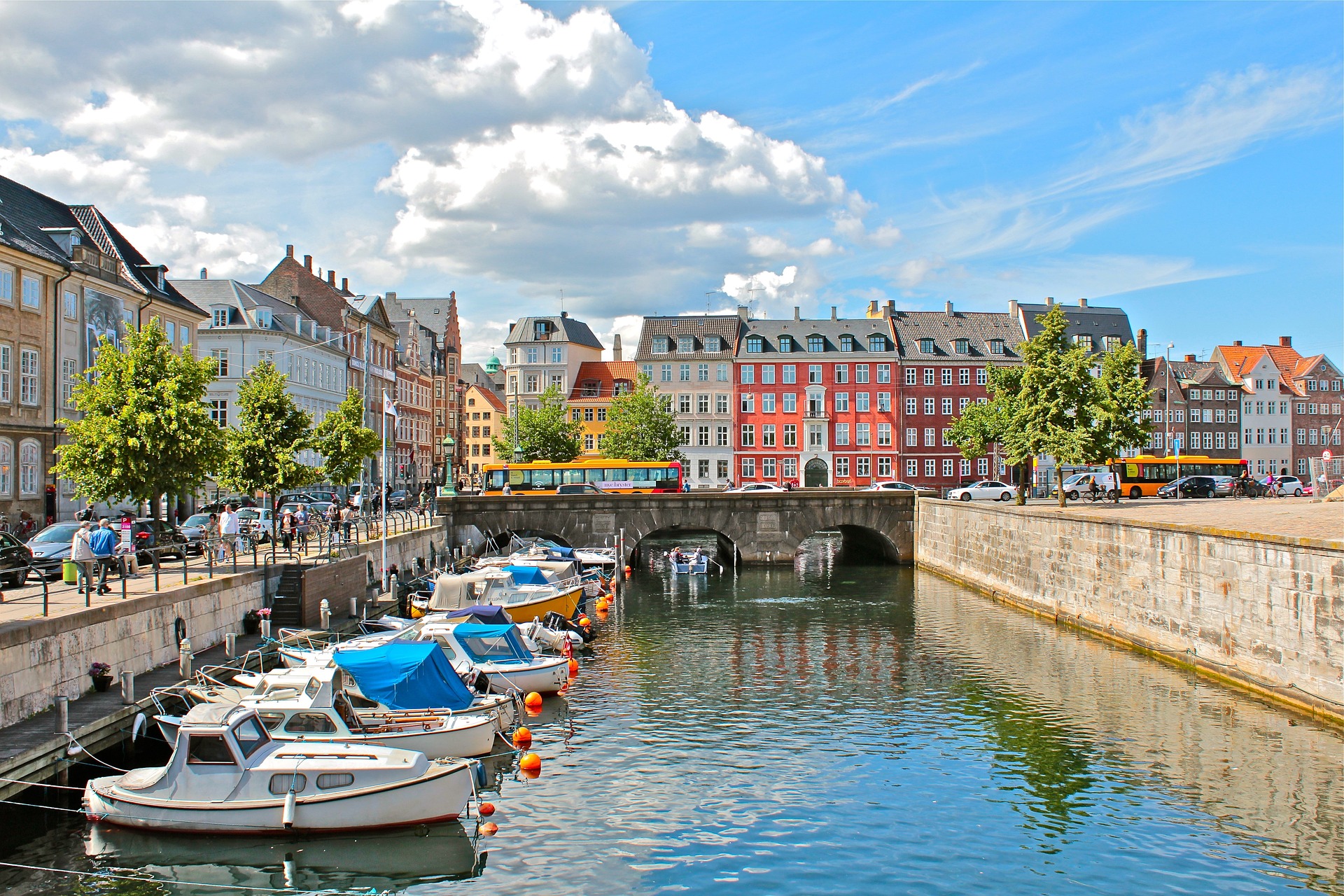 📝

Programme
Argentina

: The second largest economy in South America, the "Land of Money" as it is nicknamed, is a multi-ethnic country that is very popular for expatriates. It is distinguished by its culture and history, as well as for its stunning landscapes, which are a source of delight for adventurers.

Paraguay: A small country in the centre of Latin America, Paraguay is a great place to live. Lush flora and fauna, subtropical climate, low cost of living, and simplified administrative procedures are the ideal combination to consider when relocating abroad.

...

would you like to learn more?
Introduction by KEDGE Alumni
Conversations and discussions with Alumni living in Argentina and Paraguay. what you need to know before deciding to live, whether temporarily or permanently, in one of these countries

QUALITY OF LIFE/LEISURE ACTIVITIES

:

Universities, accommodation, the healthcare system, transport, cultural spots, etc.
INTERNSHIPS/EMPLOYMENT/ECONOMY: The job market, major companies, promising sectors, professional opportunities, contracts, agreements, salaries, good advice for finding an internship, a VIE, and employment contracts when you are an expatriate.
And other helpful tips!
The conference will take place at 5:00 pm French time!
It will be 1:00 pm in Argentina and Paraguay!
⚙️ FORMAT
Online

1.5 hours

25/04/23
5:00 to 6:30 pm
French
📎 Useful Links
---
Conference led students from the Forum Events Association

Since 1997, the Forum Events Association has promoted culture, current events, and debate on the KEDGE Business School campus in Bordeaux by organising free conferences in collaboration with prestigious speakers.

Forum Events also publishes the Forum, a student newspaper that analyses and breaks down current issues that influence society and the life of the school.

The Association also manages several Pro-Acts that focus on contemporary issues, such as politics, the economy, CSR, culture, and public speaking.
Arnaud MALFOY
Founder - Learn French Intuitively

Arnaud graduated from the KEDGE Grande Ecole Programme in 2005 with a specialisation in finance. He has 15 years of international experience in project management, financial markets, technology, corporate finance, consulting, and education in companies ranging from start-ups to multinationals in Europe, North America, Asia, and South America. He has notably worked for Tradeweb (the world's largest electronic bond and derivatives platform), starting out in London before becoming Vice President at the company's New York headquarters. Arnaud was also a project manager for a Malaysian startup (Builtamont Tech International) in which he managed a multi-billion project in the region. He is also a certified Prince2, Six Sigma Lean Black Belt Professional and Agile Scrum Foundation. In 2021, he moved to Paraguay and developed an innovative methodology to learn French online in a fast and fun fashion. Arnaud speaks several languages, is passionate about his work, and has travelled extensively.

Carolyne GALLOIS
Sales Executive - CMA CGM

Carolyne is Franco-Chilean and a graduate of the PGE program's class of 2019. Fluent in 4 languages, international business was an obvious choice for her during her studies. Her first experience abroad came during her gap year, with an internship as an export sales rep for a vineyard in Santiago, Chile. Santiago de Chile in 2017-2018, followed by a short stint in marketing at HAVAS Media in Buenos Aires, giving her a taste of life in the country where she already plans to settle after graduation.
Back in Marseille for the final year of her PGE Master's program, and after researching the French international trade companies present on the South American continent, she decided to move to Buenos Aires.on the South American continent, she applied for her end-of-studies internship with CMA CGM, keen to discover the world of shipping. She worked there for 6 months as a pricer for the East Coast Shipping Line on the American continent, and began to develop a passion for this constantly evolving field, in daily contact with colleagues all over the world.
After graduating, she moved to Buenos Aires in September 2019, and worked for 1 year at GEFCO as a business analyst, deepening her knowledge of the industry.This enabled her to deepen her knowledge of the transport sector, including air and ground transportation, while discovering all the specificities of the Argentine market. She found an opportunity to join CMA CGM in 2021 in the Argentina branch, starting as sales support. A few months later, she was promoted to sales executive in charge of developing local accounts and monitoring key accounts negotiated abroad, a role she continues to fulfil with passion and determination.

Email :
Arnaud MALFOY

Arnaud has a master degree in management with a major in finance from a top European business school as well as 15-year International experience in Project Management, the Financial Markets, Technology, Corporate Finance, Consulting and Education in Europe, North America, Asia and South America in companies ranging from startups to MNCs. He worked notably for Tradeweb (the largest electronic bond and derivatives platform in the world) where he started in London and then became a Vice President at their head office in New York. He was also a project manager for a Malaysian startup (Builtamont Tech International) where he handled a multi-billions project in the region. He is also a certified Prince2 practitioner, Six Sigma Lean Black Belt Professional and Agile Scrum foundation. Since 2021, he moved to Paraguay and developed an innovative methodology to learn French online in a fast and fun way. Arnaud speaks several languages, is passionate about his work, and has traveled extensively.

Email :