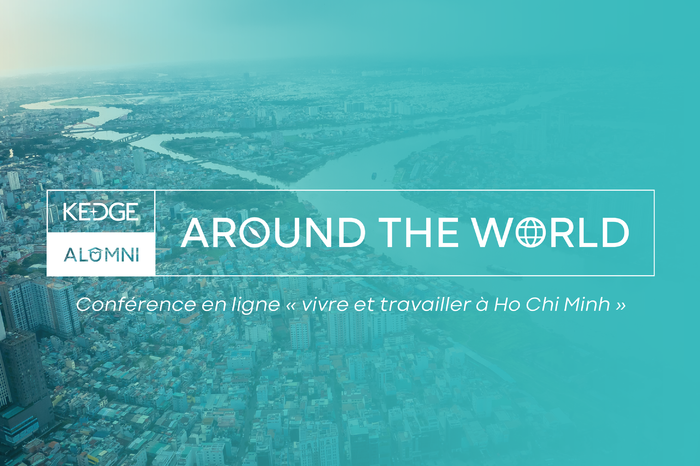 Online conference: "Live and work in Vietnam
As part of our monthly "KEDGE Alumni Around The World" lecture series, three graduates based in Vietnam will talk about their experiences there.
Introduction 👋
Because of the current global health crisis we are living, the 57 international branches of KEDGE Alumni have had to adapt, so this year they are holding a series of conferences highlighting a city, a country, or a region of the world.
On 29 September, the first Webinar of this series put the spotlight on Hong Kong. This time, we look at Ho Chi Minh from the perspective of those who know it best: our expatriate graduates, who receive support from KEDGE Alumni throughout the year despite living far way thanks to our range of online services.
SERVICES AVAILABLE TO ALUMNI LIVING ABROAD
Conference Objectives 🧭️
Led by the KEDGE Alumni teams, together with the students of the Kedger Network Association, branch managers, and local graduates, this interactive conference strives to bring our graduates and students closer together and answers the questions of Kedgers who are curious about living abroad.
Who is this on-line conference for? 👤
This conference is open to all Kedgers, whether a graduate or a student. Have you already graduated and are thinking of a change of scenery? Are you a student and would like to do an internship in another part of the world? Or are you a Kedger simply curious to hear about the experiences from Alumni with a different background from your own? Then this conference is for you!

Programme 📝
Introduction by the KEDGE Alumni network
Conversations and discussions with Alumni living in Ho Chi Minh: what you need to know before choosing to live, whether temporarily or permanently, in Vietnam
Employment/Internships: The job market in Vietnam, working in a foreign country after leaving school or as a Junior, the skills required to work in Vietnam
The Environment and lifestyle: safety, freedom of movement and speech, medical care coverage, climate, travel in the city/country, leisure activities, etc.
Questions / Answers
Conference at 12.30pm French time / 6.30pm Ho Chi Minh time
USEFUL LINKS📎
---
Conference led by students of the Kedger Network association

Kedger Network is the school's sports and cultural events association. More than just an events association, its team has a key asset: it brings together students and professionals. This helps meet the main challenge of any newcomer to a business school, which is to know what makes up the network. Formed in March 2015, this young and dynamic association has seen its projects grow and develop from year to year.
Vincent GOALARD
Entrepreneur - New Medical Venture

Vincent is an entrepreneur and has lived in Vietnam for twenty years, where he's developed two companies, IPS (International Pharma Services) and New Medical Venture. He has a thorough understanding of pharmaceutical and healthcare organisations in emerging Asian countries and is an expert in creating, building, or reorganising fast-growing activities in complex and highly-regulated multicultural ethical environments. He's the new manager of the Ho Chi Minh City KEDGE Alumni branch. The current health crisis has not allowed him to organise an event to officially introduce himself, but this webinar will make you want to meet him!

Email :

Linkedin :

Adrien BIZOUARD
Country Manager - Robert Walters

Adrien has lived in Vietnam since 2012. After completing his final year internship at Iconic, a Japanese recruitment agency, he went to work at Robert Walters in 2013 as a consultant in its Recruitment/Health division. Four years later, in 2017, he became Country Manager. Adrien was in charge of the Ho Chi Minh Alumni branch for several years, with Ornella Valat, a 2012 graduate and his partner.

Linkedin :

Alexandre LORGERON
Account Manager - Agence Happiness Saïgon

Alexander has lived in Ho Chi Minh City for a year. After significant experience in the fields of communication and advertising in the United States, he moved to Vietnam to work for an advertising agency that has won several awards as the best creative agency in Vietnam. His goal is to become an advertising manager who writes new stories and stirs emotions.

Linkedin :

Facebook :

Twitter :