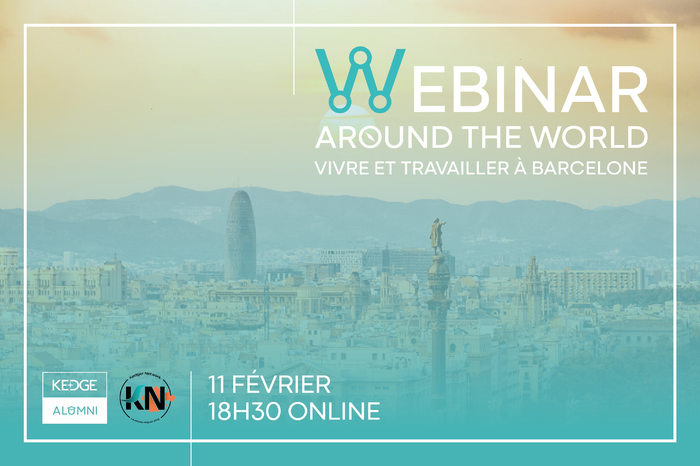 Online conference:
As part of our monthly
Introduction

👋
Because of the current global health crisis, the 57 international branches of KEDGE Alumni have had to adapt. So this year they are holding a series of conferences that put the spotlight on a city, a country, or a region of the world. This time we look at the city of Barcelona from the perspective of those who know it best: our expatriate graduates who receive support from KEDGE Alumni throughout the year, despite living far away, thanks to our range of online services.
SEE ALL OUR SERVICES FOR KEDGERS ABROAD
Conference Objectives 🧭️
Led by the KEDGE Alumni teams, together with the students of the Kedger Network Association, branch managers, and local graduates, this interactive conference strives to bring our graduates and students closer together and answers the questions of those Kedgers who are curious about living abroad.
Who's this online conference for? 👤
This conference is open to all Kedgers, whether a graduate or a student, but also to the entire KEDGE community (partners, teachers, staff, etc.) and anyone else interested in the topic. Do you dream about doing an internship in Spain, attending a partner university, or moving abroad? Then this conference is for you!
Programme 📝
Introduction by the KEDGE Alumni network
Conversations and sharing experiences with Alumni living in Barcelona: what you need to know before choosing to live, whether temporarily or permanently, in Barcelona.

THE CITY OF BARCELONA: what it's like during the pandemic, how are the people of Barcelona living during this health crisis
INTERNSHIPS/EMPLOYMENT: salaries, local companies, the local economy, advice for finding an internship or job in Barcelona at this time, and the sectors that are recruiting (internships, jobs).
ENVIRONMENT: LIFESTYLE, CULTURE: security, liberty (getting around, freedom of expression, etc), medical coverage, transportation in the city, leisure activities, how the people of Barcelona live, both in and out with a pandemic

Questions / Answers
Useful links 📎
DISCOVER ALL KEDGE ALUMNI SERVICES AVAILABLE TO THOSE LIVING ABROAD
KEDGERS IN SPAIN FACEBOOK GROUP
KEDGERS IN SPAIN LINKEDIN GROUPROUPE
---
Conference led by students of the Kedger Network Association

Kedger Network is the school's sports and cultural events association. More than just an events association, its team has a key asset: it brings together students and professionals. This helps meet the main challenge of any newcomer to a business school, which is to know what makes up the network. Created in March 2015, this young and dynamic association has seen its projects grow and develop from year to year.