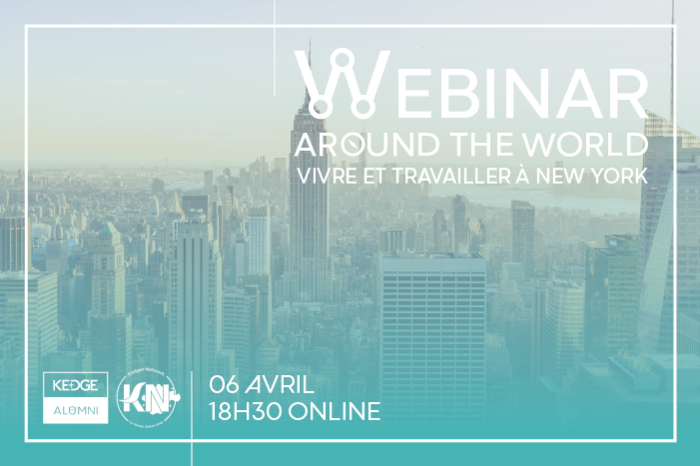 "Living and working in New York - graduate testimonials"
As part of our monthly "KEDGE Alumni Around the World" conference series, two graduates living in New York tell us about their experiences there
Introduction 👋
Because of the current global health crisis, the 57 international branches of KEDGE Alumni have had to adapt. So this year they are holding a series of conferences that put the spotlight on a city, a country, or a region of the world. This time we look at New York City from the perspective of those who know it best: our expatriate graduates who receive support from KEDGE Alumni throughout the year, despite living far away, thanks to our range of online services.
SEE ALL OUR SERVICES FOR KEDGERS ABROAD
Conference objectives🧭️
Led by the KEDGE Alumni teams, together with the students of the Kedger Network Association, branch managers, and local graduates, this interactive conference strives to bring our graduates and students closer together and answers the questions of those Kedgers who are curious about living abroad.
Who's this online conference for? 👤
This conference is open to all Kedgers, whether a graduate or a student. Have you already gotten your degree and want a change of scenery? Are you a student and get an internship in this region of the world? Or are you a Kedger who is simply curious to hear the success stories of Alumni who have walked a path that is different from your own? Then this conference is for you!

Programme 📝
Introduction by the KEDGE Alumni network
Conversations and discussions with Alumni living in the United States: What you need to know before choosing to live, whether temporarily or permanently, in New York

QUALITY OF LIFE/LEISURE ACTIVITIES: Universities, accommodation, the healthcare system, transport, cultural spots, etc.
INTERNSHIPS/EMPLOYMENT/ECONOMY: The job market, major companies, promising sectors, professional opportunities, contracts, agreements, salaries, tips on finding an internship, VIE, or job contract when you are an expatriate.

... other good advice!
Questions and answers
Conference at 6:30 pm French time / 12:30 pm New York time
Useful links📎
---
Conference led by students of the Kedger Network Association

Kedger Network is the school's sports and cultural events association. More than just an events association, its team has a key asset: it brings together students and professionals. This helps meet the main challenge of any newcomer to a business school, which is to know what makes up the network. Created in March 2015, this young and dynamic association has seen its projects grow and develop from year to year.
Fabrice MURATORE
Real Estate Agent - BARNES

A 1993 graduate, Fabrice moved to the USA in 2003 after having spent several years as a Customer Services / Operations Manager at Decathlon. His American career was built around the sale and management of real estate in Seattle, Washington, for clients who worked for tech giants. Fabrice has been in New York since 2014. He started off there working at Ravels NY, a specialist in the sale of real estate rentals in Manhattan and Brooklyn. Since 2020, he has been a Real Estate Advisor at Barnes New York (the Barnes International group), where he assists international clientele in their real estate projects in New York and the Hamptons. Fabrice has always been involved in the KEDGE network, including founding and managing the Seattle branch when he lived there, and then co-managing the New York branch with Kévin when he moved there.

Email :

Linkedin :

Kévin SPANGBERG
Senior Strategic Partner Lead - Amazon

A 2013 graduate, Kévin kicked off his career as a key account manager with Amazon in 2013. He acquired professional experience at Amazon, then moved to New York in 2015 working as Strategic Business Development Manager then Program Manager on digital media partnerships (Twitch, Business Insider, Buzzfeed, NY Mag), eventually becoming Senior E-Commerce Partner Lead for Amazon Advertising, the position he occupies today. Kévin is the host of our New York City branch.

Email :

Linkedin :