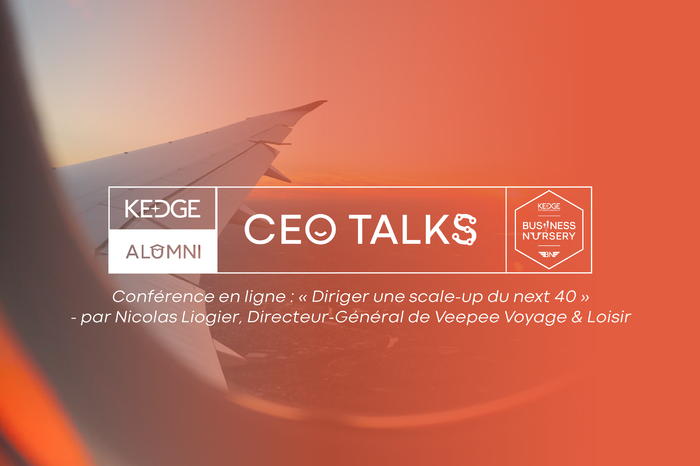 Business Nursery Online Conference
Meet Nicolas Liogier, Alumni and Managing Director of Veepee Voyage & Loisir.
INTRODUCTION

👋
Nicolas Liogier is a KEDGE Alumnus and the Managing Director of Veepee Voyage & Loisir. During this conference, he will tell you about his career path - from financial auditing to mergers and acquisitions- during which he developed the capacity for entrepreneurship (particularly with Believe where he managed exports in nearly 30 companies, worked through several fundraising cycles, and managed the purchasing and sales of subsidies). In 2015, with this extensive experience behind him, he went to work Veepee. He became the Managing Director of Veepee Voyage & Loisir in 2020.
CONFERENCE OBJECTIVES 🧭️
Led by the Business Nursery, this conference aims to share the success story of a manager who knew how to create opportunities to advance to a C-Level position in 10 years. For you, he will discuss his career path and explain how his background as a financial auditor fit in with his intrapreneurial ambitions and how it provided him what he needed to take the helm of a large Next40 company.
WHO'S THE CONFERENCE FOR?

👤
This conference is open to all Kedgers, whether a graduate or a student, the entire KEDGE community (partners, teachers, staff, etc.) as well as anyone else interested in the topic. Have you already earned your degree and are thinking about what to do next? Are you a student and want to know what you need for a career as a manager of a large company? Or are you a Kedger who is simply curious to hear about the background of an Alumni who has a path that is different from your own? Then this conference is for you!

AGENDA 📝
Introduction by the Business Nursery
40-minute talk about the success of Nicolas Liogier:

His beginnings and experience as an intrapreneur
How his experiences contributed to the scaleup
His everyday duties as Director of Voyage & Loisir

Questions and answers
Nicolas Liogier
Managing Director, Veepee Voyage & Loisirr - veepee.fr

Nicolas Liogier is the Managing Director of Veepee Voyage & Loisir. He is also an investor and Alumnus of the school.