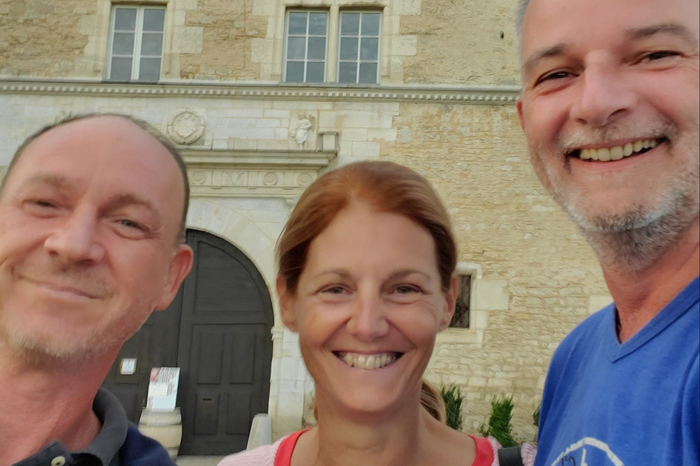 05/03/2021
Three Kedgers create Oenope, a private sales website for exclusive Italian and French wines
After 20 years of sharing a common passion for Italian and French wines, these three KEDGE graduates decided to go further by creating Oenope.
Jérôme FELICI, Françoise ROGER, and Bruce ROGER have two things in common. Firstly, they are all passionate about wine, particularly Italian wines. Secondly, all three are graduates of the same school- KEDGE Business School. Respectively, they were in the MAI (Bordeaux), GEP (Marseille), and IMR (Bordeaux) programmes in the 1990s.
After 20 years of strong friendship, they decided to create Oenope in September 2020. Oenope is a contraction of the words "Oenology" and "Europe", and that makes sense.
"Our European cultural identity, particularly Franco-Italian, and our passion for wine led us to create OENOPE with the primary objective of introducing Italian wines to the French, and French wines to the Italians," explained Jérôme. "We'd been sharing our discoveries of wines, exceptional wine-growing regions, and talented winemakers with our families and friends for many years. Now we wanted to let as many people as possible discover these gems, to allow them to travel and share moments of pleasure around our wines."
To share their passion for these Italian and French wines as widely as possible, the three Kedgers have digitalised the sales so everyone can take benefit. Every fortnight, French customers will be able to purchase the wines of an Italian winemaker via an exclusive sale, and Italian customers will be able to purchase the wines of a French estate on exclusive sale.
First sales are scheduled for 11 March in Italy, 18 March in France!
Voir cette publication sur Instagram
Soon there'll be a "Made in Europe" wine thanks to Oenope... and KEDGE students!
The creators of OENOPE don't plan to stop there. They also plan to turn the wine industry in on its head by creating the first committed, solidarity-based, "Made in Europe" wine this year. A testimony to the identity and values of Europe. Their "Borderless European Wine" project was awarded a grant by the European Culture of Solidarity Fund in September 2020.
To develop the project, the three graduates recently participated in the Open Innovation Challenge organised by KEDGE Business School, which gives businesses the opportunity to entrust our students with professional and entrepreneurial assignments.
"The OENOPE vintage is a witness to the alliance between European winegrowers, many of whom are confronted with economic and environmental difficulties, and now sanitary issues related to Covid-19," explained Jérôme. "It's also the wine that will engage consumers in valuing the work of these producers by ensuring that their act of purchase respects their social, economic, and environmental values."
The task entrusted to the students participating in this challenge is to support Oenope in the development and commercial launch of its "OENOPE Wine in Europe" vintage by generating intelligent and innovative retail tech solutions that are efficient and sustainable in order to turn this signature product into a European commercial success.
We wish this trio of passionate Kedgers every success.
YOU ARE NOMINATED, YOU LAUNCH A PROJECT, A START-UP?