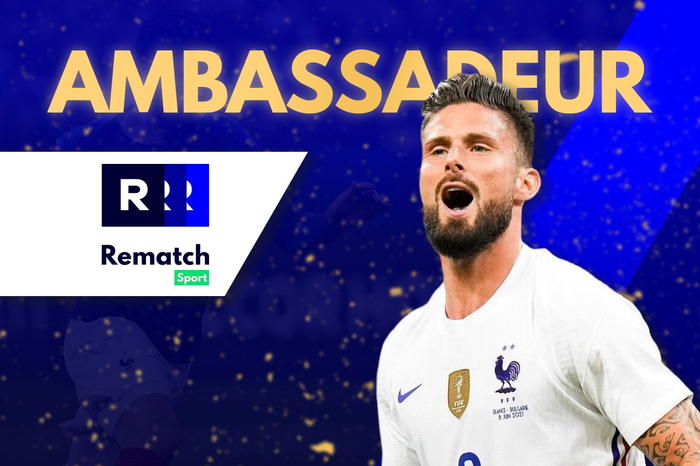 15/02/2022
Olivier Giroud, Ambassador for Rematch, the app created by Kedgers that puts the spotlight on amateur sport!
KEDGE graduates Pierre Husson and Franck Si-Hassen are the founders of Rematch: a free app to record and stream the best moves from your matches! World Cup Champion Olivier Giroud recently became its Ambassador.
A startup from Gironde, the goal of Rematch is to put the spotlight on amateur sport! How? Through the people lining the pitch who use the Rematch app to capture highlights of the matches.
FACEBOOK INSTAGRAM LINKEDIN TIKTOK
---
OLIVIER GIROUD, REMATCH AMBASSADOR
All professional athletes started out in an amateur club. Olivier Giroud is no exception, initially playing for Foc Froges Football in Isère. And Olivier has a good memory...
By becoming a Rematch Ambassador, the platform for sharing video highlights of amateur sport, Olivier pays tribute to the millions of amateur players and volunteers in France who make up the country's championship football world. He will also share the finest goals filmed from the sidelines with the Rematch app on his social networks to highlight them.
After Jean-Pierre Papin (football), Alexandra Lacrabère (handball), Lucas Tauzin (rugby)... Olivier is yet another professional athlete who supports amateur sport with Rematch.
I'm very pleased to become an Ambassador for the Rematch app which promotes amateur sports. It's something I accepted immediately given that all of us, myself included, started off in an amateur club! - Olivier Giroud, AC Milan player and 2018 World Cup Champion.
---
ABOUT REMATCH
Rematch is the fruit of the Gironde-based start-up La Passe Vidéo SAS created in 2017 by Pierre Husson (KEDGE graduate), Franck Si-Hassen (KEDGE graduate), and François Alary.
Jean-Pierre Papin, winner of the 1991 Ballon d'Or award, joined the Rematch founders in the summer of 2018.
The start-up officially launched Rematch on 21 January 2019. As of December 2021, more than 15,000 game highlights have been captured by 'Rematchers', generating over 9 million views in December 2021 alone.
"We are extremely proud that Olivier Giroud has become a Rematch Ambassador... It's like a dream come true! From the first discussions we had with Olivier, we immediately felt his enthusiasm for amateur sport and his desire to give back to the "small" clubs that give birth to future champions. - Pierre Husson, CEO and Co-founder of Rematch.
DOWNLOAD THE APP - ANDROID DOWNLOAD THE APP - IOS
YOU ARE NOMINATED, YOU LAUNCH A PROJECT, A START-UP?