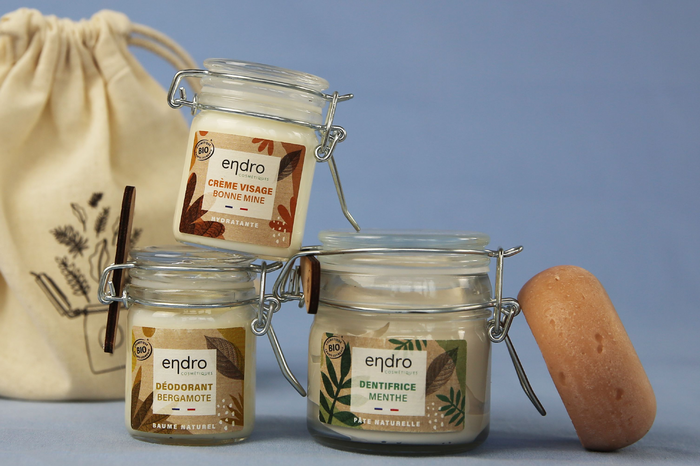 02/12/2021
#Giveaway: Win a 42€ box offered by Endro Cosmétiques!
KEDGE Alumni, in partnership with Endro Cosmétiques (a company founded by a Kedger), is giving away three boxes of organic cosmetics worth 42€. To participate, visit our Instagram account.
Founded by Boris Le Goffic, who graduated from KEDGE in 2018, and his partner Marion Le Goualher, Endro Cosmétiques is a young Breton brand that offers cosmetic products that are efficient and safe for your health (and for the planet).
is a young Breton brand that offers effective and healthy cosmetic products for your health (and for the planet).
With the end of year celebrations approaching, enter to win a sweet box worth 42 euros! Enter our competition on Instagram and you could win one of the three boxes we're giving away for the occasion 🤩
---
HOW TO ENTER
To enter, nothing can be simpler! Visit our Instagram account, subscribe to @endro_cosmetiques and @kedgebs.alumni and mention a friend in the comments. Attention, the giveaway is restricted to those living in Metropolitan France.
Voir cette publication sur Instagram
---
ABOUT ENDRO COSMÉTIQUES :
Our Endro project was born from a desire to find cosmetic products that are effective and healthy. It was paramount for us to say goodbye to plastic and superfluous ingredients in our formulas!
I'm Marion from Brittany and a bit of an adventurer. Trained as an architect, I have always loved creating, imagining, making. As I am not a big consumer of cosmetic products, I simply wanted transparency. Because yes, I was tired of spending time reading lists of ingredients only to realise that the promises were not being kept. And Boris, my companion, who is also from Brittany, had a great desire to do something for health that was also safe for the environment. After finding out about the extent of plastic pollution in Asia, he was ready to take on any challenge as long as it had meaning.
YOU ARE NOMINATED, YOU LAUNCH A PROJECT, A START-UP?