02/06/2021
Founded by two Kedgers, M PREZ agency produces strategic presentations for Adidas, TF1, and Cartier!
Created by KEDGE graduates Arnaud and Antoine (both Class of 2014), M PREZ agency was inspired by the best web and motion design trend to revolutionise presentations and raise PowerPoint presentations to the level of the best communication media.
The story began in 2013 when Arnaud Longeville (Class of 2014, marketing speciality) was doing an end-of-studies internship at France Angels and had to sit through numerous presentations by entrepreneurs who were in the process of raising funds. For a variety of reasons, several worthy projects weren't able to raise the financing they hoped for, but one common reason for such failures caught his attention: the quality of the presentation.
This former Vice-President of KEDGE's Texas Hold'BEM Poker Association is certain that some of the projects would have attracted more attention from investors if their presentations had been better designed and structured, and had delivered a greater impact. So Arnaud began offering PowerPoint presentations design services to entrepreneurs. The assistance he provided on both the structure and form of presentations was very effective: speakers delivered better presentations, better captured the audience's attention, and were more convincing. And naturally, the demand for PowerPoint design services increased.
In order to meet strong demand and to further give structure to his business, Arnaud joined forces with Antoine Blanc (Class of 2014, management control speciality) to create the Mister Prez agency in Paris in 2016.
Mister Prez PowerPoint agency quickly established itself as an expert in PowerPoint presentation and increased the number of projects it designed: strategic presentations, sales presentations, calls for tenders, events, and training for clients of all types. From start-ups to multinationals, more and more trades and industrial sectors are joining the agency's clientele.
Seven years and 400 clients later, Mister Prez is now M PREZ, an agency of 15 people (graduates from major design and business schools, including four Kedgers). The agency combines its expertise in PowerPoint, Google Slides, and Keynote with software used for creating and editing images, animations and videos, such as Illustrator, After Effects, Indesign, and Photoshop.
This diverse range of skills creates a perfect partnership between project managers and art directors and enables the agency to offer increasingly qualitative and impactful PowerPoint and other slides due to a deep understanding of the business issues of its clients.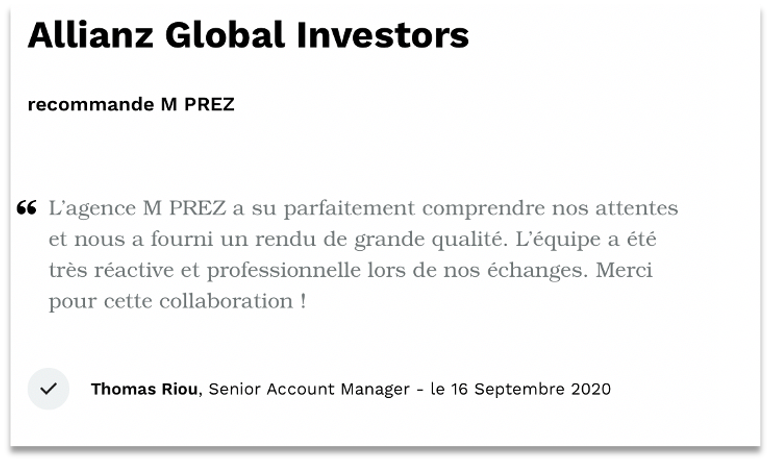 M PREZ has seen double-digit growth every year since its creation, even in the middle of the Covid pandemic, and is now looking to expand internationally. It now offers its services in the UK, Canada, Switzerland, and China. In fact, M PREZ has just opened a new office in Lisbon, a promising start in Portugal with the MATT (Lisbon Museum of Art, Architecture, and Technology) and Renault Portugal, which recently hired the agency to produce media and interactive presentations.
---
Useful Links:
YOU ARE NOMINATED, YOU LAUNCH A PROJECT, A START-UP?