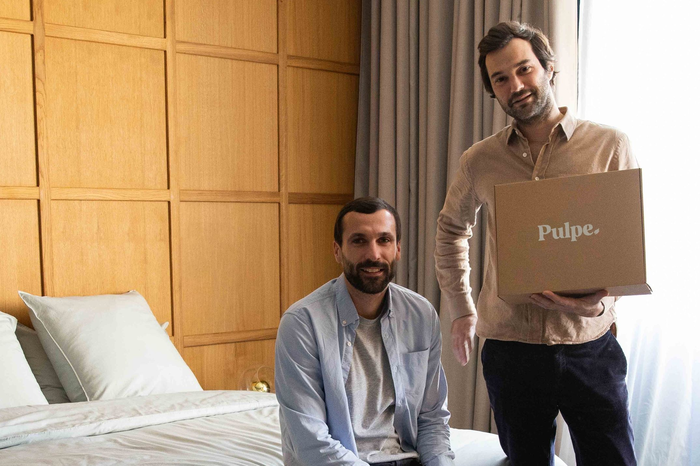 08/03/2023
Focus on Pierre-Olivier, a KEDGE graduate and entrepreneur who has just launched his start-up: Pulpe
KEDGE Entrepreneurship, the school's programme dedicated to entrepreneurship, is supporting the start-up Pulpe: a brand of eco-responsible bed linen for individuals and professionals.
A 2012 KEDGE graduate, Pierre-Olivier Adam is the co-founder of Pulpe. The start-up is currently incubated at KEDGE's Business Nursery and thus benefits from personalized support.
Pulpe: eco-responsible and innovative linen
Pulpe is a start-up incubated at Business Nursery on the Bordeaux campus of KEDGE , whose ambition is to revolutionize the textile industry! A daring project but crucial to reduce our impact on the environment, the textile industry being the second most polluting industry in the world.
For this, the start-up does not use cotton whose culture is extremely polluting, but alternative solutions much more ecological. It is thus eucalyptus, a sustainable, biodegradable material 100% transformed in Europe, which composes the pillowcases and bed linen of Pulpe !
The cultivation of eucalyptus has a lesser impact on the planet:
The plant grows without pesticides, insecticides or fertilizers;
The wood chosen by Pulpe comes from certified and sustainably managed forests;
The fabric biodegrades completely at the end of its life.

A KEDGE Alumni entrepreneur
Pierre-Olivier, the entrepreneur who co-founded Pulpe, is also a graduate of KEDGE's Grande Ecole program in 2012. His assets for success?
Skills in Marketing and Business Development
International professional experience
Double degree: Master PGE Kedge and Law 
Thanks to his taste for challenge and teamwork, Pierre-Olivier was able to launch himself into entrepreneurship and develop Pulpe with the support of KEDGE Entrepreneurship. 
Support for the Business Nursery
At the KEDGE Business Nursery, Pierre-Olivier benefits from personalized support in the creation of his company:
Pulpe can be confronted with the reality of the market thanks to KEDGE Business School's partner companies

Obtaining financing for the start-up's seed phase will also be facilitated by KEDGE Business School's partner companies and institutional partners
YOU ARE NOMINATED, YOU LAUNCH A PROJECT, A START-UP?