09/10/2020
Meeting with Sébastien Imbert, kedger and CMO of Microsoft France!
1998 KEDGE graduate, Sébastien Imbert climbed the ladder at Microsoft 21 years. Since August 2018, he has held the position of Chief Marketing Officer at Microsoft.
After studying science, Sébastien Imbert graduated from KEDGE's business engineering programme in 1998. While at KEDGE, he was the Vice-President of the Junior Enterprise, Market Méditerranée, as Vice-President. In addition to KEDGE, Sébastien Imbert also graduated from the University of Wisconsin-Eau Claire in 1997, from Leonardo da Vinci University, Specialised Master in Internet Commerce (MCI) in 1999, and finally from HEC Paris in 2006.
He has worked for Microsoft since 1999, first as an Online Marketing Specialist. Two years later, he held the position of Online Marketing & CRM Manager, then was appointed Marketing and Communication Manager in n 2004. In 2008, he became the Marketing & B2B Communication Director in 2008.
For more than six years, from 2012 to 2018, Sébastien was the Digital Marketing Lead in charge of Microsoft France's digital team, which was composed of experts in several different fields (social networks, video, mobile, e-commerce, online sales, digital optimisation, and events).
In August 2018, after almost 20 years within the group, he was promoted to Chief Marketing Officer at Microsoft France.
Sébastien is also a member of the Board of Directors of:
The villa numeris, an independent think tank that promotes an open and European model of digital technology, thereby affirming the primacy of the human being; and
Oxycar, a mobile application co-founded by a kedger (Mathieu Gardin - MSc Business Engineering, class of 2019) which helps facilitate commuting from home to work in an innovative way.
---
INTERVIEW 💬
1️⃣ To begin, tell us about your educational background. What did you study, both before and at KEDGE?
What I remember about my time at KEDGE, is that it was a period with a lot of energy, enthusiasm, and camaraderie and that you were constantly learning, both within and without the school itself. The associative life of the school, and all that I learned by participating in it, also left its mark on me. I was lucky enough to be Vice-President of the Junior-Enterprise association, and as a result, I carried out a number of market studies. I did one for the Pathé group, for which I obtained a year's worth of free cinema. To cut a long story short, associative life at KEDGE is a real vector of development.
I also remember all those times I met students back then, some of whom I stayed in touch with and are important contacts. I also remember some professors, such as my strategy teacher, who in a way was the first contact I had with Microsoft as he was a friend of Jean-Philippe Courtois, the current Executive Vice-President and President of Sales, Marketing and International Operations of Microsoft.
Of course, there were unforgettable evenings which had themes that were all different from each other. Great times!
Finally, I still have some images in my head from our integration seminar, which was quite intense. The students including me, standing on the stadium and a helicopter flew in and landed in front of us. Two people came out of it, it was the presidents of the BDE escorted by police motorbikes. It was very impressive to see students having so many opportunities. The memory still sticks with me today!
2️⃣ How did the education you received at KEDGE help you become who you are today, and which courses helped you develop your projects?
I started at KEDGE in 1995, a time when only 0.1% of the world's population was connected to the internet. We were just beginning to hear about it. The development of its commercial uses began in 1994, the time when the internet protocols were being put in place. So, I started the school during that time, in a section that was commercial, business, and technical, and in a time of great technological changes were happening which shook up the fundamentals of economics. Later, sociological fundamentals were impacted too.
This dual curriculum served me well and helped me to become what I am today. I acquired a state of mind that let me work in multidisciplinary environments. In particular, I developed the ability to bring together different energies and skills, which is extremely important.
Additionally, KEDGE gave me the chance to travel, work abroad, and attend the University of Wisconsin-Eau Claire, which is quite well known in the world of computer science. There, I was able to complete a major in marketing and a minor in computer science. Without KEDGE, I wouldn't have been able to do this, and I'm convinced that without it, I wouldn't have decided to specialise in digital marketing and digital business.
3️⃣ Describe what a CMO does and what does the future hold? In your opinion, what are the major innovations that will transform your profession and the company in the coming years?
That's a broad question.
Of course, the CMO is in charge of managing the brand, its reputation, its image, and product positioning, but there are many new aspects today. The fundamental thing today is data.
As CMO, and with my teams, our objective is the following: developing and interpreting data and creating plans related to the insights it gives us. A CMO is now a real contributor to the growth of the company, not only concerning its priorities but also as to the insights of customers and partners.
Today the marketing director is at the crossroads of classic, technical, legal, design, and UX marketing subjects. Diplomacy also plays an important role in our work, which overlaps with various sectors at the heart of the company. In the future, CMOs will be capable of generating growth at the intersection of sales and marketing forces.
4️⃣ Your career has been extremely successful, what are your development plans for the future?
No matter what our level, from trainee to manager, we are never done learning! I am always trying to learn and grow, which I think is a fundamental approach to take in today's world.
For my part, I will continue to develop leadership and management skills in a volatile world that is becoming increasingly complex and ambiguous, especially with what's currently happening with Covid-19. We must adapt our working methods and our ability to lead our teams and to establish short- and long-term objectives.
5️⃣ If you were to give advice to any KEDGE graduate who wants to do something similar, what would it be?
Very simply, I'd say to cultivate and develop your curiosity. Being curious is extremely important, especially in the digital age.
It is also essential to develop and cultivate active listening - to listen before immediately reacting or over-reacting.
Finally, creating a state of mind and establishing your position as an entrepreneur or intrapreneur is essential. We always need an intrapreneur who is capable of following a plan as well as defining a plan.
Don't hesitate to carry out tangible projects and to learn everything about them. Learning is experience and all experience is good to take. Don't hesitate to improve your technical skills as much as possible and getting qualifications, which you can get in many different fields.
6️⃣ Why do you think it's important for a school to have a strong alumni network?
The link creates strength and having a wide network of Alumni is fundamental to KEDGE's outreach. Without it, KEDGE does not stand out. In a context where national and international competition is immense, the Alumni network is more than important.
What is interesting is that these connections last through the years. Personally, I have kept in touch with Kedgers with whom I continue to talk to today. One former KEDGE student that I work with recently introduced me to a young graduate, Mathieu Gardin (class of 2019). He founded the Oxycar startup, in which I decided to participate.
I am very happy to be able to keep the link with KEDGE alive by taking part in concrete projects like this one, which is just getting off the ground and I think will have a lot of impact!
---
Meet Sébastien Imbert at our next online conference:
"In the Shoes of our Graduates, The Challenges of International Marketing".
22 October 2020 from 5 pm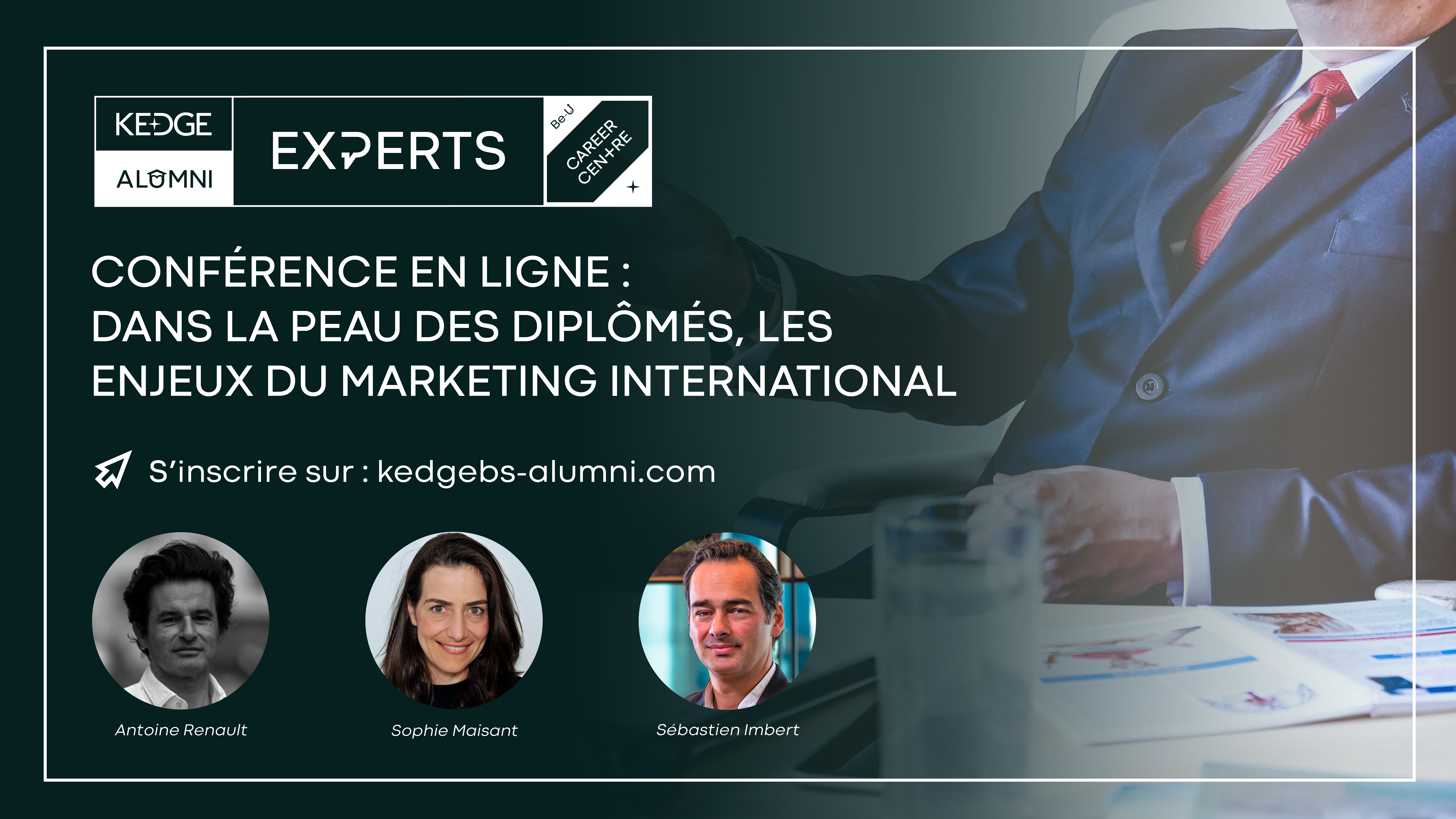 DID YOU GET A PROMOTION, OR ARE LAUNCHING A PROJECT OR A START-UP?