30/06/2021
Mathieu, a KEDGE graduate and incubated at the Business Nursery, met the CEO of Microsoft World at Vivatech
Mathieu Gardin, a KEDGE alumnus, incubated in the Business Nursery and founder of Oxycar, had the opportunity to meet and pitch his project to Brad Smith, the President of Microsoft Worldwide.
For this 5th edition, KEDGE renewed its partnership with Vivatech and once again participated in this international trade forum, making a significant contribution, both with its stand and the presence of its students and graduates.
One of the students told us about an incredible experience. Mathieu Gardin, a KEDGE alumnus who was incubated in the Business Nursery and founded Oxycar, met and pitched his project to Brad Smith, the President of Microsoft Worldwide!
---
Mathieu tells us about his experience:
"Friday, the last day of VivaTech's B2B segment, was full of surprising developments. We were informed just a few hours beforehand that Brad Smith was arriving from the US. The timetable was tight. We were told that we would have five minutes to tell him about Oxycar and our partnership with Microsoft. The instructions were simple: "Carte Blanche" those five minutes are ours. We were simply told to take advantage of the opportunity to make it a memorable one. It was a pretty emotional moment when he arrived at our booth. "Hey, I'm Brad, nice to meet you". A simple sentence to put us at ease and we could see a big smile despite his mask. I was really touched by his approachability. Even though we were surrounded by photographers and cameramen, he immediately dove into the computer and listened to the Oxycar presentation. In only an instant it seemed as if everything around us disappeared. For the first few minutes I told him about our product and the partnership we have with Microsoft, but I mainly told him our background. I think it's important in that type of moment to provide the person I'm talking to - regardless of their role in the professional world - an understanding of our identity, our mentality, and our desire to improve the world we live in. The minutes passed and, although the five minutes were well over, Brad continued to take the time to appraise our product. He even called Carol Ann Browne, Chief of Staff & Executive Communications at Microsoft, to tell her about it himself. After that, he asked this incredible question: "Why is this not in the US right now? Would you consider going to Seattle Microsoft HQ with Oxycar? At that instant, a door seemed to have opened for the future of Oxycar. The last few minutes with him were spent outlining a strategy to enter the US market and set up shop in the heart of the Microsoft US campus in Seattle, where its 50,000 employees work. Now we have our foot in the door and we will continue to work with the Microsoft for Startups France team to make this a reality. Once again, it's important to acknowledge all the warmth that surrounded this meeting. In my time working on a start-up, moments like this are unique and one must know how to savour the moment!"
---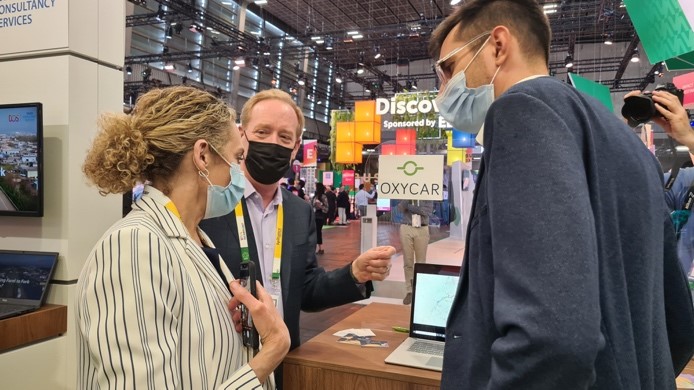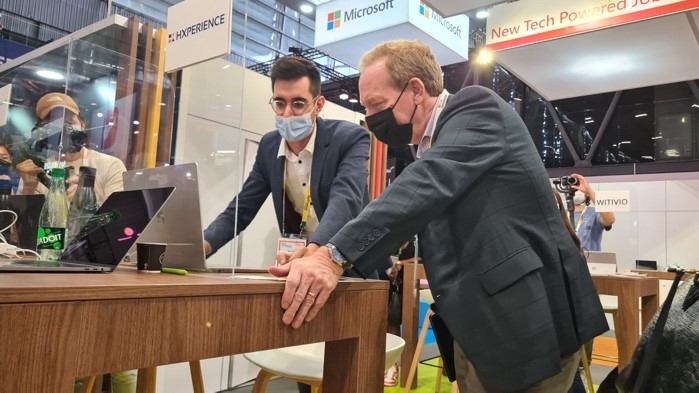 ---
What is Oxycar?
Oxycar, the start-up created by Mathieu Gardin, is a carpooling service for businesses, that offers a new outlook on regular business travel.
CHOOSE: Enter your criteria and the system will propose the best ride-sharing options.
SHARE: Share your rides with your colleagues, and reduce your daily travel budget and your ecological footprint by carpooling with OXYCAR.
WIN: With OXYCAR, you not only save money, but you also save time. You are less stressed, less tired, and you get to spend time with your colleagues.
---
Viva Technology, a must-attend event for tech start-ups
The VivaTech Conference is known as the leading international event in the world of innovation, digital transformation, and open innovation. In 2021, VivaTech has already attracted 231 million people worldwide, with 124,000 participants - including over 13,000 start-ups, 3,300 venture capital firms, and 2,500 journalists from 125 countries. In just four years, the exhibition has become Europe's top event in the startup and tech scene and is recognised worldwide as a powerful catalyst for business transformation, startup development, and innovation for the common good.
DID YOU GET A PROMOTION, OR ARE LAUNCHING A PROJECT OR A START-UP?