21/07/2021
KEDGE Alumni looks back on the past year!
The school year is coming to an end and we wanted to share with you the network's annual report (key figures and developments), and to thank you sincerely for your involvement!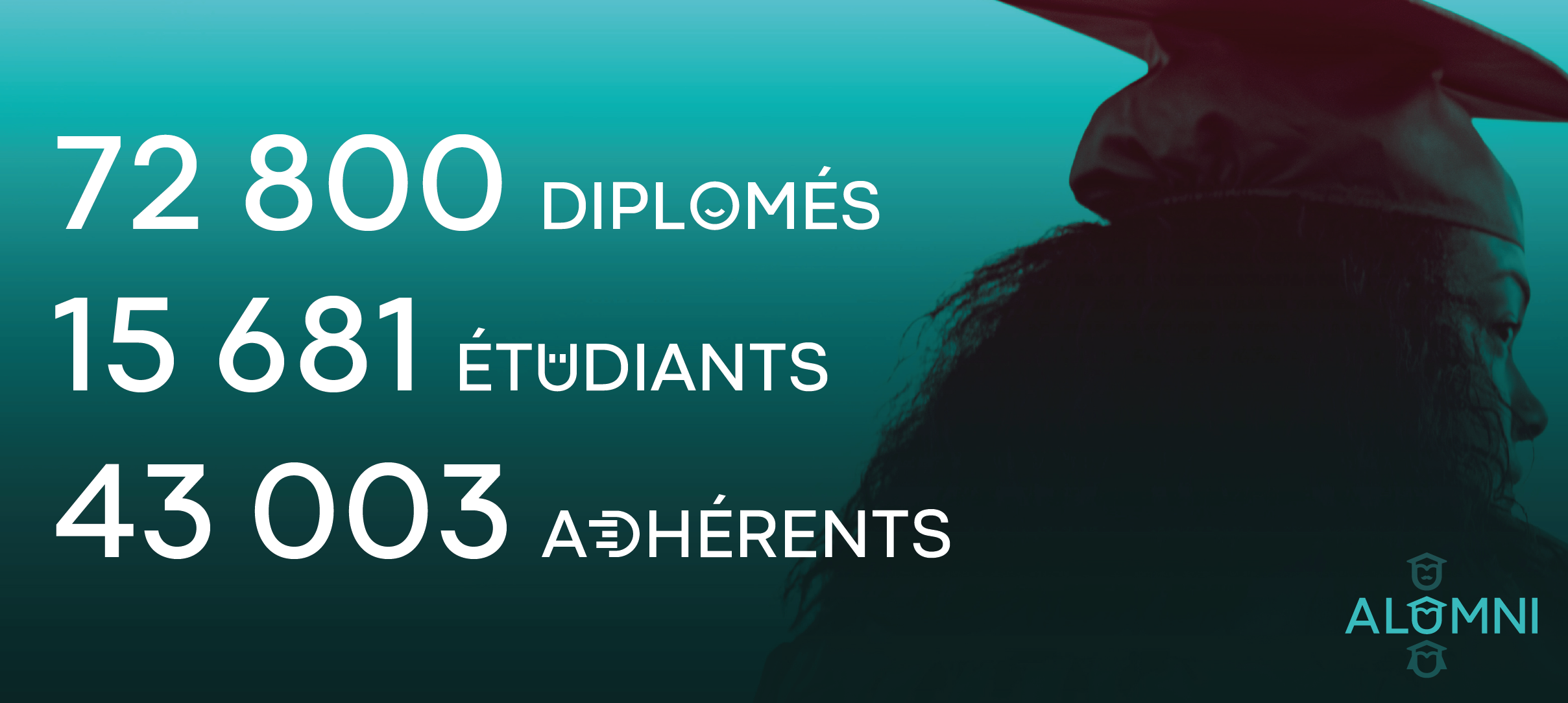 In 2021, the network has 72,080 graduates and 15,681 students, of whom 43,003 are members*. Thank you all…
---
THANK YOU FOR YOUR INVOLVEMENT! 🙏
Between 20,000 and 80,000 clicks per month on the Alumni from between 18,000 and 40,000 on the Alumni site (except for the months of July and August);
+ 115,000 members in total on our social networks;
79,775 jobs advertised on our Job Board of which more than 10,000 are posted by our partners and graduates;
231 graduates/experts lectured our courses;
134 graduates spoke at our conferences;
37 graduates received assistance from the KEDGE Business Nursery;
Student mentoring: 1,336 Alumni mentors, 5,827 participating students, 2,510 contacts, 1,207 meetings between Kedgers. In terms of active Alumni, KEDGE ranks 2nd in business schools;
Not only that... Graduates have participated in juries, development committees of KEDGE programmes, professional conferences, promotional webinars of KEDGE programmes, challenges, position responsibilities and duties at their companies, etc.
---
AN EVEN MORE COMPREHENSIVE RANGE OF SERVICES💻
47 themed events (video-conferences) with an average of 200 participants per event (including replays), and a satisfaction rate of 85%;

The broadcasting of replays for videoconferences (since September 2020);

55 workshops and other services, with 841 participants, a satisfaction rate of 94%, a capacity fill rate of 92%, and a recommendation rate of 97%;

3 recruitment forums with over 210 participants;

More than 340 articles, mainly portraits of graduates that share throughout the year on our social networks and in our monthly newsletter;

Creation of a monthly newsletter, in both French and English for our members;

Creation of an Instagram account: https://www.instagram.com/kedgebs.alumni/;

Creation of a LinkedIn page: https://www.linkedin.com/showcase/kedge-alumni;
---
THANK YOU AGAIN FOR YOUR SUPPORT! 🤝
This year, yet again, you have demonstrated your support for the KEDGE Alumni network. This is why we wanted, for the end of this year's academic year, to give Kedgers the opportunity to talk about their experiences at KEDGE, as well as how the Alumni network can be useful, and the advantages it provides. Discover interviews with Thomas Bonnaud - International Sales Director at the Lebon Group, Karine Martin Laprade - President and Founder of Kair Conseil and former Public Relations Director of the TF1 Group, Jean-François Thunet - CEO of Amaris Consulting and Deputy Chief Executive Officer at Mantu, and many others!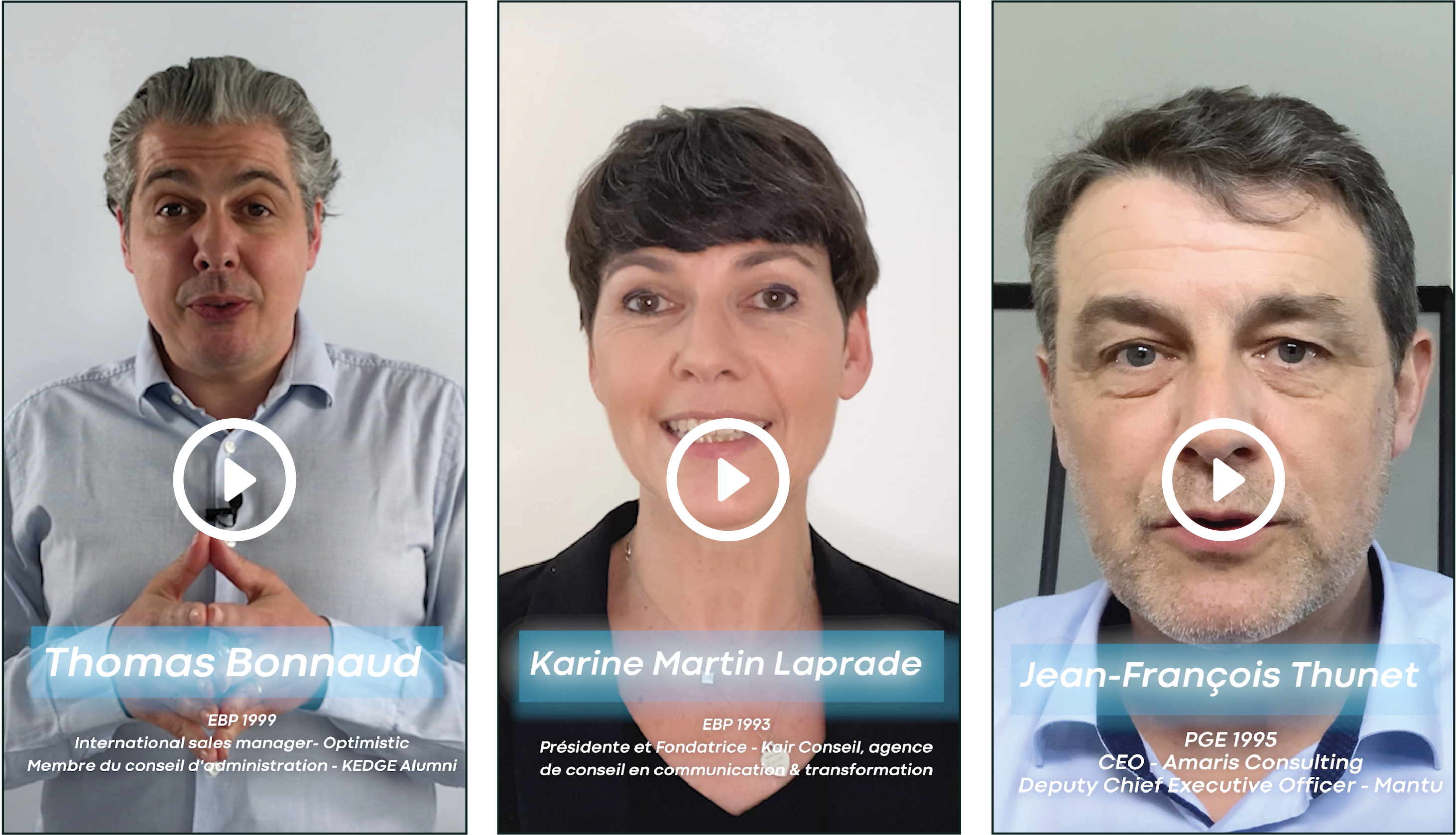 KEDGE ALUMNI as seen THROUGH THE EYES OF OUR GRADUATES 🎬
---
GEORGES KLENKLE, ELECTED THE NEW PRESIDENT OF KEDGE ALUMNI 🎓
At the end of this year, the KEDGE Alumni Association, through its Board of Directors, appointed Georges Klenké as the new President of the Alumni network. He succeeds Xavier Abadie after 10 successful and wonderful years as the association's President.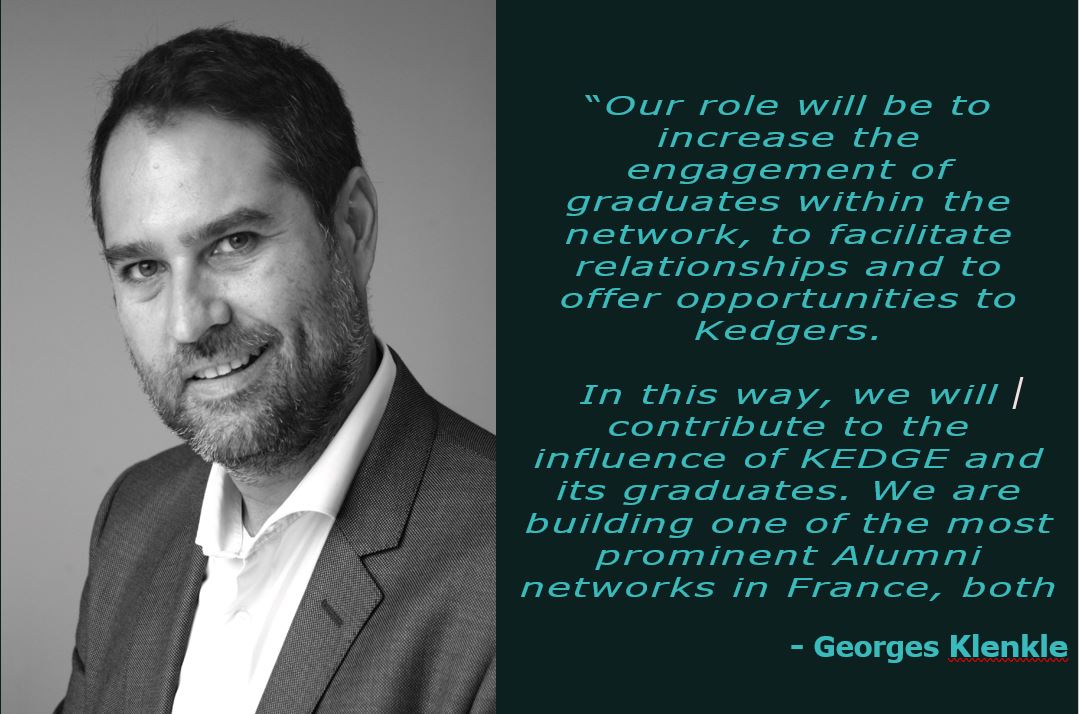 ---
THE FINAL WORD 💬
Although we are still impacted by the Covid crisis, our approach to events this year, has continued to attract many graduates and students this year. Our network adapted and evolved in the face of this very unusual context, in particular by offering many of its workshops online.
Our continuously evolving services are yours! Truly, the dynamism of the network and its strength is due to you by your:
being involved in the organisation of events, in juries, as mentors, etc. ;
participating in the meetings and services we offer;
sharing your suggestions for its continued development.
We hope to count on more of you to be at our side this upcoming school year, even if the Covid policies continue to affect our in-person events. We wish you a wonderful summer and look forward to seeing you in the fall. Again, congratulations and thank you all!
The KEDGE Alumni team
* Please note: activities offered by the network are open to everyone, whether or not a member. In addition, every student and graduate has a personal profile on www.kedgebs-alumni.com, which we encourage you to regularly update so that we can remain in contact with you.
DID YOU GET A PROMOTION, OR ARE LAUNCHING A PROJECT OR A START-UP?