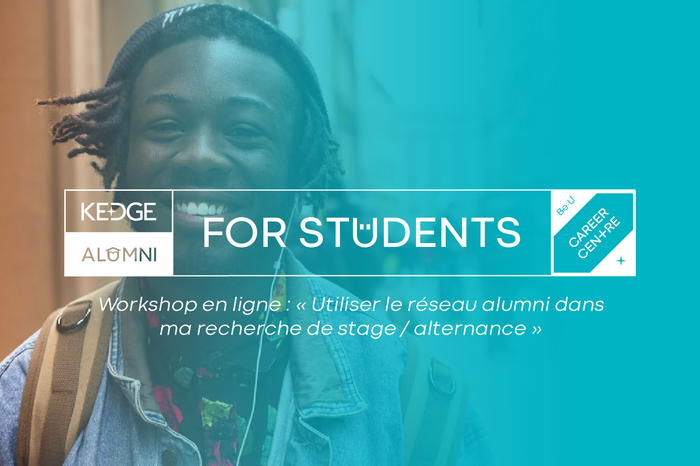 Student workshop : Using the Alumni network in my internship / work-study search
First
Introduction 👋
Are you a KEDGE student looking for an internship, work-study position, or first job? Have you often heard people talking about the KEDGE Alumni network but don't really know how to access it? Would you like to count on the support of a community of 68,000 former students to accelerate your career, but don't know how to? Then the "KEDGE Alumni for Students" events are made for you!
Conference Objectives 🧭️
Led by the KEDGE Alumni teams, these online workshops aim to initiate our students on the Alumni network. A successful career requires a good network, so don't neglect this step!

Programme 📝
Introduction by the KEDGE Alumni Network
Presentation of the network and its activities
Useful tools and tips from Alumni when you're looking for an internship/work-study position/first job.
- Alumni directory, Linkedin, social networks, MyJobGlasses, etc.
Questions & Answers
Useful Links 📎
Noellie Lambert
Project Manager - KEDGE Alumni

Noellie is Project Manager for KEDGE Alumni. Based on our campus in Marseille, her role is to create a link between our student and Alumni communities.

Robin Larroze
Communication Officer - KEDGE Alumni

Robin is Communication Officer, Business Relations Department & KEDGE Alumni. His role is to communicate with the school's students and graduates on all aspects of employability, company relations, and the Alumni network.

Email :

Linkedin :