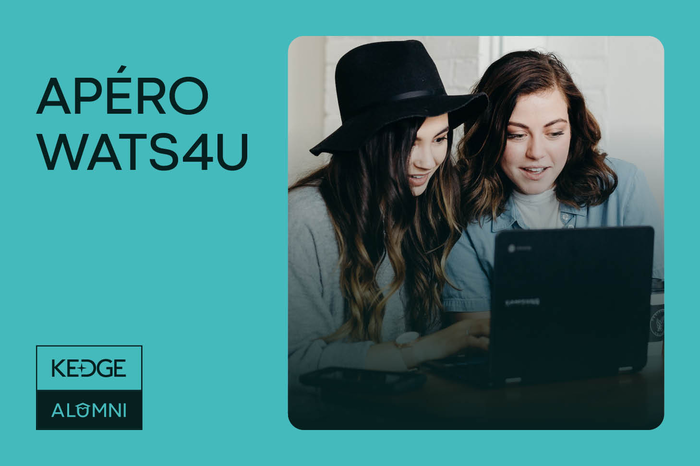 Online workshop – Everything you need to know about MAD skills
Wats4U Apéro, Roundtable, and Networking
- WATs4U Apéro, Wednesday 15 February, 6:30 pm 18h30 -
EVERYTHING YOU NEED TO KNOW ABOUT MAD SKILLS
Chris Delepierre, optimistic entrepreneur, and Juliette Hua, coach and consultant,
will present an overview of the Mads Skills during a round table discussion,
which will be followed by a networking and contact exchange session (all sectors).
Mad Skills: lately appreciated, or short-lived trend?
WATs4U brings together Chris Delepierre (optimistic and meaningful entrepreneur) and Juliette Hua (coach and consultant) to share their vision of the importance of Mad Skills and answer any questions you may have.
From 7:15 pm to 8 pm, continue the event in Alumni networking mode ( regardless of your sector of choice). Participants will be randomly divided into twos or threes for 12- to 15-minute sessions to give a quick introduction and exchange contact details. It's a great opportunity to make unexpected and rewarding connections!
Presenters🗣️
Juliette Hua: Juliette graduated from ESCP EUROPE in 1996. A coach and consultant, she has 20 years of experience in the recruitment, assessment, and development of skills of executives and managers (including management, career coaching, and public speaking). Juliette is also trained in opera and theatre and has been performing both on stage in Offenbach's operas and operettas, and on-screen in comedies on the Internet and on Canal+ for more than 15 years. It is the fusion of these two worlds that has allowed her to not only enrich her own development but also to integrate an approach and tools for the exploration and development of soft skills for her clients into her coaching practice.
Chris Delepierre is an optimistic entrepreneur with multiple irons in the fire. A graduate of Centrale Lille and Skema Business School, he worked for more than a year at the Réseau Alliances / World Forum Lille in the fields of CSR and responsible economy. Since 2015, he has been involved in developing Trézorium, a social enterprise in the field of creative and digital education which sets up spaces for children and older children to unleash their ideas and create their products (fablabs). A professional speaker, APM expert (Application Performance Management) on intergenerational issues, positive conspirator at the Institute of Desirable Futures, member of the think tank #Leplusimportant, and member of the Reconnaître association, Chris is particularly interested in open badges, corporate educational responsibility, and EdTech. Finally, he chairs the regional association Edtech Hauts-de-France and co-manages the dynamic Badgeons les Hauts-de-France.
Programme 📝
6:30 – Round table
7:15 – Alumni Networking, all sectors
8:00 - Conclusion
---
Be sure to:
👉 Prepare a short pitch to introduce yourself (including your background and the sectors and companies you are interested in) so that you can get straight to the point
👉 For the networking session, you will be invited to join a room to meet one or two other Alumni. Click on the "Accept" button to start networking. Join in, don't leave your fellow Alumni alone with their drinks ;)
👉 Once in the networking room, start exchanging details with your peers right away, to avoid being disconnected before you get a chance to finish! Admins disconnect the rooms every 12 to 15 minutes. It would be a shame to have interacted with someone and not have gotten their email... A message will warn you 60 seconds before the automatic disconnection, but better safe than sorry.
👉 👉 Every 12-15 minutes, you'll switch rooms to meet other Alumni, until 8 pm.
This apéro-conference will be hosted on Zoom: be sure to have downloaded it beforehand.
---
WATs4U is a tool commonly used by around 18 Alumni associations for some of the most prestigious engineering and management schools.