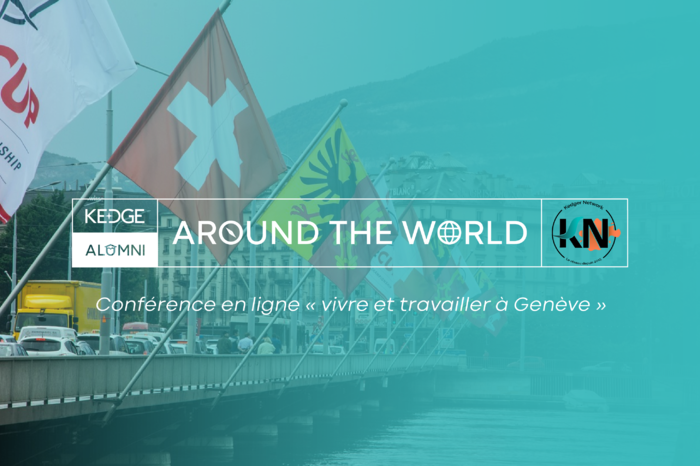 Online Conference: "Living and Working in Geneva"
As part of our monthly
Introduction 👋
Because of the current global health crisis, the 57 international branches of KEDGE Alumni have had to adapt. So this year they are holding a series of conferences that put the spotlight on a city, a country, or a region of the world. Today we look at the city of Geneva from the perspective of those who know it best: our expatriate graduates who receive support from KEDGE Alumni throughout the year, despite living far away, thanks to our range of online services.
SEE ALL SERVICES FOR OUR GRADUATES ABROAD
Conference objectives 🧭️
Led by the KEDGE Alumni teams, together with the students of the Kedger Network Association, branch managers, and local graduates, this interactive conference strives to bring our graduates and students closer together and answers the questions of those Kedgers who are curious about living abroad.
Who's this online conference for? 👤
This conference is open to all Kedgers, whether a graduate or a student, but also to the entire KEDGE community (partners, teachers, staff, etc.) and anyone else interested in the topic. Do you dream about doing an internship in another part of the world, attending a partner university, or moving abroad? Then this conference is for you!

Programme 📝
Introduction by the KEDGE Alumni network
Conversations and discussions with Alumni living in Geneva what you need to know before choosing to live, whether temporarily or permanently, in Geneva.

The city of GENEVA: Frontier town, 2nd most populated city in Switzerland, 2nd financial centre after Zurich. Why choose to live and work in Geneva?
INTERNSHIPS/EMPLOYMENT: salaries, local companies, the local economy, advice to find an internship or job in Geneva right now. The sectors who are recruiting (internships, jobs. Legislation concerning employment and internships in Switzerland
ENVIRONMENT, LIFESTYLE, CULTURE: security, personal freedoms (movement, expression) medical care coverage, getting around town, the country, the Geneva way of life during and out with the pandemic.

Questions / Answers
Useful links 📎
---
Conference led by students of the Kedger Network Association

Kedger Network is the school's sports and cultural events association. More than just an events association, its team has a key asset: it brings together students and professionals. This helps meet the main challenge of any newcomer to a business school, which is to know what makes up the network. Created in March 2015, this young and dynamic association has seen its projects grow and develop from year to year.
Vincent LEFEBVRE
Change and Innovation Lead - ING

A 2000 graduate, Vincent started his career in consulting in The Benelux before going to work at PwC's consulting division in Switzerland (Geneva, then Zurich). In 2007, he joined ING Bank and specialised in Wealth Management and Transactional Commodity Finance. Over the last 15 years, he has gained experience in various departments (Dealing Room, Risk Management, IT /Operations, Organisation, Innovation) and in the management of transformation/reorganisation projects. His multicultural experiences (MBA in Canada, Benelux in the UK and Switzerland) gave him what was needed to attain the position of Change & Innovation Lead, which he has held at ING for three years. Vincent is the creator of the KEDGE Alumni Chapter in Geneva, which he still runs today.

Linkedin :

Tamila CHAOUCHE
Relationship Manager - MFM Mirante Fund Management

A 2014 graduate, Tamila began her career at HSBC and BNP Paribas before going to work for JP Morgan in Switzerland. In 2017, she was hired at a company as an office/asset manager to develop the institutional client desk and worked there for three years. Last year, Tamil went to work for MFM Mirante Fund Management, a reputable Lausanne-based financial asset management company. She has been the female member of the KEDGE Alumni Geneva team for the past two years.

Linkedin :

Lionel ROSNET
Boutique and School Manager - Baghera Wines Auction & Trading SA

A 2006 graduate, Lionel is an experienced business development professional with a keen sense of entrepreneurship. Holder of the coveted WSET Level 4 diploma in wines and spirits, Vincent has nurtured and developed his career around an in-depth knowledge of wine and wine. He founded Switzerland Wine School in 2016, after having gained significant experience when he worked in the UK for five years. Lionel leads the KEDGE Alumni Geneva Antenna with Vincent and Tamila.