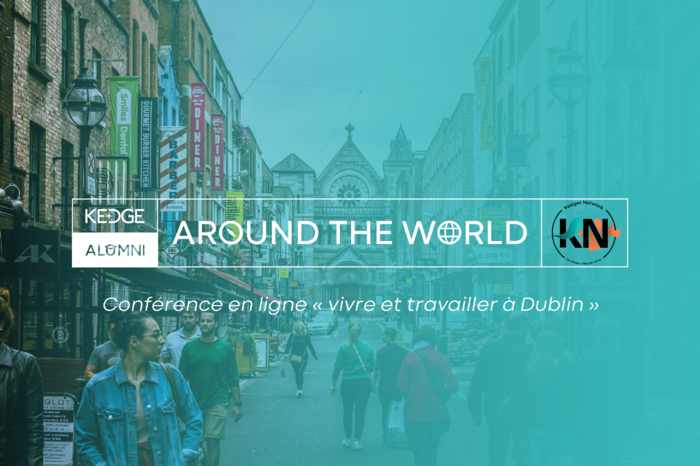 Online conference:
As part of our monthly
Introduction 👋
Because of the current global health crisis, the 57 international branches of KEDGE Alumni have had to adapt. So this year they are holding a series of conferences that put the spotlight on a city, a country, or a region of the world. This time we look at the city of Dublin from the perspective of those who know it best: our expatriate graduates who receive support from KEDGE Alumni throughout the year, despite living far away, thanks to our range of online services.
SEE ALL OF OUR SERVICES FOR ALUMNI ABROAD
Conference Objectives🧭️
Led by the KEDGE Alumni teams, together with the students of the Kedger Network Association, branch managers, and local graduates, this interactive conference strives to bring our graduates and students closer together and answers the questions of those Kedgers who are curious about living abroad.
Who's this online conference for? 👤
This conference is open to all Kedgers, whether a graduate or a student, but also to the entire KEDGE community (partners, teachers, staff, etc.) and anyone else interested in the topic. Do you dream about doing an internship in another part of the world, attending a partner university, or moving abroad? Then this conference is for you!

Programme 📝
Introduction by the KEDGE Alumni network
Conversations and discussions with Alumni living in Dublin: What you need to know before choosing to live, whether temporarily or permanently, in Dublin

THE CITY OF DUBLIN: during the pandemic – how the Irish are living during this health crisis (teleworking)
INTERNSHIPS/EMPLOYMENT: salaries, local companies, the local economy, advice for finding an internship or job in Dublin at the moment, companies that are hiring (internships & jobs), etc.
ENVIRONMENT, LIFESTYLE, CULTURE: security, freedom (of movement, of expression, etc), medical care coverage, transportation around the city and country, the Dubliner's way of life with and without a pandemic

Questions / Answers
The conference begins at 6:30 pm French time / 5:30 pm Dublin time
Useful links📎
---
Conference led by students of the Kedger Network Association

Kedger Network is the school's sports and cultural events association. More than just an events association, its team has a key asset: it brings together students and professionals. This helps meet the main challenge of any newcomer to a business school, which is to know what makes up the network. Created in March 2015, this young and dynamic association has seen its projects grow and develop from year to year.
Alexandre DE JUAN MATEO
Brand Accelerator Strategist - GOOGLE

After graduating in 2015, Alexandre immediately went to work for Google and has worked in digital advertising sales for the past five years. He's advanced within Google and has acquired a solid experience of Google products in the fields of search, display, shopping, YouTube, and Google Analytics. Alexandre currently holds the position of Brand Accelerator Strategist at Google. He's also the host of our local KEDGE Alumni branch.

Frédéric SOL
Manager, Client Success - INDEED.COM

A 2015 KEDGE graduate, Frédéric moved to Ireland during the last year of his masters. He now has six years of experience in management, account management, and web marketing in companies such as Google and Microsoft. In 2017, he went to work for Indeed.com as a Client Success Specialist and has advanced to his current position as Manager, Client Success . He is also one of the hosts of our local KEDGE Alumni branch.

Linkedin :

Lisa CHONIER
Freelance PHOTOGRAPHER

Lisa received a degree in Innovation and Design Thinking in 2017, then flew to Ireland after her graduation. She's worked there as a visual designer for various companies such as Airbus, Lafayette Photography UK Ltd., and Cognizant. Lisa created her own company in Dublin - Lisa Chonier Photographer – in 2019, and has been combining her job and passion since!