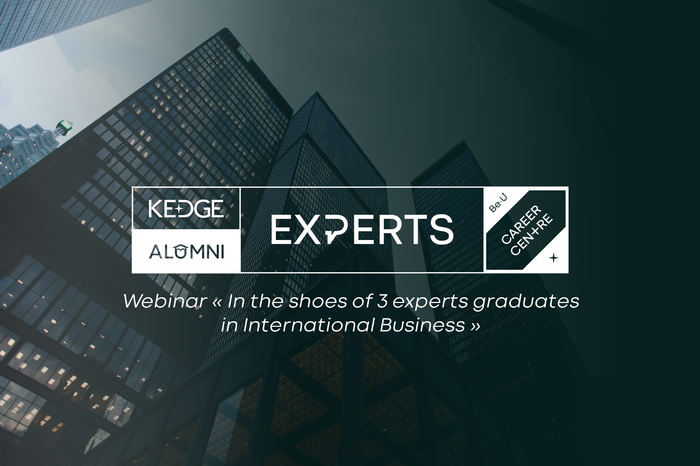 Online conference: In the shoes of three of our graduates who are International Business experts.
What do you know about International Business jobs?

Meet our International Business experts:
Remi Ganne, Director eBusiness - Poland/Ukraine/Baltics with Procter & Gamble in Poland;
Haris Alibegovic, Corporate Business Lead - Central & Eastern Europe, Google Cloud with Google in Ireland;
Jonathan Boulangeat, Business Development Manager with Champagnes Piper-Heidsieck & Charles Heidsieck in New York.
⚠️Attention, this conference will be held in English ⚠️
Introduction 👋
Last month we introduced you to three graduates who are experts in international marketing. This month, meet new Alumni experts and get an overview of International Business professions around the world. These three graduates work for major international companies: Google, Champagnes Piper-Heidsieck & Charles Heidsieck, and Procter & Gamble. Yet another opportunity to see the strength of our network.
Conference objectives 🧭️
The KEDGE Alumni team, the student association AIESEC Marseille, and the Career Centre, present the profiles of three of our graduates who are business experts working abroad. This interactive conference aims to bring our graduates and students closer together while responding to questions from those Kedgers who are curious to learn more about international business careers.
Who's this online conference for? 👤
Oriented primarily towards our French and international students, this conference is also open to our graduates, as well as anyone interested in the subject. Are you a student, and would like to work in this profession one day? Have you already received your degree and want to learn more about this field? Or, are you are a Kedger or an outsider and are simply curious to hear the perspectives of Alumni with a different path than your own? Then this conference is for you!

Programme 📝
Introduction by the KEDGE Alumni Network
Discussions between our Alumni business experts living in the United States, Ireland, and Poland

Job: career path, expertise, evolution, company, issues, international, news
Advice: student life, goals, projects

Questions and answers
Conference begins at 6:00 pm
Useful links 📎
---
AIESEC KEDGE Marseille is assisting in the organisation and management of the conference.

AIESEC KEDGE Marseille is a branch of the AIESEC youth leadership organisation, which operates in more than 127 countries. Its principal mission is to give young people the chance to explore and develop their leadership potential to make a positive impact on society. One of its main activities is offering international internship programmes to students, whether it be in a company or an NGO.