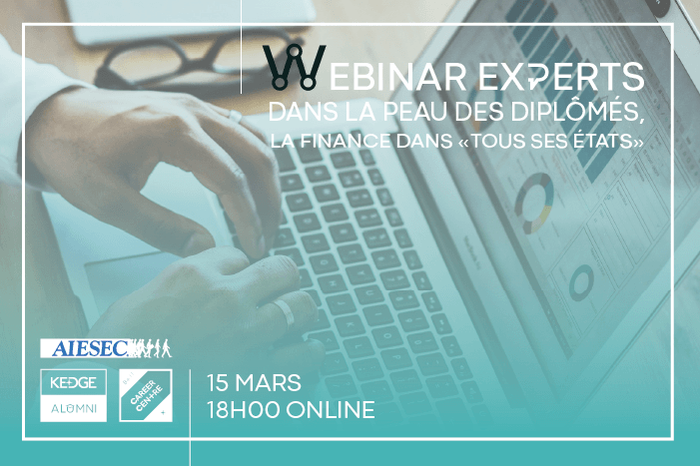 In the shoes of our graduates - Finance "in all its states"
Come and meet three graduates in Paris and Luxembourg who are experts in Finance. Between auditing,  treasury, and responsible finance, learn more about the different facets of this field.
Meet our Marketing experts:
Vicente GARRIDO MORTES, Senior Manager Audit & Advisory at PWC Luxembourg in Luxembourg (IBBA; 2010);
Fabien PIETROFORTE, Product Manager at BlueOrchard Finance LTD - Finance and Micofinance Impact on Luxembourg (FIN; 2012);
Laurent MARCELLIN, CEO of CashLab in Paris (ESC; 2003).
Introduction 👋
Our tour of the different areas of expertise continues. The month of March examines careers related to Finance. Interested?
Come and meet three graduates with rich career backgrounds and diverse responsibilities. It's a chance to discuss the different jobs and areas of the finance world. Learn more about responsible finance, auditing, and entrepreneurship through a company specialising in treasury. Located between Paris and Luxembourg, the speakers will share their experiences with you. An additional opportunity to see the strength of the network.
Conference objectives 🧭️
The KEDGE Alumni team, the student association AIESEC Marseille, and the Career Centre, present the profiles of three of our graduates who are marketing experts in Europe. This interactive conference aims to bring our graduates and students closer together while responding to questions from those Kedgers who are curious to know more about finance jobs.
Who is this online conference for? 👤
Slanted primarily towards our students, this conference is also open to our graduates, as well as interested in the subject. Are you a student and want to work in this profession one day? Have you already received your degree and want to learn more about this field? Or, are you are a Kedger or an outsider and are simply curious to hear the perspectives of Alumni with a different path than your own? Then this conference is for you!

Programme 📝
Introduction by KEDGE Alumni Network
Discussions between our Alumni marketing experts living in Paris and Luxembourg.

Jobs: career path, expertise, evolution, company, issues, international life
Advice: student life, goals, projects

Questions and answer
Conference begins at 6:00 pm
Useful links📎
---
AIESEC KEDGE Marseille is assisting in the organisation and facilitation of the conference.

AIESEC KEDGE Marseille is a branch of the AIESEC youth leadership organisation, which operates in more than 127 countries. Its main mission is to give young adults the opportunity to explore and develop their leadership potential to make a positive impact on society. Its main activity is to arrange internships abroad, whether in a company or an NGO.
Transaction KBS is co-hosting this conference and assisting in formulating the questions.

Transaction KBS is an association based in Bordeaux which was founded in 1994 by economics and finance enthusiasts. It's also co-organiser of the Trading Cup, and it assists investment clubs within the Pro-Acts that make up part of the Learning-By Doing pedagogy of KEDGE. Its role is to make finance accessible to all.

.
Laurent MARCELLIN
CEO - CashLab

Vicente GARRIDO MORTES
Senior Manager Audit & Advisory - PWC Luxembourg

Fabien PIETROFORTE
Product Manager - BlueOrchard Finance LTD - Impact Finance/Micofinance

Olivia ESTIBALS
Modératrice conférence Finance - Association AIESEC

Vaughan GRIMAL
Modérateur Conférence Finance - Transaction KBS