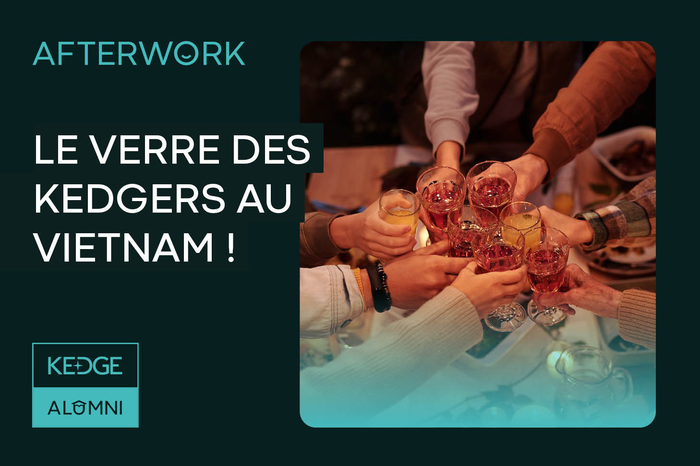 Get-together between the Kedgers of Vietnam
Join your Alumni community and share your experiences and opportunities during a casual Afterwork
Attention Kedgers in Ho Chi Minh! Both graduates and students!
Your KEDGE Alumni network is pleased to invite you to a relaxed Afterwork!
The rendez-vous will take place at La Moon Rooftop bar
SAVE THE DATE 🗓️
Monday, 3 April 2023
From 6:30 pm onwards
This social event will be the chance to officially welcome Alexandre LORGERON, who will take over the management of your local branch! You will also have the opportunity to meet Emeric ABRIGNANI, Head of International Promotion at KEDGE, who will be visiting Vietnam.
Whether you're a regular attendee or a newcomer to Ho Chi Minh, we're counting on your presence!
Don't miss this great evening. Register fast!
The network is happy to contribute to the cost of this event and is offering tapas to Kedgers who register!
Alexandre LORGERON

Convinced that marketing and communication are the levers that support the company's success, I want to make a difference beyond the limits, while uniting the firm and its customers through memorable stories. My experiences in advertising agencies and in the United States have given me the keys to becoming a qualified but above all passionate expert in the communication and advertising sector. Working as both a project manager and a strategic analyst, I was able to design creative and innovative memorable stories to strengthen relationships between brands and their customers. My heart swings with the agencies to continue to give meaning and power to ideas, in complete freedom. I believe in the power of brands and I am motivated to become an experienced advertising manager to write new stories and arouse emotions. Keywords: versatile, creative, curious, strategic, responsibility, leadership, innovative, organized, project management, dynamics, planning, monitoring, study, analysis, synthesis, relational, flexibility, international, english, spanish, french.

Email :
Location
About Your Event
La Moon Rooftop
110 Trần Não