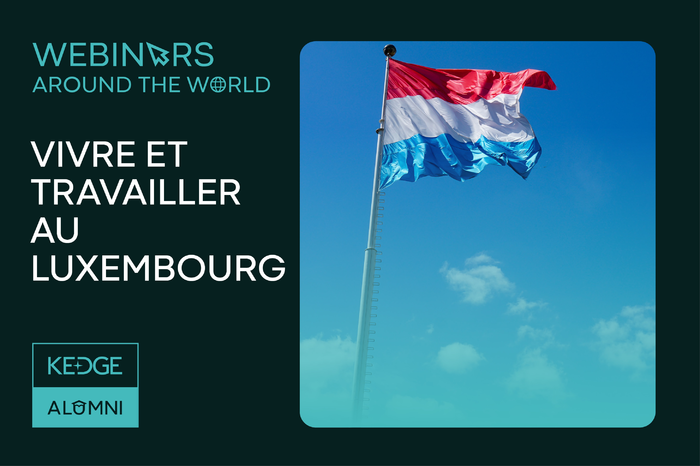 "Living and working in Luxembourg, our graduates tell all"
As part of our monthly "KEDGE Alumni Around the World" conference series, three graduates living in Luxembourg tell us about their experiences
Introduction 👋
Today, it's the city of Luxembourg's turn to be studied and reported on by those who know it best: our expatriate graduates who, despite the distance, receive support from KEDGE Alumni throughout the year thanks to our range of online services.
SEE ALL SERVICES FOR KEDGE ALUMNI LIVING ABROAD
Conference objectives 🧭️
Run by our branch hosts, on-site alumni, and the teams of KEDGE Alumni, and in association with the members of the student association Forum Events, this participative conference strives to bring our graduates and students closer together, while answering the questions of Kedgers who are curious about living and working abroad.
Connection link
Who's this conference for?

👤
This conference is open to all Kedgers (whether a graduate or a student), the entire KEDGE community (partners, teachers, staff, etc.), and anyone else interested in the topic. Then this conference is for you! Have you dreamed about doing an internship abroad, attending a partner university, or living abroad? Then this conference is for you!

Programme 📝
Luxembourg: More commonly known as Luxembourg City, is the capital of the Grand Duchy of Luxembourg and the 5th largest financial centre in Europe. Luxembourg City oozes with a charm that can be attributed to the harmonious mixture of historical heritage and contemporary architecture, as well as the presence of magnificent green spaces. Want to find out more?

Introduction by the KEDGE Alumni Association

Conversations and discussions with Alumni living in Luxembourg: what you need to know before deciding to live, whether temporarily or permanently, in Luxembourg
QUALITY OF LIFE/LEISURE ACTIVITIES: Universities, accommodation, the healthcare system, transport, cultural spots, etc.
I

NTERNSHIPS/EMPLOYMENT/ECONOMY:

The job market, major companies, promising sectors, professional opportunities, contracts, agreements, salaries, good advice for finding an internship, a VIE, and employment contracts when you are an expatriate, etc.
And other helpful tips!

Questions and answers
The conference is scheduled for 6:30 pm!
Useful links 📎
---
Conference led by a student from the Forum Events Association

Since 1997, the Forum Events Association has promoted culture, current events, and debate on the KEDGE Business School campus in Bordeaux by organising free conferences in collaboration with prestigious speakers.

Forum Events also publishes the Forum, a student newspaper that analyses and deciphers current issues that influence society and the life of the school.

The association also administers several Pro-acts that focus on contemporary issues, such as politics, the economy, CSR, culture, and public speaking.
Lakshina GUNPUTRAR
Senior Financial Auditor - EY Luxembourg

After a rather atypical career path, Lakshina graduated from Kedge Business School, Marseille in MSc Corporate Finance, Audit and Performance Management in 2018.

She began working at EY Luxembourg as a financial auditor in the Banking and Insurance department, as soon as she obtained her Master's degree.

Attracted by the international scene, she was able to gain several experiences abroad, notably in England for an internship in a law firm; in China thanks to Kedge during a university exchange; and finally Luxembourg, the country where she has been living for over 3 years now.

Email :

Arthur LE BRAS
Assistant auditor - EY

Arthur graduated from Kedge Business School, Bordeaux (PGE), class of 2018.
He has always been open to the world, and during his experiences has emphasized his thirst to be surrounded by people from different cultures and horizons. In the course of his studies and work, Arthur has lived in several countries (mainly Spain, Ireland, China and Luxembourg), speaks fluent English and has a basic knowledge of Spanish.
In addition, he has developed and continues to develop an interest in corporate finance, particularly in fast-moving sectors and markets.These are highlighted by the choice of his thesis "Internationalisation des Multinationales des pays émergents, Une analyse de la stratégie d'internationalisation d'Huawei et ZTE".
Since graduating in 2018, Arthur has been working at EY Luxembourg as a financial auditor for commercial companies (Telecom, Construction, Real Estate) in both consolidation and statutory audits.
In parallel, Arthur has played water polo for most of his life (first and second division).

Linkedin :