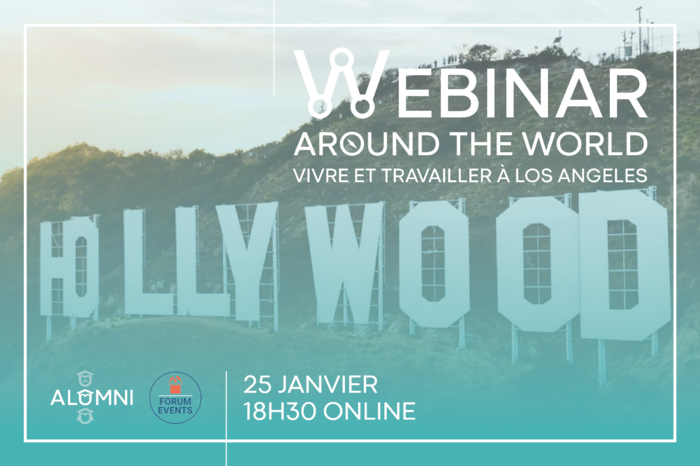 "Living and working in Los Angeles, our graduates tell us all"
As part of our monthly "KEDGE Alumni Around the World" conference series, three graduates living in Los Angeles tell us about their experiences
Introduction 👋
Today, it's Los Angles' turn to be studied and reported on by those who know it best: our expatriate graduates who, despite the distance, receive support from KEDGE Alumni throughout the year thanks to our range of online services.
SEE ALL SERVICES FOR KEDGE ALUMNI LIVING ABROAD

Conference objectives🧭️
Run by our branch hosts and on-site alumni the teams of KEDGE Alumni, and in association with the members of the student association Forum Events, this participative conference strives to bring our graduates and students closer together, while answering the questions of Kedgers who are curious about living and working abroad.
Connect via this link:
Who's this conference for? 👤
This conference is open to all Kedgers (whether a graduate or a student), the entire KEDGE community (partners, teachers, staff, etc.), and anyone else interested in the topic. Then this conference is for you! Have you dreamed about doing an internship abroad, attending a partner university, or living abroad? Then this conference is for you!

Programme 📝
Los Angeles: nicknamed the "City of Angels" is a sprawling megalopolis with multiple neighbourhoods, located in southern California on the edge of the Pacific Ocean, and is the second-largest city in the United States after New York. Want to know more?
Introduction by KEDGE Alumni
Conversations and discussions with Alumni living in California: what you need to know before deciding to live, whether temporarily or permanently, in Los Angeles

QUALITY OF LIFE/LEISURE ACTIVITIES

: Universities, accommodation, the healthcare system, transport, cultural spots, etc.

INTERNSHIPS/EMPLOYMENT/ECONOMY

: The job market, major companies, promising sectors, professional opportunities, contracts, agreements, salaries, good advice for finding an internship, a VIE, and employment contracts when you are an expatriate.
... and other helpful tips!
The conference will take place at 6:30 pm French time
- 9:30 am in Los Angeles
Useful links

📎
---
Conference led by a student from the Forum Events Association

Since 1997, the Forum Events Association has promoted culture, current events and debate on the KEDGE Business School campus in Bordeaux by organising free conferences in liaison with prestigious speakers.

Forum Events also publishes the Forum, a student newspaper that analyses and deciphers current issues that influence society and the life of the school.

The association also administers several Pro-acts that focus on contemporary issues, such as politics, the economy, CSR, culture, and public speaking.
Bérengère FERRIER
Founder - Creavilia

Bérengère Ferrier is a seasoned expert in marketing strategy for brands. After eight years with the Publicis group, she founded Creavilia in 2013 in Los Angeles.

Creavilia is a new-generation consulting agency that supports innovative brands with international ambitions.

She is co-founder of the www.frenchcluster.com network and is involved in helping French speakers set up in the USA. French Cluster is the leading business networking network in Los Angeles, bringing together 600 members of a fast-growing community.

With www.legalhackers.org, it organizes free conferences in Toulouse and Paris on new technologies with a legal angle. Finally, she provides pro-bono support to women entrepreneurs in the tech industry.

Email :

Linkedin :

Stéphanie LAUFFENBURGER
Strategic Sourcing Senior Manager (Marketing)

Stéphanie graduated from Kedge (ESC program) in 2001 after a gap year in the purchasing department at La Poste and a year's exchange at the University of Nottingham.

On her return to France, Stéphanie once again joined the purchasing department of La Poste, then after some 4 years became head of the indirect purchasing department of Groupe Bel (La Vache Qui Rit, Babybel, etc.). A desire to see new horizons a few years later... Stéphanie arrived in New York City in September 2008 at the height of the subprime crisis. With her work permit in hand, she managed to join the purchasing department of Associated Press (the equivalent of AFP) as a Senior Buyer. Life in NYC is great.

Stéphanie then followed her boss to Revlon to take up the position of Sourcing Director, Marketing Services. Some time later, a baby arrives, life in NYC becomes more complicated, so Stephanie contacts her network of recruiters and finally moves to Los Angeles to join Warner Bros./WarnerMedia as Senior Manager, Marketing Services. Stephanie never thought she'd still be in the US after 13 years, but today, with US citizenship in hand, she's been working for biotech Amgen for 2 years as Global Sourcing Category Lead, Sales & Marketing. Boldness, luck and determination: that's her career path. The future is hers to write...

Tel :

+1 (818) 954 60

Linkedin :

Aurore OLLIVIER
People Ops Manager - Shippabo

After graduating from KEDGE, I got my first job in Luxembourg, at Etix Everywhere, a startup specialised in data centre design. I was in charge of tech and finance recruitment and of several HR initiatives to promote the engagement of our employees. I then switched to L&D (learning & development) projects through the creation of the Etix Academy.

After three years in Luxembourg, my husband and I moved to Los Angeles to try something new. In 2018, I went to work for Shippabo, a young startup that developed a platform for managing international logistics and supply chains. I'm responsible for all HR-related matters, such as recruitment, onboarding, payroll, compliance, and employee engagement initiatives. We have 40 employees (10 in China and 30 in the US and Canada ... and we are still growing!)