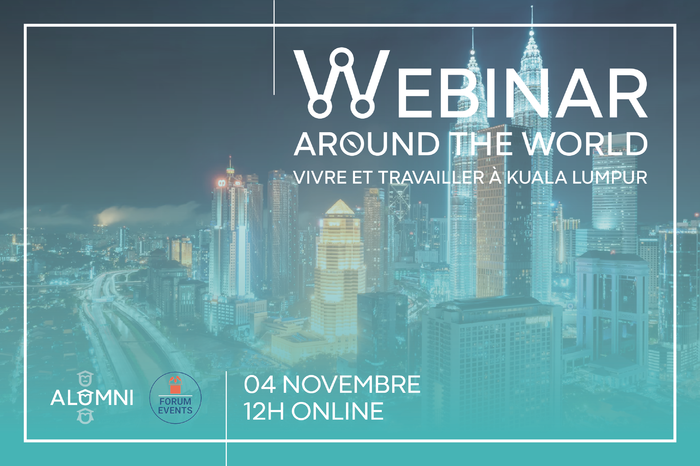 "Living and working in Kuala Lumpur, our graduates tell us all"
As part of our monthly "KEDGE Alumni Around the World" conference series, three graduates living in Kuala Lumpur tell us about their experiences
Introduction 👋
Because of the current global health crisis we are living, the 57 international branches of KEDGE Alumni have had to adapt, so this year they are holding a new cycle of conferences highlighting a city, a country, or a region of the world. Today, Kuala Lumpur is the city we will look at through the perspective of those who know it best: our expatriate graduates, who receive support from KEDGE Alumni throughout the year despite living far way thanks to our range of online services.
SEE OUR SERVICES FOR OUR INTERNATIONAL
Conference objectives 🧭️
Led by the KEDGE Alumni teams, together with the students of the Kedger Network Association, branch managers, and local graduates, this participatory conference aims to bring our graduates and students closer together, while answering the questions of Kedgers who are curious about living abroad.
Who is this online conference for? 👤
This conference is open to all Kedgers, whether a graduate or a student. Have you already graduated and are thinking of a change of scenery? Are you a student and would like to do an internship in this part of the world? Or are you a Kedger simply curious to hear about the experiences from alumni with a different background from your own? Then this conference is for you!

Programme 📝
Introduction by the KEDGE Alumni network
Conversations and dialogues from Alumni living in Hong Kong: what you need to know before choosing to live, whether temporarily or permanently, in Hong Kong
- Employment: salaries, local companies, local economy, risks and opportunities to create a business in HK today, the local alumni network
- Internships: how open the country is to interns, advice on finding an internship, recruiting companies (internships, jobs), start-ups, and other information.
- The environment, lifestyle: safety, freedom of movement, medical care, climate, travel in the city/country, leisure activities, lifestyle of the locals (such as pace, traditions, culture, etc-
Question & Answer time for the public
Conference at 12.30 pm French time / 6.30 pm Hong Kong time
Useful Links 📎
SEE KEDGE ALUMNI SERVICES AVAILABLE TO INTERNATION ALUMNI
FACEBOOK GROUP FOR KEDGERS IN CHINA
LINKEDIN GROUP FOR KEDGERS IN ASIA
---
Conference led by students of the Kedger Network associations

Kedger Network is the school's sports and cultural events association. More than just an events association, this team has a key asset: it brings together students and professionals. This helps meet the main challenge of any newcomer to a business school, which is to know what makes up the network. Created in March 2015, it is a young and dynamic association that has seen its projects grow and develop year after year.
Elisabeth LAUBEL
Resume Writer - Outplacement Consultant - International Mobility Specialist - Asia Career Management - All1KL

Elisabeth Laubel, a 2006 graduate, has built her professional career over 30 years on assisting companies and individuals in an international environment.

From working for the Caisse des Dépôts (late 80's - early 90's), to managing a real estate company in Moscow (Russia - 90's), to the regional economic development within a Provencal CCI (2000's), she has been living and working in Malaysia since 2008.

When she arrived in Malaysia, she created All1KL Sdn.Bhd. - Asia Career Management, a Human Resources firm specialising in professional career management of individuals and providing support to companies in the matter of redundancies (collective or individual). She is familiar with all the administrative, financial and economic aspects of moving to Malaysia.

Elisabeth has also been a Foreign Trade Advisor (CCE) since 2011 and contributes through its network of 4,000 people worldwide, to promote the development and reputation of France abroad.

She holds an MBA (Euromed Marseille - Antai School Shanghai) and wrote her thesis in 2006 on the issue of "Sourcing in China".

She speaks both English and Russian, and can also communicate in Bahasa Malaysia. Elisabeth is passionate about jungle trekking and long distance swimming.

Olivier CANE
Owner and founder - Riviera University and TFA Campus

Olivier Cane, graduated from KEDGE Business School Marseille in 1992. In 2008, he returned to get gat a Doctorate in Business Administration.

He has been an entrepreneur his entire life, running or helping to run SMEs in France, Germany, and SE Asia. He is now the owner of an online business school, Riviera University, as well as a language school in Kuala Lumpur, Malaysia. Olivier has been living in Malaysia now for more than 10 years.