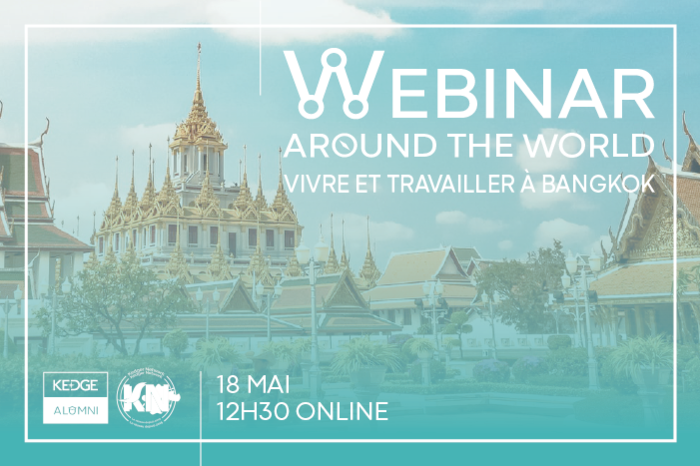 "Living and Working in Bangkok, our graduates tell-all"
As part of our monthly "KEDGE Alumni Around the World" conference series, two graduates living in Bangkok tell us about their experiences
Introduction 👋
Today, it's Bangkok's turn to be studied and told about from those who know it best: our expatriate graduates who, despite the distance, receive support from KEDGE Alumni throughout the year thanks to our range of online services.
SEE ALL SERVICES FOR KEDGE ALUMNI LIVING ABROAD
Conference objectives 🧭️
Led by the local branch managers, local graduates, and the KEDGE Alumni teams, along with the students of the Kedger Network Association, the goal of this interactive conference is to bring our graduates and students closer together while answering the questions of those Kedgers who are curious about living abroad.
Who's this online conference for? 👤
This conference is open to all Kedgers (whether a graduate or a student), the entire KEDGE community (partners, teachers, staff, etc.), and anyone else interested in the topic. Do you dream about doing an internship abroad, attending a partner university, or move abroad? Then this conference is for you!

Programme 📝
Bangkok: City of Angels, Thai capital, Megalopolis that Never Sleeps, City of Adrenaline, City of Contrasts – the city whose freedom to "do and be" makes its inhabitants proud... would you like to know more?

Introduction by the KEDGE Alumni network
Conversations and discussions with Alumni living in Thailand. What you need to know before making the choice to live, whether temporarily or permanently, in Bangkok

QUALITY OF LIFE/LEISURE ACTIVITIES: Universities, accommodation, the healthcare system, transport, cultural spots, etc.

INTERNSHIPS/EMPLOYMENT/ECONOMY

: The job market, major companies, promising sectors, professional opportunities, contracts, agreements, salaries, good advice for finding an internship, a VIE, or an employment contract when you are an expatriate.
And other helpful tips!

Questions and answers
The conference will take place at 12:30 pm French time
- 5:30 pm Bangkok time -
Useful links📎
---
Conference led by students of the Kedger Network Association

Kedger Network is the school's sports and cultural events association. More than just an events association, its team has a key asset: it brings together students and professionals. This helps meet the main challenge of any newcomer to a business school, which is to know what makes up the network. Created in March 2015, this young and dynamic association has seen its projects grow and develop from year to year.
Maxime LECCIA
Regional Sales Manager, APAC & Middle East - Saint Gobain Aerospace

Graduated from both KEDGE and Tongji University in 2014, Maxime worked in the industry at Carl Zeiss in China and Germany before going to work for Airbus in Asia between Bangkok and Singapore 6 years ago. Today, he is responsible for Aerospace sales in the Asia-Pacific region at Saint-Gobain Aerospace and is based in Bangkok. He has a good knowledge of the country's development and the potential for Kedgers to establish themselves in Thailand.

Linkedin :

Carolyn LE BIHAN
Lead Consultant - ThoughtWorks

After graduating from KEDGE's IBBA and Entertainment and Media Management MSc programmes in 2013, Carolina held several internships in Paris - International Project Manager Intern at Advent Group, International Brand Image Intern at Guerbet, and Account Manager at Dentsu Aegis Network. She then worked at Olea Medical for four years where she started her digital career before moving to Bangkok in 2019. Today, she's the Lead Consultant of a local team today at ThoughtWorks. Her vision of the local economy, which is booming, will complement Maxime's view of the country.