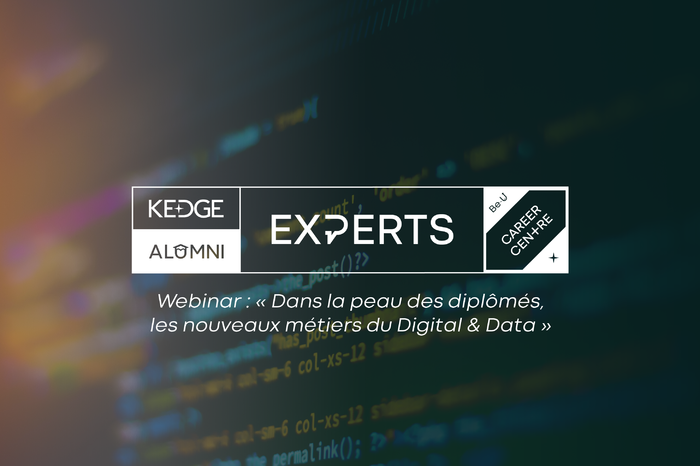 In the Shoes of our Graduates: The New Jobs of The Digital & Data sector
Two of our Alumni tell us about their jobs that carry little-known titles! Discover the emerging jobs of the digital & data sector.

Meet our freelance digital & data experts:
John Labuzan, Product Designer & Growth Marketer & UX Designer, main client : the Ministry of Ecological Transition, Paris
Apolline Sentucq, Product Designer & cofunder of www.turnk.co, main client : Nestlé, Paris.
Marine Amouroux, Data Scientist for Cartier, Toulouse;

Introduction 👋
At the end of this calendar year, we are giving you a chance to discover the new jobs in the digital and data sector. Over the years, new job titles have emerged; however, we don't know what the jobs behind those titles detail. So come discover three of these positions through the career paths of our graduates who are experts in this field. Learn more about these jobs with mysterious titles and meet the network at the same time!
Conference objectives

🧭️
The KEDGE Alumni team, the student association AIESEC Marseille, and the Career Centre, have invited the Technom'aid association, which specialises in digital, to introduce two of our graduate experts in digital and data. This interactive conference aims to bring our graduates and students closer together while responding to questions from those Kedgers who are curious to learn more about the new jobs in the digital sector.
Who's this online conference for? 👤
Oriented primarily towards our students, this conference is also open to our graduates, as well as anyone interested in the topic. Are you a student, and would you like to work in this profession one day? Have you already received your degree and want to learn more about this field? Or, are you are a Kedger or an outsider and are simply curious to hear the perspectives of Alumni with a different background from your own? Then this conference is for you!

Programme 📝
Introduction by

AIESEC
Discussions between our Alumni digital & data experts


Job: career path, expertise, evolution, company, challenges
Advice: student life, goals, projects

Questions and answers
Conference begins at noon
Useful Links 📎
---
AIESEC KEDGE Marseille is assisting in the organisation and facilitation of the conference.

AIESEC KEDGE Marseille is a branch of the AIESEC youth leadership organisation, which operates in more than 127 countries. Its main mission is to give young adults the opportunity to explore and develop their leadership potential to make a positive impact on society. Its main activity is to arrange internships abroad, whether in a company or an NGO.
Technom'aide association is assisting the AIESEC association in the format and organisation of the conference.

This association is dedicated to digital technology on the Marseilles campus of KEDGE Business School and purpose is to make life easier for students and professionals in terms of the use of tools related to IT and NICT (New Technologies of Information and Communication).

The activities of the association centre around five projects: digital support (website creation, audit specifications), training (Adobe and Microsoft Suite), repairs (computers and telephones), the hub 3.0 (AO tracking and 3D printers) and the Digital Day.