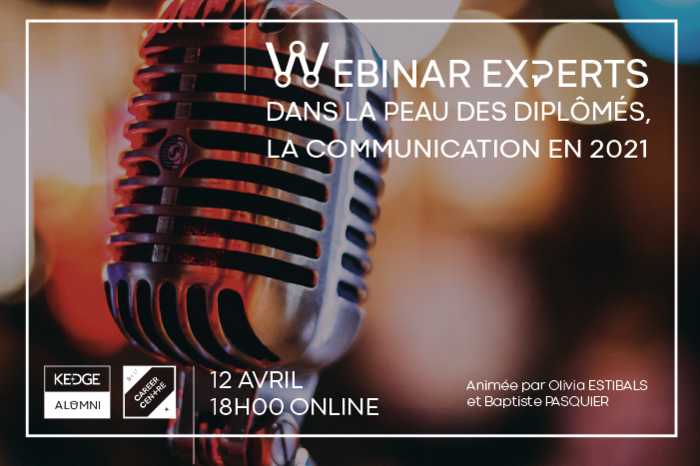 In the shoes of our graduates – Communications in 2021
During this time of the pandemic, communications agencies have had to learn how to reinvent themselves.  Meet three graduates who are agency directors and experts in the communications field.
Meet our Communications experts:
Béatrix Mourer, Co-founder & Creative Director of Magic Garden Agency, Paris;
Stéphane Clousier, Co-founder of Castor & Pollux, Paris;
Joël Griffault, Co-founder & Creative Producer of SCOPE, Paris
Introduction 👋
Over the past few months, we've introduced you to many different fields of activity and have met many graduates. so that you can understand the reality of those professions and how each of them has dealt with crisis management. For April, we will present a profession that has been shaken by the crisis: COMMUNICATION. During a webinar, meet three graduates, experts in this field, each with a different speciality. This helps you visualize how this field has transformed during these complicated times.
Hear from the founders of event, digital, and audio-visual communications agencies in Paris. Yet another opportunity to understand what the strength of the network means.
Conference objectives🧭️
The KEDGE Alumni team and the Career Center, as well as two students, present the profiles of three of our graduates who are communications experts in Europe. This interactive conference aims to bring our graduates and students closer together, and respond to the questions of Kedgers who are curious and want to know more about the communications field and the position of director.
Who's this online conference for? 👤
Slanted primarily towards our students, this conference is also open to our graduates, as well as interested in the subject. Are you a student and want to work in this profession one day? Have you already received your degree and want to learn more about this field? Or, are you are a Kedger or someone from outside the school who is simply curious to hear the perspectives of Alumni with different paths from your own? Then this conference is for you!

Programme 📝
Introduced and moderated by two students: Olivia Estibals and Baptiste Pasquier
Discussions between our Alumni communications experts based in Paris|

Jobs: career path, expertise, advancement, companies, issues, international aspect
Advice: student life, goals, projects

Questions and answers
Conference begins at 6 pm
Useful links 📎
SEE ALL KEDGE ALUMNI SERVICES FOR STUDENTS
Béatrix Mourer
Co-founder & Creative Director of Magic Garden Agency, Paris; - Magic Garden Agency

Stéphane Clousier
Co-founder of Castor & Pollux, Paris; - Castor & Pollux

Joël Griffault
Co-founder & Creative Producer of SCOPE, Paris - SCOPE