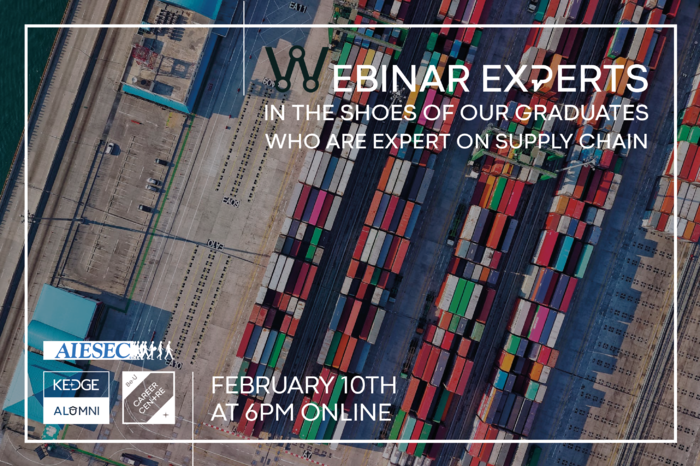 In the shoes of our graduates who are expert on supply chain
Meet our Marketing experts:
Estelle Soileux, Supply Chain Director Middle East chez SEPHORA à Dubaï;
Isabelle Dutrenit, Director Supply Chain Operations at Starbucks;
The conference will be held in english
Introduction 👋
It has been several months now that we have been going out to meet our graduates and their expertise. This month, it is the turn of the Supply Chain field to be honored through the profiles of our alumni. Meet two Talent Directors, positioned in London and Dubai within major international groups: Starbucks and Sephora. They will share with you their feedback and explain the reality of the field.
Yet another chance to see how strong our network is!
Conference objectives 🧭️
The Kedge Alumni team and the student association AIESEC Marseille, as well as the Career Center, present the profiles of two of our graduates who are Supply Chain experts around the World. We are also pleased to welcome on this conference the representatives of the ISLI program who will be the moderators of the conference.
This participatory conference aims to bring our graduates and students closer together, while answering questions from kedgers curious to learn more about supply and the position as director.
This conference will be held in English.
Who is this online conference for? 👤
Oriented primarily towards our students, this conference is also open to our graduates, as well as to those from outside the school. Are you a student, and would you like to work in this profession one day? Have you already received your degree and want to learn more about this field? Or, are you are a Kedger or an outsider and are simply curious to hear the perspectives of Alumni with a different background from your own? Then this conference is for you!

Programme 📝
Introduction by AIESEC KEDGE Marseille Association
Discussions between our Alumni Supply Chian experts living in London and Dubaï

Job: career path, expertise, evolution, company, issues, international
Advice: student life, goals, projects

Questions and answers
Conference begins at 6:00 pm
Useful links 📎
---
AIESEC KEDGE Marseille

is assisting in the organisation and management of the conference.

AIESEC KEDGE Marseille is a branch of the AIESEC youth leadership organisation, which operates in more than 127 countries. Its main activity is arranging international internships, whether in a company or an NGO, so young people can explore and develop their leadership potential to make a positive impact on society.
Estelle Soileux
Supply Chain Director Middle East - SEPHORA

Isabelle Dutrenit
Director Supply Chain Operations - Starbucks

Julie Gasser
ISLI Student - Moderator

Hugo Guingand
ISLI Student - Moderator

AIESEC KEDGE Marseille Association
Moderator