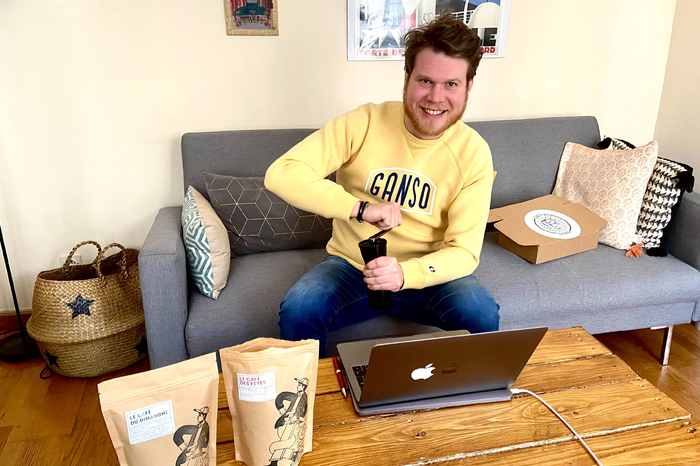 22/11/2021
Zoom on Florian, Kedger and Founder of Forts de Café, a startup that makes speciality coffee affordable for everyone!
A graduate of KEDGE's Grande Ecole Programme, Florian Martinez Lopez founded his own company a year ago. It aims to popularise speciality coffee while showcasing the work of coffee artisans.
Forts de Café, a startup created in December 2020, wants to make speciality coffee available to as many people as possible. "We set out to accomplish two missions: to popularise speciality coffee, which can sometimes be intimidating or feel snobbish, and to promote the work of artisan roasters throughout France," said its founder, Florian Martinez Lopez.
LINKEDIN- FLORIAN MARTINEZ-LOPEZ
---
What is speciality coffee?
There are two types of coffee: commodity coffee (the most often consumed, which can be found in supermarkets and in capsule form), and speciality coffee. And there are many differences between the two:
The coffee itself. Coffees that would like to be considered speciality coffee are scored on a scale of 1 to 100 by Q graders who evaluate different aspects of the coffee, such as bean defects, length of flavour, acidity, etc. Below 80 the coffee is not considered to be a speciality coffee!
Growing coffee. To produce these results, coffee trees are often grown in the shade of other trees that protect them from the sun's rays, provide the nutrients they need to grow, and help control insects (e.g., banana trees act as insecticides). This limits the need for chemical additives and also allows for the development of more flavourful coffees. The coffee beans are then harvested and sorted by hand, which not only ensures optimal coffee quality but also provides jobs in areas that are often located far from the labour market. It's a virtuous circle for the communities.
Income for coffee growers. Unlike commodity coffee, whose price is set by the stock market, speciality coffee selling prices are set according to the quality of the coffee, which ensures a more equitable income for producers and values their work and investment in the quality of the coffee.
---
The French are going back to coffee beans, and no, coffee is not a "guy" drink!
Voir cette publication sur Instagram
Although sales of espresso machines are exploding (+600% in 4 years, source: LSA) and the market for coffee beans is seeing staggering growth of 47% per year (source: Nielsen), France still lags behind the Nordic and Anglo-Saxon countries in the consumption of speciality coffee (4% vs. 40% in the USA, source: SCA).
Moreover, coffee is often presented as a beverage. Forts de Café makes speciality coffee available to everyone. The start-up, created in December 2020, aims to make speciality coffee accessible to as many people as possible. "We set out to accomplish two missions: to popularise speciality coffee, which can sometimes be intimidating or feel snobbish, and to promote the work of artisan roasters throughout France," said Florian However, although more than 88% of men drink coffee, 79% of women also drink it (Ifop/C10 study), and their tastes are more in tune with speciality coffee. In fact, various studies show that women prefer sweeter and less bitter drinks.
However, the bitterness we are familiar with in coffee is the result of over-roasting to mask the defects of commodity coffee. In speciality coffees, the beans are roasted to bring out the specific characteristics of the land and the work of the coffee grower, resulting in milder, more acidic, floral, and sweet coffees. Just by looking at the coffee beans, the difference is clear: the former is very black and shiny whereas speciality coffee beans are brown.
---
Forts de café, the subscription service to discover all the richness of speciality coffee… simply

In order to promote speciality coffee and make it available to everyone, Forts de Café offers a subscription service that allows subscribers to receive, every month, two 250g packages of coffee selected from the best French roasters. To provide them with coffees that match their needs, subscribers are asked to choose :
1/ Their subscription package.
1 month without a commitment to purchase further, 29,99€.
3 months , 85,4€ (-5% per month)
6 months 161,9€ (-10% per month)
2/ The method they use to prepare the coffee: espresso or a gentle method (filter)
3/ The grind: bean or ground depending on their method of preparation (Italian coffee maker, filter, espresso machine, etc.)
---
In addition to their coffees, subscribers will receive a 15-page booklet by e-mail to learn more about coffee: including interviews with coffee roasters and importers, information on the coffees of the month, information on the cultivation of coffees, as well as a tasting sheet to better appreciate the coffees and to train their palate.
Find out more and discover speciality coffee: www.fortsdecafe.fr
YOU ARE NOMINATED, YOU LAUNCH A PROJECT, A START-UP?