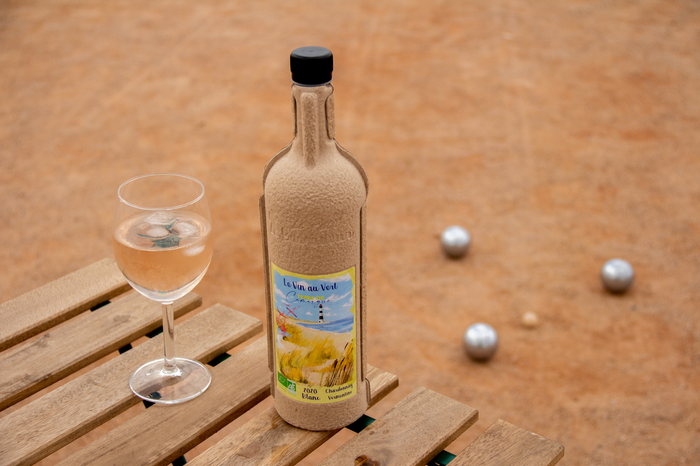 03/02/2022
Two KEDGE graduates create an innovative type of wine bottle: La Bio'teille.
Victor Roux and Marin Belorgey founded a start-up that uses innovative, low-impact materials to produce a type of wine bottle that generates five times less CO2 than glass.
This is the story of two backpackers frustrated about having to carry wine bottles with them, which are too heavy, too bulky, and not suitable for rambling. Not to mention the oft-forgotten corkscrew, the wine that leaks in your rucksack, and the empty bottles to carry back to the bins. So they came up with an idea to redesign the traditional wine bottle into something more practical and environmentally-friendly: Le Petit Baroudeur.
Voir cette publication sur Instagram
See their post on Instagram
---
An eco-designed bottle - a cross between a glass bottle and a box - specially developed for new consumption patterns
This young Marseille-based start-up has created an innovative wine bottle - a cross between a traditional bottle and a box that is made of moulded fibre. Called the "La Bio'teille", this container has five key advantages over glass bottles:
Eco-responsible: A carbon footprint divided by five over its entire life cycle (Eco-design study conducted by the Eco-Design Cluster)
Isothermal: Maintains its freshness 30% longer than glass bottles once taken out of the refrigerator
Lightweight: Eight times lighter than a glass bottle (53gr. vs 450gr.)
Resistant: The ability of the bottle's shell to absorb shocks makes it possible to design shipping boxes that are 30% lighter and overpackaging is not required. Result: A total weight divided by 2 for shipping a box of three bottles.
An optimised shipping process: Compact and stackable components require three times fewer trucks to transport empty bottles.
This novel wine bottle is composed of two materials. It has a moulded fibre shell made from 100% recycled materials (newspapers and cardboard) and is both compostable and biodegradable. This shell contains a flexible and recyclable liner made of a single-material plastic which provides the necessary protection to keep the wine fresh. This differentiates La Bio'Teille from the liners found in current wine boxes on the market, which are not compatible with the recycling system in France. Once the wine is consumed, the liner can be separated to put in the plastic recycling bins, while the biodegradable shell can be put in the compost or used to light the barbecue.
---
Their mission: To offer organic wines in eco-friendly bottles that are very different from conventional table wine.
Le Petit Baroudeur is committed to offering quality and affordable wines, meant to be enjoyed in a relaxed and friendly setting, in keeping with the French art of living. To keep their promise, the two entrepreneurs are involved throughout the entire chain of wine production, from the winemaker to the consumer.
As wine merchants, they select light, fruity, and 100% organic wines from the Provence region and sells them in their bottles. This approach allows them to focus directly on the consumer, whilst retaining control and traceability over the wines contained in La Bio'teille. As they are autonomous in the bottling process, they have a custom-designed portable filling machine for their container. Small enough to fit in the boot of a car, they can connect to any wine producers' vats to fill their bottles.

---
The start-up has launched a test phase with 10,000 bottles available for pre-order on their website
For its launch, the Marseille-based start-up sourced simple, light, and fruity wines from two winemakers in Provence, all of which are certified organic IGP or AOC. The company wants to work with local winemakers who share their vision of respect for the land.
The wine producer that was selected to produce the first 1,500 bottles is located in an idyllic setting close to the sea. This gives the wines a touch of fruitiness, salinity, and freshness. Located in the heart of the Camargue Natural Park, the passion for the land has been passed down from generation to generation since 1950, when the winemaker's appreciation for the surrounding nature preserve led him, in 2006, to begin farming organically, growing grapes and rice.
The "Camargue Box", which is available for pre-order at 29.95€ on the Le Petit Baroudeur website, contains a white, a red, and a rosé, as well as shortbread and brochure. The wine can also be found in some Intermarché stores in the South of France to test the product in stores and to identify the consumers' opinions about this new product.
YOU ARE NOMINATED, YOU LAUNCH A PROJECT, A START-UP?