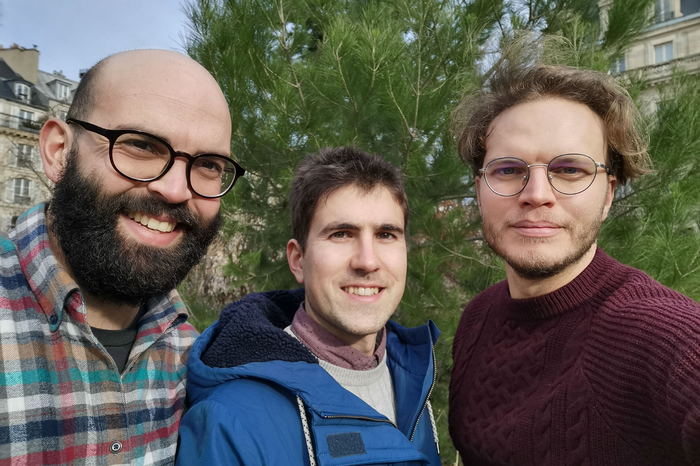 12/02/2021
Three KEDGE graduates have founded CERF VERT, a participative and ecological forestry group!
Max, Thibault, and Guilhem, three graduates from KEDGE's GEP programme on its Marseille campus, have gotten together and created a socially responsible company, CERF VERT. It's objective: protect the French forest ecosystem.
To begin, tell us how you met.
We met each other in Marseille, at KEDGE. We were all in its Grande Ecole Programme.
Were you members of any student associations when you were at KEDGE?
Max and Thibault were both members of Clepsydre, so from the beginning of the project. Max was also a member of SimONU. Thibault was also a member of Unis-Terre, as was Guilhem.
Max: SimONU, Clepsydre
Thibault: Clepsydre and Unis-Terre.
Guilhem: Unis-Terre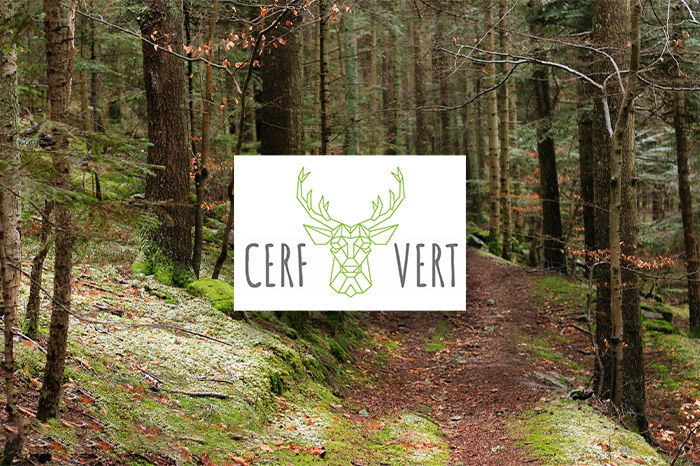 ---
Tell us what you did after your studies were finished. What positions have you held? What have you learned in those positions?
Our paths separated once we graduated. Max stayed in China after doing a university exchange in Guangzhou and then went to Paris to work in consulting and innovation. Thibault, after doing a VIE in Management control Systra in New Delhi, created his own pharmaceutical company in France. Guilhem got his Master 2 at Sciences Po Bordeaux and has been a business consultant at Plein Sens, an agency that specialises in social issues and organisational design.
Guilhem and Thibault currently live in Paris, and Max lives in Lyon.
How did you come up with the idea of starting CERF VERT?
We came up with the idea at the end of 2019 when we realised that France' doesn't have a problem with deforestation, but rather with badly managed forestry.
As a result of the industrialisation of forestry practices, an increasing number of French forests are being transformed into tree plantations with monocultures (a single tree species planted in straight lines) which are clear cut after 40 years. We believe that this type of standardisation impoverishes, not only the soil but also those who work in the timber industry. François-Xavier Drouet's documentary "Le temps des forêts" (The Time of the Forests) explains very well how technique and management tools have transformed the profession, and how the technique can liberate or enslave. These practices deteriorate ecosystems, whereas we believe that the preservation of living things is fundamental.
With CERF VERT, we propose another approach - that of logical and sustainable exploitation of the forest, that links the preservation of biodiversity to economic sustainability.
Max, who thought up the idea, didn't want to start such a project on his own so he contacted friends from his former graduating class. That's how Thibault and Guilhem came to be involved.
Thibault had suggested to Max that to invest in his budding pharmaceutical startup a few years ago. Last year, it was Thibault's turn to invest in Max's venture:)
So in 2020, CERF VERT, a participative and ecological forestry grouping, was created.
Participatory: above all, this project has a human dimension and its members have a real role to play. We are motivated by the associative approach, where each member brings what he or she can. We can acquire new forest plots with capital contributions from new members. Our members organise outings to the forest, set up awareness-raising sessions, and look for plots of land.
Ecological: as you are probably aware, this is the very purpose of the group which harvests timber while preserving biodiversity, such as including rebuilding habitats, diversifying species, improving carbon storage, etc.
We have fixed principles such as 1 partner = 1 vote and remaining independent. For example, we don't take out bank loans, we only spend money we actually have. We are growing at our own pace and the only way we can do that is by taking on new members.
We have 25 members as of February 2021. Our headquarters based in Lyon. Our project is entering the take-off phase and we're acquiring our first 10-hectare plot of land in Vocance in the Ardèche.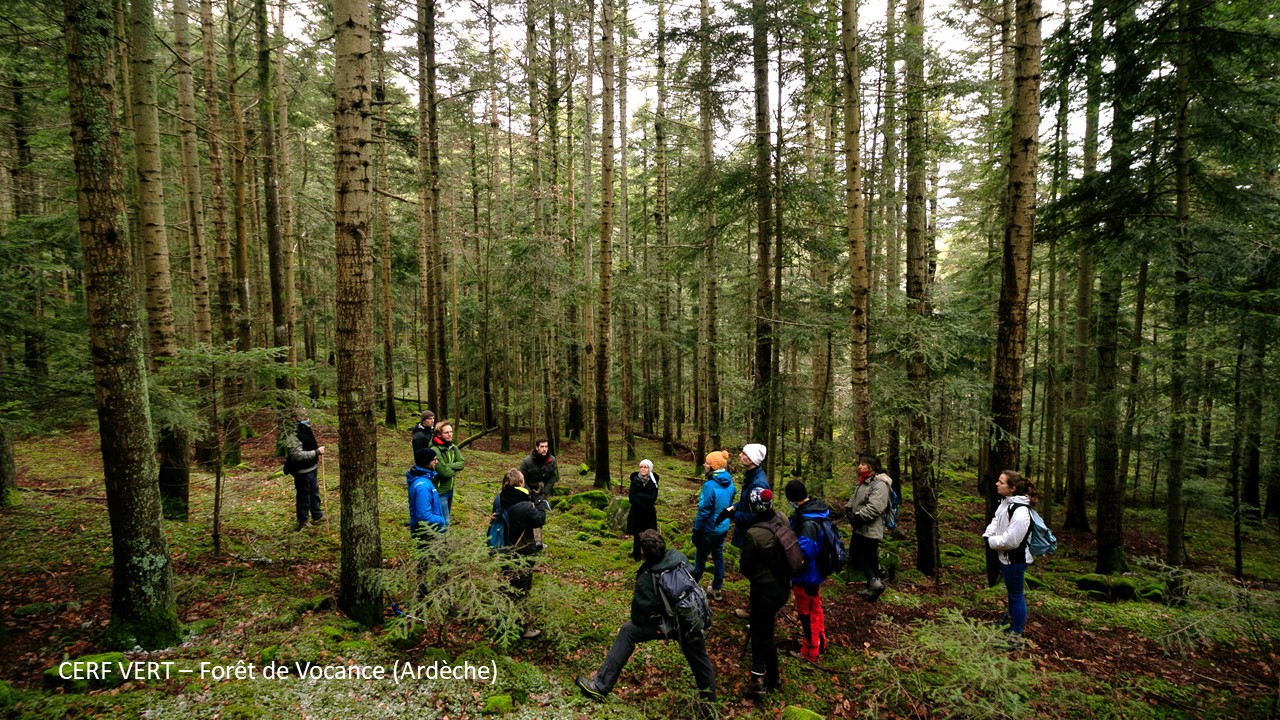 ---
What are your development goals?
When you manage a forestry group, you're investing in a long-term commitment spanning the life of the trees, a hundred years or so. We want to bring together hundreds of citizens to purchase forests collectively and manage them sustainably.
We're moving forward in a very humble way. We're not forest experts, so have linked with other forestry groups and experts who take a soft optimisation and reasoned forestry approach. Establishing ourselves locally is fundamental for us, with both owners and players in the timber industry. This is something we want to strengthen. We're planning to buy 30 hectares of forest this year with the help of 60 members who are investing and participating in the CERF VERT forestry group.
We aim to sell our first timber and establish local markets within the next three years and reach critical mass with strong local roots. For a forestry group, this represents about a hundred hectares of forest land within a 2-hour drive from Lyon.
We are accelerating the addition of new members and hope to reach 200 members, which is why we are sharing our project within the KEDGE graduate network. We're attached to our school and there are already three KEDGE graduates in the group. We hope that a few graduates will be willing to join us as members or contact us if they have any plots of land to offer.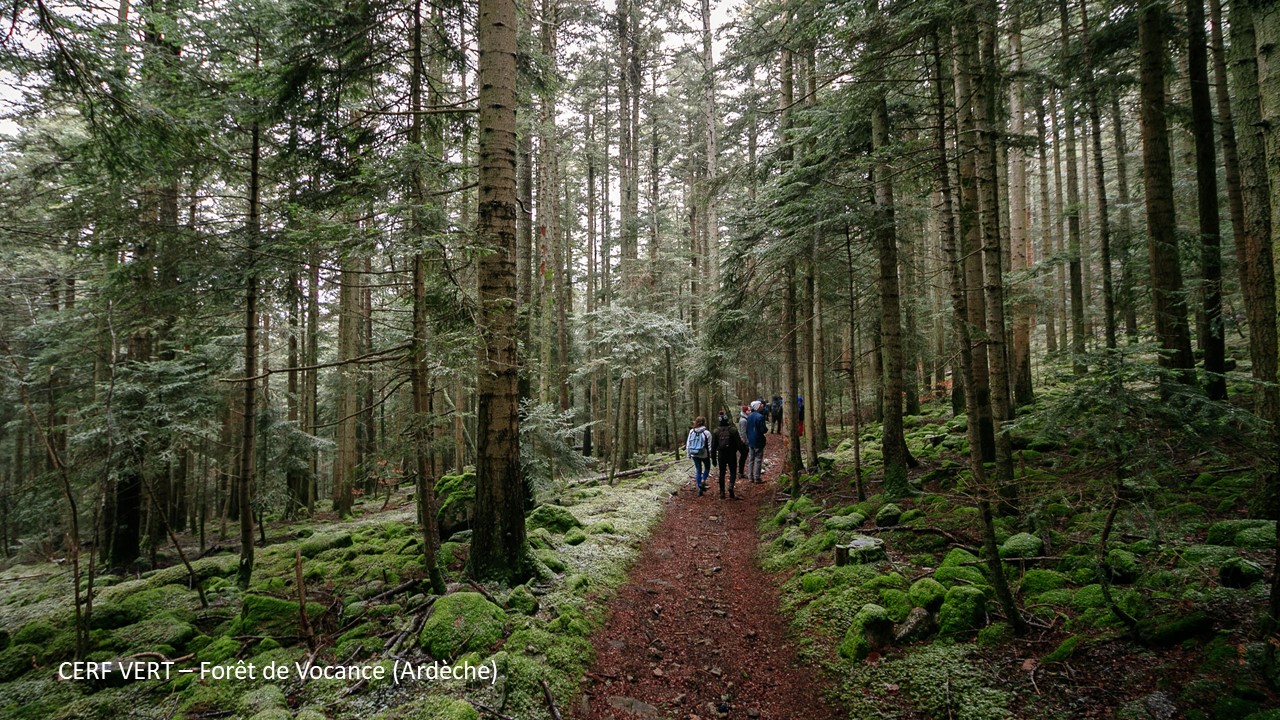 ---
How did the education you received at KEDGE Business School help you become who you are today, and what was it about its teachings helped you develop your project?
KEDGE gave us the chance to meet again in relation to the CERF VERT project. This is something that we hope to convey to you through this interview – you will keep the bonds you made at school your entire life.
All three of us share the fact that the school pushed us to think about the future in all its complexity and diversity. It also taught us to project ourselves, not as a young graduate, but as an actor in the world of tomorrow.
We're all shaped by the Pro Acts and our involvement in associative projects. Those are essentially life-sized sandboxes for learning how to set up, organise, and initiate projects. For example, something we emulated is what the school did with generations required to participate in associations: push the pupils to stay for two years – one year to learn, one year to pass on the strong sense of collective strength they acquired. We do a little bit of that at CERF VERT where a minimum of two people are involved in all our initiatives. This is essential for the durability of projects and ensures an abundance of "good" ideas.
If you were to give advice to any KEDGE graduate who wants to do something similar, what would it be?
Max: Be daring and travel.
Thibault: Work Work Work and find projects that inflame your passions. When you do something inspiring, the work becomes easy, even a pleasure!
Guilhem: Persevere and get involved in what you hold dear to your heart.
Anything you'd like to add? A message to pass on? (Call for a vote, take part in a fundraising?)
Investing in a forestry group such as CERF VERT allows you to build up capital that is anchored in reality, in life. It's also a way to choose a responsible investment. The investment required is between €2,000 and €8,000. We also accept contributions in kind from owners who would like to transfer their forest to us to be managed sustainably.
We don't promise an annual profit. However, the taxation of the forestry sector is particularly advantageous. Members benefit from a tax reduction of 25% of the amounts invested in the year in which the group's capital is acquired.
We're happy to discuss this with anyone interested in what we are doing.
YOU ARE NOMINATED, YOU LAUNCH A PROJECT, A START-UP?