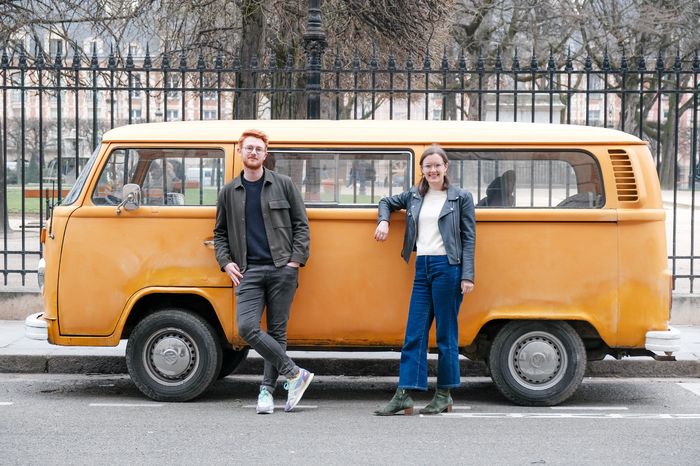 20/04/2021
This Kedger has created the Twomorrow project - an adventure exploring environmental solutions in Europe!
Léo Primard (Class of 2017), accompanied by his partner, will travel across Europe in a van to explore solutions to global warming and participate in the creation of the magazine Twomorrow.
Léo Primard who graduated from KEDGE's Grande Ecole Programme in 2017, has created the Twomorrow project. Formerly working as the Head of Marketing in a start-up, Léo left his job to start an entrepreneurial venture with his partner Célia Poncelin, a Sciences Po Paris alumna. They plan to spend six months travelling in Europe and explore some 20 different solutions already on the market that address climate change. Their objective to create a 250-page journal documenting their voyage, which will be printed in Grenoble on PEFC and FSC certified paper and delivered in December 2021 in time for Christmas.
The Twomorrow magazine project is intended to be positive. It was created to raise awareness of the climate emergency and to encourage both individual and collective action. In short, the goal is to put the focus on answers rather than problems. Léo and Célia have chosen to investigate twenty solutions that are being used across Europe in the most polluting industries.
On the programme are interviews with the founders and engineers, an explanatory section on the sector-specific issues faced by the companies they meet, further resources pages, and finally a travel diary to inspire people to travel differently.
Voir cette publication sur Instagram
"The companies we will visit must meet three criteria: they must have a real and proven impact on reversing the climate curve, they must be easily scalable on an international level, and they must be in one of the most polluting sectors, such as energy, agriculture, transportation, etc. More than 500 innovative measures have been triaged to keep only the most relevant."
Their departure, scheduled for the end of April, will take them through 15 countries. They will be travelling in a converted van, which they bought second-hand and renovated from recycled materials. They have also retrofitted the engine with a hydrogen injection system, to save energy and reduce CO2 emissions and pollution.
FIND OUT MORE ABOUT THE PROJECT
Célia and Léo have been named amongst the 10 activists of the Climate Generation to follow in 2021 by Les Inrocks and have already been interviewed by Maddyness and L'Express.
They've received a lot of support for this project, including sponsorship from the French explorer, speaker, director, and author, Matthieu Tordeur. The magazine cover was designed by Malika Favre, a French artist known internationally for her covers in Vogue, The New York Times, Vanity Fair, The New Yorker, etc. They are also receiving valuable support from: Serena, Leboncoin, Shine, Sycomore, Ma Bonne Étoile, C'est encore Loin, Reforest'action, Logikko, and GObyAVA.
---
SUPPORT THE PROJECT!
Célia and Léo are running a crowdfunding campaign for Twomorrow on Ulule until 30 April. They've already reached 100% of their goal, and are counting on reaching 200%. You can order the magazine and share their Ulule page to help them keep the project alive.
You can also follow them on Instagram or get their Newsletter. They are eager to bring their community with them on their adventure to meet those who are helping shape a more sustainable world. We wish them a good journey!
YOU ARE NOMINATED, YOU LAUNCH A PROJECT, A START-UP?