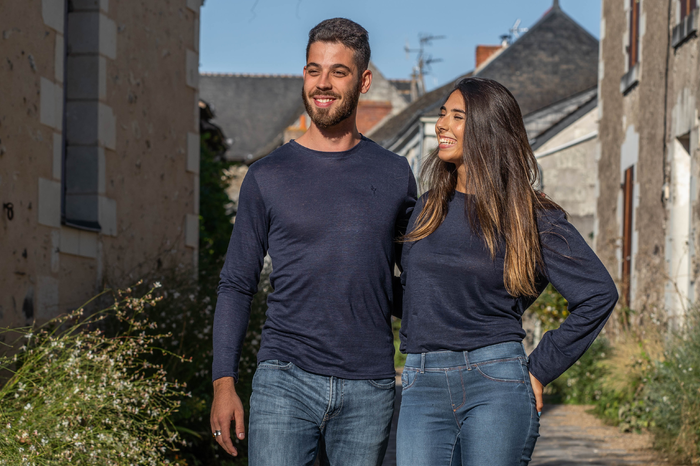 04/11/2022
This Kedger aims to conquer the "Made in France" market, with his brand Gratitude!
Jean Forestier (KEDGE Class of 2021) and his brother Pierre cofounded Gratitude, a linen clothing brand that's re-localising by making its products in France.
As they like to remind people, the fashion industry has developed a bad rap these past few years. Clothes are disposable and a t-shirt typically travels an average of 60,000 km before making it to your shoulders. That's one and a half times around the planet! However, there are better ways of doing things. Especially when we know that France is the world's leading producer of linen.
The problem is that,  80% of the fabric produced today is shipped abroad to be made into clothing products. So, the two brothers asked themselves how they could, at their own level, start from scratch and do something that makes a lot more sense. 
For nearly three years, they've offered an alternative to this un-ecofriendly practice with Gratitude,  that produces linen clothing that is Made in France.
Now they are back with a basic tee that you can wear all year long: a French-made organic linen long sleeve t-shirt. It's available for pre-order on Ulule. As usual, they are asking for their community's feedback to design a t-shirt that doesn't go out of fashion, which you will wear for years to come.  
A t-shirt that was created by seven  partner workshops and more than 120 French employees. The new Gratitude t-shirt is made in France, from organic linen. It respects the planet and was made to last. It also contributes to re-localising know-how to our regions thanks to a short circuit, transparent, and traceable production:
Their linen comes from the north of France;
Then it heads to Troyes to be woven by Bruno's company; 
Finally, the fabric is assembled in Gratitude's garment factory in Caen to create a t-shirt that supports the French economy.
SUPPORT THE PROJECT
The French organic linen t-shirt is available for pre-order on Ulule. Support their project and proudly wear the symbol of your support. 
YOU ARE NOMINATED, YOU LAUNCH A PROJECT, A START-UP?