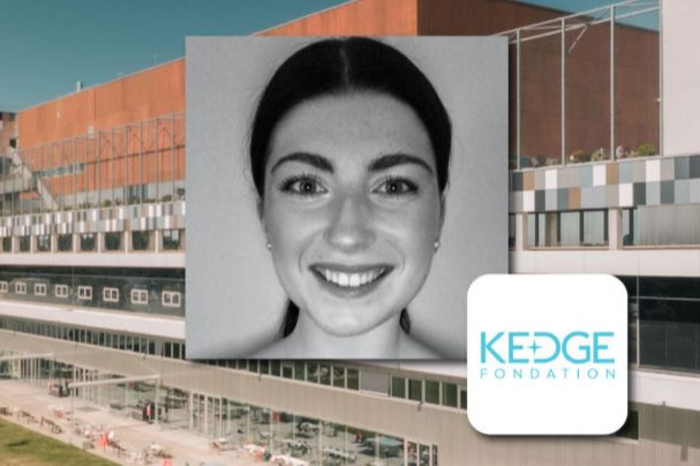 15/10/2021
"The KEDGE Emergency Fund helped me financially and morally during the crisis."
As an actor committed to solidarity and the well-being of its students, KEDGE has set up an emergency fund for the benefit of those students in difficulty. Claire, a student in KEDGE's EBP programme, is one such student.
INTERVIEW 💬
Hello Claire. Would you give us a brief introduction and say a few words about your course at KEDGE?
I started KEDGE's Bachelor European Business Programme (EBP) in 2016, which is a 5-and-a- half-year post-secondary school programme. I did it as a double bachelor/master degree in Germany. I also did several internships during the time I was there, which allowed me to discover the world of the hotel industry.
In 2020 during the Covid-19 pandemic, the company that had promised you an internship suddenly cancelled your contract. Explain to us what that meant to your life, your finances, and your education.
In March 2020, I was doing an internship in a hotel in a small village (no more than a thousand inhabitants) in Bavaria, on the Austrian border. My contract was terminated at the end of March after the first lockdown in Germany was announced. It was only the first month of the internship. Bavaria was one of the regions in Germany most affected by the pandemic. The termination of that contract meant that I no longer had a monthly salary. Financially, I no longer had a source of income. I couldn't go back to my parents in the South West for financial, logistical, and personal reasons. On top of that, I had to pay for insurance and loan repayments, as well as my living expenses... .
---
🤲Do you want to help students in precarious situations?
So please donate and encourage our students in their professional and personal projects.
Let's help our students to achieve their full potential by giving them back their confidence in themselves and their future thanks to your donations!
---
What's your current situation?
I am nearing the end of the EBP programme. The tourism sector has been very affected by the pandemic crisis. Nevertheless, I still want to continue in this sector and I'm currently doing my final internship at a five-star hotel in Lyon. I'm very lucky to have found an internship at a luxury hotel. I'll begin looking for a job in the hotel industry in the very near future and start paying back my loan.
Do you have a message for our donors and to those who may be hesitant to give?
I want to thank the donors who donated to the KEDGE emergency fund. It helped both me and my parents during this difficult time. I know that once I graduate, I'll contribute to the emergency fund. I was in a very difficult situation between March and May 2020.
The emergency fund has had more than a financial impact. I might have had to quit the EBP and probably wouldn't have stayed in hospitality. Without that valuable help, I wouldn't be as confident as I am now about starting my career.
YOU ARE NOMINATED, YOU LAUNCH A PROJECT, A START-UP?