31/05/2022
For the first time, KEDGE Business School is included in the top 50 ranking of the world's best schools, and is ranked as the 6th best French institution
KEDGE Business School has been ranked 38th in Financial Times' global ranking for Executive Education programmes, combining the intra-company (Custom programmes) and inter-company (Open programmes) rankings.
In gaining 22 places, KEDGE has made the 2nd largest progress in the 2022 ranking, thus becoming the 6th best French business school.
KEDGE is amongst the world's best schools for an Executive Education programme according to the reference ranking published by the Financial Times. In its 2022 edition, KEDGE has seen the 2nd largest increase in rankings, moving up 22 places. As a result, it is now ranked 38th alongside, not only the best European business schools, but also the best American, Chinese, and Australian schools.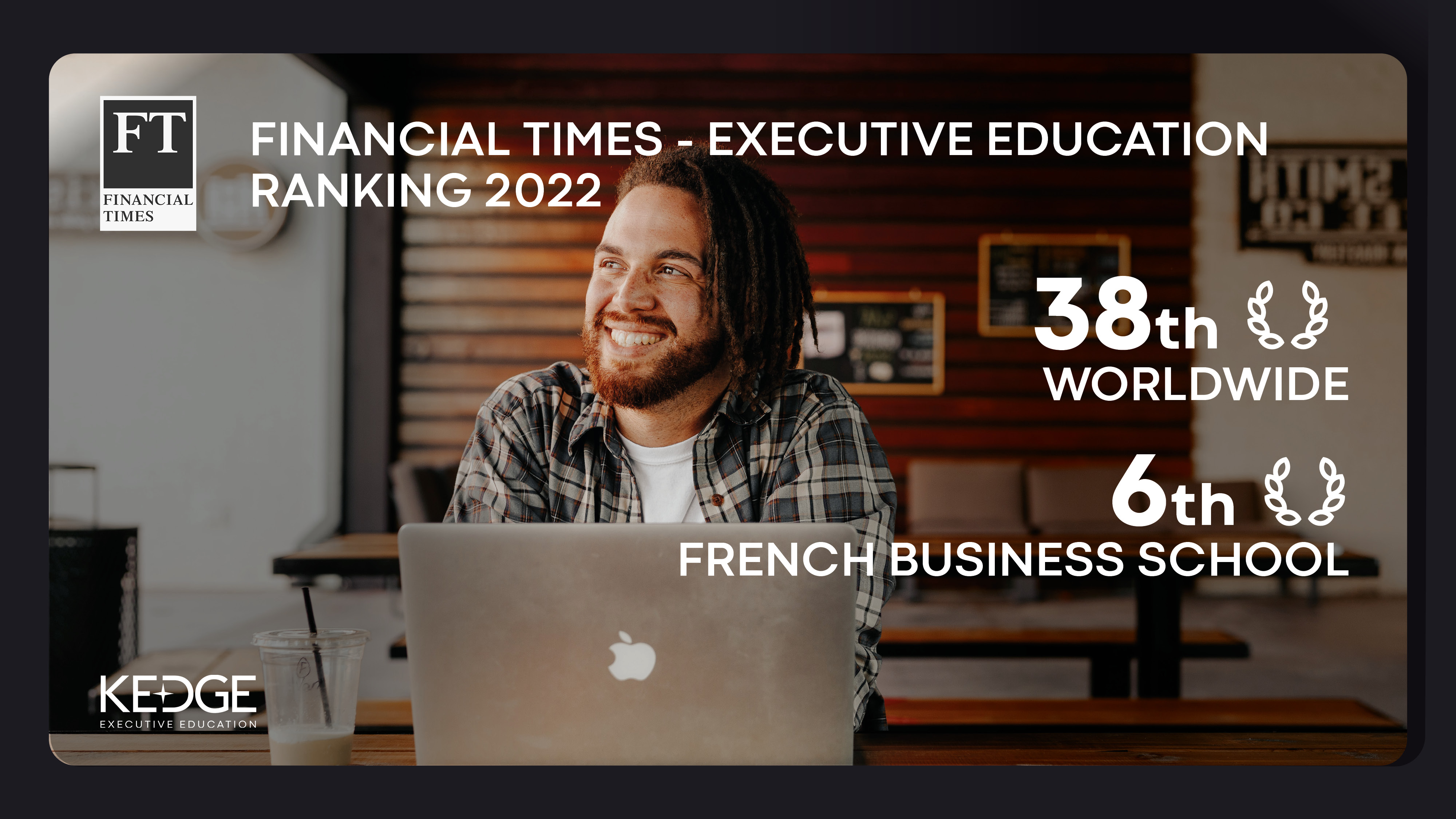 The Financial Times ranking of Executive Education programmes has two sub-categories: intra-company (custom) and inter-company:
For the Custom programmes category for French schools, KEDGE has seen the 2nd best progress, with 19 places gained. KEDGE ranks 52nd of the Top 70.
For the Open programmes category, KEDGE ranks 45th out of 65. It has moved up 26 places from its 2020 spot, which is the 3rd best increase in this category out of all the schools included.
This year, with 52% of its participants being women, KEDGE placed 9th of all the schools included for the feminisation of its Open programmes, making it the best French school.
This ranking confirms the international reach of KEDGE, for both the quality and innovation of its Executive Education programme, as well as for the professional success of its graduates," stated Jean-Luc Faye, Executive Education Director. He added,"This is a wonderful conmpensation for the work initiated and carried over many years. It demonstrates the value of our efforts for the companies that have confidence in us."
Press conference: Alexandre de Navailles, KEDGE Director-General, will meet the press at 9:30 am on Thursday, 23 June 2022, and will present the major advances of the KEDGE 25 strategic plan.
DID YOU GET A PROMOTION, OR ARE LAUNCHING A PROJECT OR A START-UP?