16/05/2017
The Agency SCOPE Digital was created by two KEDGE Alumni and won't stop growing!
Only two years after creating their agency, Joël and Damien (both ESC graduates, class of 2013) have already landed some major clients, including Fendi, Rolex, Bulgari, Veuve Clicquot, Clarins My Blend, La Maison du Chocolat, Moët Hennessy, Van Cleef & Ar
In this day and age, marketing is not only essential but it also changing at a crazy pace, it can often be difficult to find one's place in the communication sphere in Paris. Yet, it only took two short years for SCOPE Digital to make a name for itself in the field.
The dream team
SCOPE Digital was created by three associates, two of whom are KEDGE Business School Alumni (ESC 2013):
• Joel GRIFFAULT started his career in the industrial field working in the aerospace and telecoms sectors. He is passionate about new technologies and develop the curiosity and skills needed to grasp the technical aspects needed to develop the SCOPE product. A shrewd strategist and good with numbers, Joël brings to the table a long-term vision of the company due to his experience in business intelligence and strategy. Previously, he worked as a Business Intelligence Analyst in the Strategy Departement Orange with Business Services, Strategy Analyst in the Strategy Departement Strategy at EADS Astrium Space & Defense, Space Policy Analyst for M. Philippe Hazane, the Space Attaché at the CNES at the French Embassy in Washington DC,...
• Damien MONEL is, on his end, specialised in project management with a business focus. Therefore, he looks at the commercial position from every angle in industries, such as energy distribution. Il discoverd the media field when he worked on production and logistics management for major sporting events (Tour de France, World Cup, Olympic Games…). He loves meeting new people and traveling and speaks several languages. He is in charge of developing the business in France and abroad, notably in Brazil. In the past, Damien worked as International Media Rights Distribution, Business Developer at Amaury Sports Organisation, Deputy Venue Logistics Manager at HBS-FIFA, or as Venue Logistics Coordinator at the UEFA…
• Léa GRIFFAULT is a video director, chief editor for television and a professional photographer. More than anything she is passionate about creation. Among her many experiences, she grasped the constraints, requirements, and difficulties related to the artistic, technical and financial aspect of an audiovisual product. Thanks to her unique artistic viewport, as Artistic Director for SCOPE, she ensures the aesthetic coherence of the multimedia and audiovisual works produced by the agency. Previously, she worked for the Paris Fashion Week, M6 and the Groupe NRJ…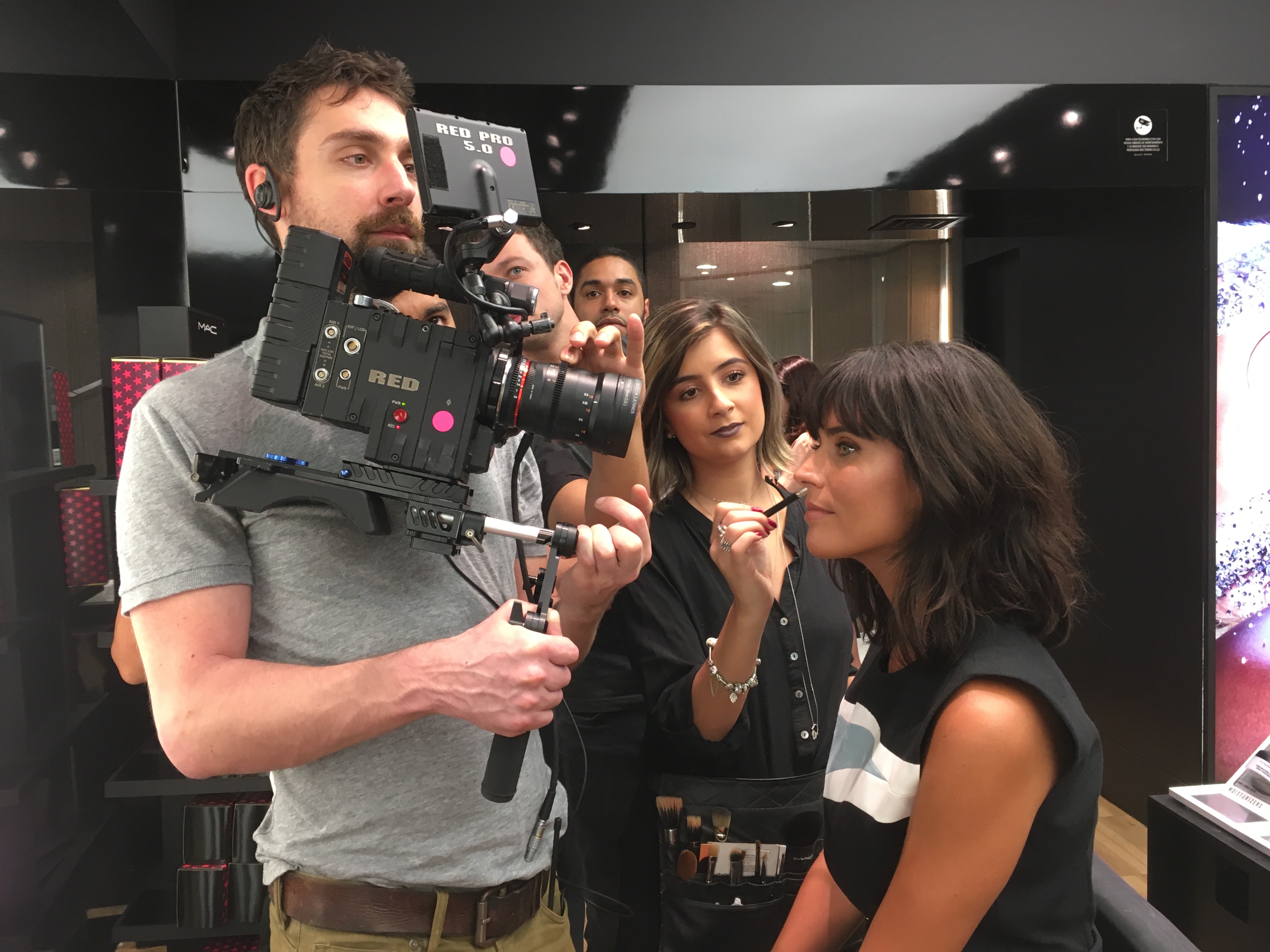 Fully anchored in the creation of content and user experience, SCOPE Digital is a communication agency based in Paris, working in the brand content market, which is rapidly expanding due to the new role and importance of social media in brands' communication strategies. The company specialises in audiovisual production and creating interactive content (films / photos / cinemagraphs / 360° / E-360° Commerce / interactive videos…). Independence, innovation, artistic sensibility, and a taste for risk are the founding pillars for SCOPE Digital, which was created in 2015. Léa brings the artistic vision that defines SCOPE's style, Joël structures and manages the team, and Damien brings the energy needed to develop the company. From the beginning, they wanted to step outside their comfort zone by targeting the coveted luxury industry, innovation, and the international market... A year after launching the agency, they produced their first TV/Cinema commercial in Brazil and directed a series of innovative and well-designed material (360° animation, cinemagraphs and film) for a Parisian company, which earned a special mention at the Grand Prix du luxe Stratégies.


A spectacular expansion, that they don't plan on stopping
In the two years since it was created, the agency has already won several awards:
2017 Challenges Magazine - TOP 100 Start up to invest in
2016 Stratégies - Special Mention at the Grands Prix Stratégies du Luxe Projet Hôtel JoBo (Production Agence So Bang / Directed by SCOPE including Film + Photos + video Cinemagraphs + 360° animated photo)
2015 Web Summit – Alpha Class Progam (Dublin)
2015 EU Brazil Connect – European Commission (entrepreneur exchange Brazil / Europe)
They already have several major luxury brands as clients (Fendi, Rolex, Bulgari, Veuve Clicquot, Clarins My Blend, La Maison du Chocolat, Moët Hennessy…), as well as a CAC 40 group in the energy industry. The agency was auto-financed their company with their own savings at the beginning. Now SCOPE's co-founders are looking for funders in order to support the accelerated growth of their activities in France and abroad (Brazil). This promising growth is illustrated, for 2017, by 250K€ in signed contracts and 270K€ in contracts currently being negotiated, as of May 15, 2017.
Damien et Joël are looking for:
- Funders/investors working in the advertising and/or communication sector (for a fundraising operation)
- Contacts with KEDGE alumni looking for an innovative and young communication agency
- International partners, notably in Brazil, to help them structure their activity.
Damien and Joël remember their time at KEDGE
"Our ESC degree taught us to be open-minded, to be able to adapt and to be curious regarding professional challenges. We were able to grow personally thanks to the classes offered at the school, to participate in educational projects with the school's associations, that taught us responsibility, and grow professionally thanks to the internships we did and to open up to the world beyond our borders thanks to the university exchanges that we were able to do in the US (Joël) and in Brazil (Damien). At the start of our project, the incubation at the Business Nursery and the support of Mme Feyrouz TRIPOTIN helped us structure our concepts in order to improve our business approach and financial resources. The support of specialists, including Mme Laurence BRICTEUX, the connections with "business angels", the access to specialised conference, and the constant monitoring of the startup ecosystem in France; the Business Nursery represents a real opportunity to start off a project in a stimulating and innovative environment" and that gave us the energy to continue to pursue our project despite the difficulties one faces with any new entrepreneurial project."
Their advice to future graduates
"Most of all you have to set objectives and give yourself the tools to meet them, know when to seize opportunities when they come knocking, but also how to create them, not be afraid of failures because they provide a chance to do even better in the future and to learn from our mistakes, stand together throughout the project, and surround yourself with good people (friends, family, partners, supporters). Be honest with yourself and your partners but most of all, don't promise the moon to your clients, the results have to meet the commercial expectations."
DID YOU GET A PROMOTION, OR ARE LAUNCHING A PROJECT OR A START-UP?