27/05/2019
PLANTUS®: sparkling drinks formulated by a Kedger!
After a successful professional career, 2018 KEDGE BS graduate Adrien Perret has launched PLANTUS®, a start-up that produces plant-based drinks.
Before returning to his passion for plants, Adrien devoted himself to achieving his various career aspirations. After studying engineering, his professional career turned to the sports and leisure sector (skiing and snowboarding), and then to aeronautics when he went to work for Airbus Helicopters as an Airframe Expertise Team Manager France.
In 2016, his passion for plants and beverages regained the upper hand and led him to question his career path. "I couldn't find healthy and pleasant-tasting alternatives to sugared water and drinks to provide refreshment. [...] So, I decided to create a company that offers the healthy drinks that I had started to make several years ago - drinks that contain the true flavours of infused natural plants," he told us.
To perfect his business creation and management skills, in 2017 he enrolled in KEDGE BS at its Marseille campus to earn a specialised Masters in Management, Strategy, and Financial Organisations (MSFO MS). "I started my business in May 2018 while still in school. Because I was searching for authenticity and truth, I did my thesis in November 2018 on Corporate Social Responsibility (CSR) and Sustainable Consumption," he explained.
The startup currently has two drinks on offer:
The first, "PLANTUS® Vallée" contains Vervaine, Melissa, and Mint, and is reminiscent of the natural environment of an alpine lake valley.
The second "PLANTUS® Calanque", contains Thyme, Rosemary, and Sage, and is reminiscent of the natural environment of garrigues and calanques (Mediterranean scrubland and inlets).
Made with 100% organic ingredients, they don't contain any sugar, sweeteners, colours, or added flavours. Without any flavour enhancers, the subtle and natural flavours of PLANTUS® sparkling drinks give your mouth a real taste experience. The finished product remains very close to the raw materials, to add naturalness and well-being to an original diet; in other words, "healthy".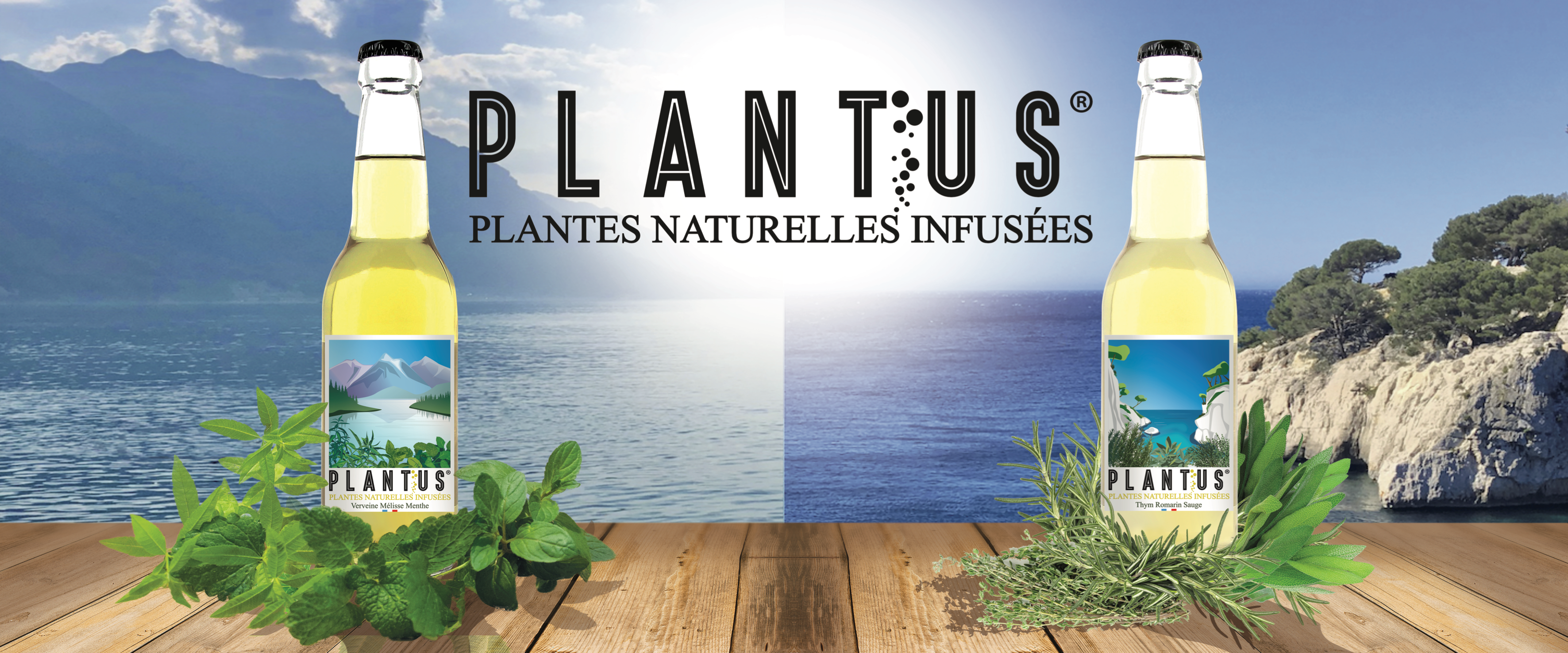 The idea for Adrien's venture didn't come out of nowhere: ​​"As a child in my native alpine lands, my grandmother introduced me to how generations of my ancestors used plants, such as using violets in herbal teas, or arnica and plantain to treat bruises. The grown-ups picked "génépi", which is used in liqueurs and herbal teas. As I got older, I discovered many other plants with very unique and appreciable flavours. I use all these plants in my PLANTUS® drinks, which are marketed by UI SAS. I currently handle the marketing for PLANTUS® drinks in addition to supervising all the occupations of my company. Some jobs are done in-house, while other functions are performed by partners under commercial contracts. I also occasionally use outside resources for short-term assignments. "
There's no need to boil water and then infuse the plants in sachets or in bulk. Now fuss-free, refreshing infusions of quality are available to consumers. PLANTUS® drinks are natural and ultra-refreshing to ensure healthy hydration after an aperitif, after sports, at brunch, during a gourmet meal, as a digestive, or simply for a refreshing break at any time of the day.
---
Adrien, anything to add?
PLANTUS® is taking part in the innovafood® 2019 competition.
Vote for us 25 May through 7 June in this online contest.
DID YOU GET A PROMOTION, OR ARE LAUNCHING A PROJECT OR A START-UP?