INVITATION to the CCI of Hong Kong
On 25 November 2020, The 10th Annual Sourcing Symposium Made in Asia - in digital format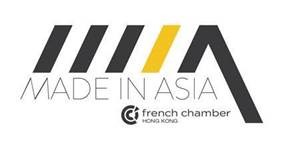 Emerging from the Crisis: Resilience in supply chains
The annual "Made in Asia Sourcing Symposium", an initiative of the French Chamber of Commerce and Industry in Hong Kong and members of its Sourcing Committee, will celebrate its 10th anniversary on 25 November 2020. For the first time ever, it will be held virtually, and will be accessible from all over the world, focusing on an issue at the heart of current events:
Under the direction of the Chamber's Sourcing Committee, procurement experts, suppliers, distributors, manufacturers, and digitalisation leaders will explore different ways to protect the value chain and reshape global sourcing.
Our speakers will examine what the growing attention to sustainability and deglobalisation means for supply chain stakeholders. They will shed new light on innovations and efforts to build resilience, optimise costs and limit risks, in order to prepare for future crises.
Participate in this annual major event for sourcing professionals in Hong Kong, a strategic global sourcing platform located in the heart of Asia.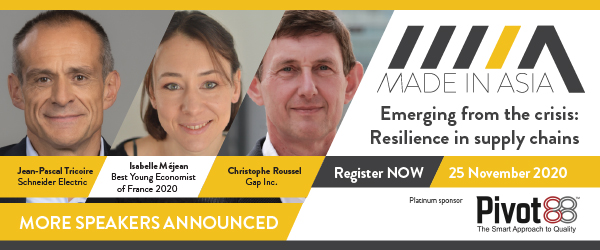 RENOWNED SPEAKERS:
Jean-Pascal Tricoire (PDG, Schneider Electric)
Isabelle Méjean (Best Young Economist award 2020)
Christophe Roussel (Vice-President, Executive Global Sourcing, Gap Inc.)
Anne-Laure Descours (Sourcing Director, Puma Group
Antoine Vanlaeys (Senior Vice-President Operations, Asia Pacific, L'Oréal)
Louis Kuijs (Director, Asia Economics, Oxford Economics)
Stephen Phillips (Directeur General, Investment Promotion, Invest Hong Kong)
Alexandre Mittet (Director, Casino Global Sourcing)
WHY PARTICIPATE?
Connect from anywhere in the world to discover sourcing in Asia
Benefit from the expertise of

20 high-level leaders

of businesses and organisations in their market
Expand your network through the virtual networking opportunities that arise during the day
TICKETS

Rates for members of the CCI and partner organisations - 350 HKD / 39 €

Kedgers benefit of the CCI member rate: 39 €

Non-member rate - 500 HKD / 55 €

DATE and TIMES - 25 November 2020

7:00 am to 12:00 pm – 12h00 (Paris)
11:30 am to 4:30 pm – (New Delhi)
2:00 pm to 7:00 pm – (Hong Kong)
5:00 pm to 10:00 pm – (Sydney)
About the French Chamber of Commerce and Industry in Hong Kong:
The French Chamber of Commerce and Industry in Hong Kong has been serving the interests of the French and international business community in Hong Kong for more than 30 years. Made in Asia is one of the most recognised annual events in the sector, offering a solid programme built under the direction of the Chamber's Sourcing Committee. Hong Kong has a strong supply chain management activity thanks to its status as a free port, its mature commercial infrastructure, and its strategic location in Asia. The Chamber helps companies to set up and grow in Hong Kong while creating synergies between the local and French business communities. Today, it has more than 800 members representing all business sectors in Hong Kong.