Would you like to know more about the KEDGE GLOBAL Executive MBA? Attend our information session
The KEDGE Global Executive MBA is changing! We are holding an information session to help you understand the details of the new programme, which will support your own transformation, that of your company, and that of your community.
During this videoconference info session, you will be able to speak directly with the Programme Director and members of the KEDGE Global Executive MBA team.
KEDGE's Global Executive MBA programme is intended for experienced executives and managers (with more than five years of managerial experience) and offers a prestigious business administration degree, taught in English, from a top-tier management school.
Recognised both nationally and internationally, the KEDGE Executive MBA has been ranked 5th in France and 42nd in the world by the Financial Times 2022. With this programme, you will be able to understand the energy, ecological, and geopolitical transition issues for informed and resilient decision-making.
CLEAR PERSONAL AND PROFESSIONAL OBJECTIVES:
Become a key player and driver of your company's transformation;
Increase your self-confidence and leadership skills to head a resilient company;
Advance to a general management position with cross-functional and sustainable responsibilities;
Meet and construct your vision with other executives and build a strong international network;
Become an effective leader by bringing innovative solutions to your ecosystem;
Refine/increase your knowledge in global geopolitics, finance, management, strategy, negotiation, digital transformation, etc.
ARE YOU A KEDGE ALUMNI? THEN YOU CAN BENEFIT FROM A DISCOUNT OF UP TO 25%!
Dues-paying members: 25% reduction
Non-dues paying members: 15% reduction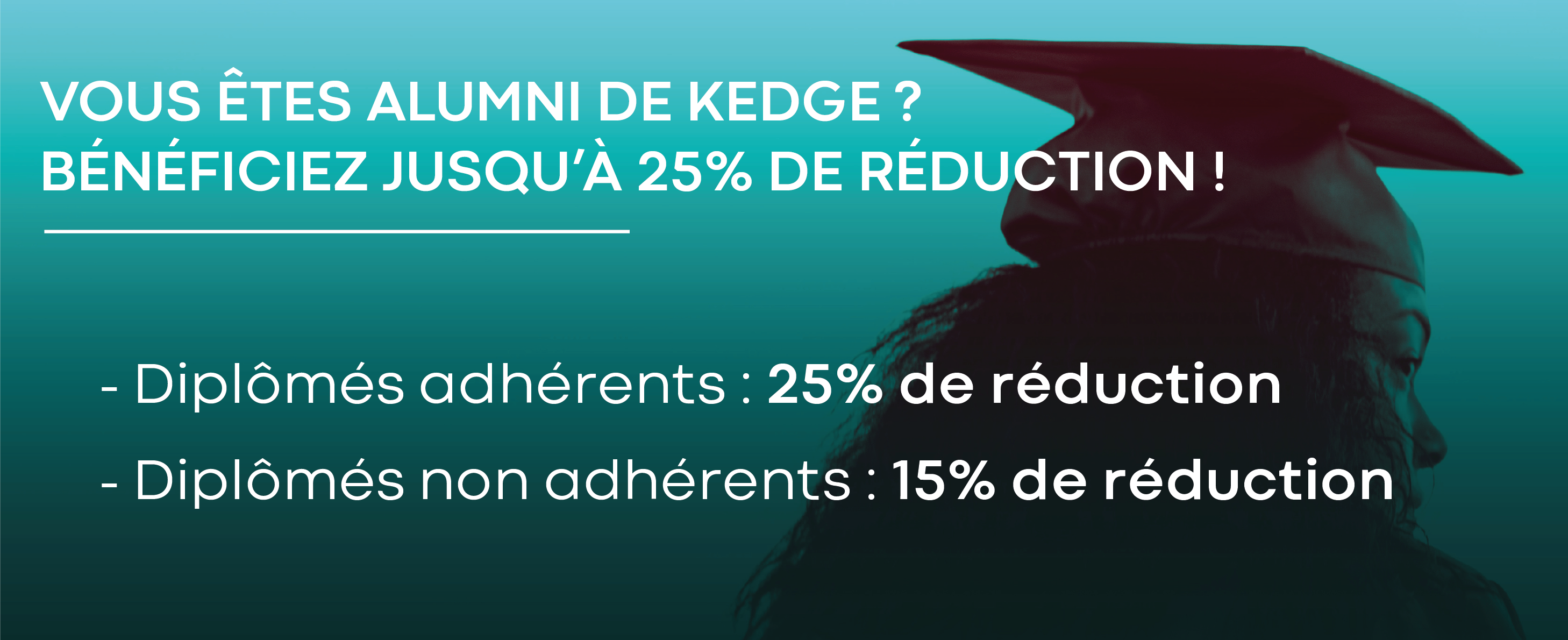 👉 FIND OUT MORE ABOUT THE KEDGE GLOBAL EXECUTIVE MBA
---
WHAT'S YOUR GOAL? Enrol in the KEDGE GLOBAL EXECUTIVE MBA programme (5th in France and 42nd in the world)
You already have a successful career but know that your ability to grow professionally depends on your ability to continually progress. You want to stimulate your intelligence, discover new ways of thinking, and learn from the best. So why not get an Executive MBA?
You will develop your management and leadership skills and be equipped to meet the challenges of the digital and ecological transitions that are just ahead. Gain perspective, expand your business vision, and acquire a deeper understanding of the new geostrategic and environmental (regulatory and financial) landscape to maintain your skills and make informed decisions.
This exceptional programme is a real opportunity to share and enrich your vision with other executives and build a network across a variety of sectors, in France and internationally, after receiving your Executive MBA.
🎬 Still not convinced? Hear from two graduates who've gone through the EMBA programme:
Bénédicte Germon
MBA Marketing & Development - Paris - KEDGE Business School

Email :

Linkedin :

Hervé REMAUD
Executive MBA Programme Director

Email :

Linkedin :