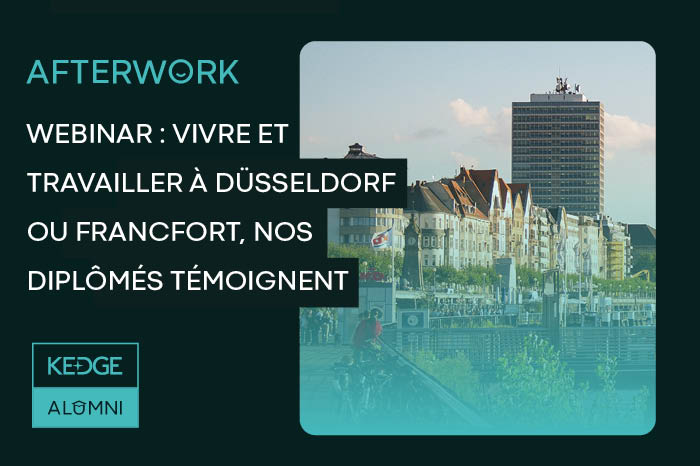 Webinar: Our graduates talk about living and working in Düsseldorf and Frankfurt
As part of our "KEDGE Alumni around the world" lecture series, 2 graduates living in Germany will talk about their experience there
Introduction 👋
Today, it's the city of Vancouver that will be studied and reported on by those who know it best: our expatriate graduates who, despite the distance, receive support from KEDGE Alumni throughout the year thanks to our range of online services.
SEE KEDGE ALUMNI SERVICES AVAILABLE TO THOSE LIVING ABROAD
Conferene objectives 🧭️
Run by our branch hosts and on-site alumni the teams of KEDGE Alumni, and in association with the members of the student association Forum Events, this participative conference strives to bring our graduates and students closer together, while answering the questions of Kedgers who are curious about living and working abroad.
Who's this online conference for? 👤
This conference is open to all Kedgers – both students and graduates, the entire KEDGE community (partners, teachers, staff, etc.), and anyone else interested in the topic. Have you dreamed about doing an internship abroad, attending a partner university, or moving abroad? Then this conference is for you!

Programme 📝
Vancouver: A city located in western Canada known for the quality of life it offers and its mild climate in a country that is generally freezing. One can actively take advantage of the ideal location between the ocean and the mountains. A major city in the middle of nature…....

do you want to know more?

Introduction by KEDGE Alumni
Conversations and discussions with Alumni living in Vancouver: What you need to know before deciding to live, whether temporarily or permanently, in Canada

QUALITY OF LIFE/ LEISURE ACTIVITIES

: Universities, accommodation, the healthcare system, transport, cultural spots, etc.
INTERNSHIPS/EMPLOYMENT/ECONOMY: The job market, major companies, promising sectors, professional opportunities, contracts, agreements, salaries, and good advice to find an internship, VIE, or expatriate contracts, etc…
... et les bons plans !

Questions and Answers
The Conference will take place at 5:30 pm France time!
It will be 7:30 am in Vancouver
Useful links

📎
---
Conference led by a student from the Forum Events Association

Since 1997, the Forum Events Association has promoted culture, current events and debate on the KEDGE Business School campus in Bordeaux by organising free conferences in liaison with prestigious speakers.

Forum Events also publishes the Forum, a student newspaper that analyses and deciphers current issues that influence society and the life of the school.

The association also administers several Pro-acts that focus on contemporary issues, such as politics, the economy, CSR, culture, and public speaking.
Pierre TURGOT
Financial Analyst - BNP Paribas

Elise DELAUNAY
Senior Assistant Operations EMEA - ECOVACS Europe GmbH

I've always been attracted to the international scene. As soon as I graduated from Kedge's "Grand Ecole" program, it was only natural for me to start my professional career with a V.I.E. (Volontariat International en Entreprise) near Dusseldorf in Germany as an A.D.V. (Administration Des Ventes) assistant in the textile sector. This country was not unknown to me, but I had a lot to discover on a professional level, and once the V.I.E. was over, I decided to continue the adventure on a local contract with the same company.

For almost 4 years now, I've been working in the operations team at Ecovacs Europe, an international company specializing in the development of intelligent, responsive solutions for smart homes.

After 5 years in Dusseldorf, I've come to realize that this dynamic region of Europe, with its wealth of opportunities, is still little known to many. I'd like to help as many people as possible discover it.

Email :

Linkedin :