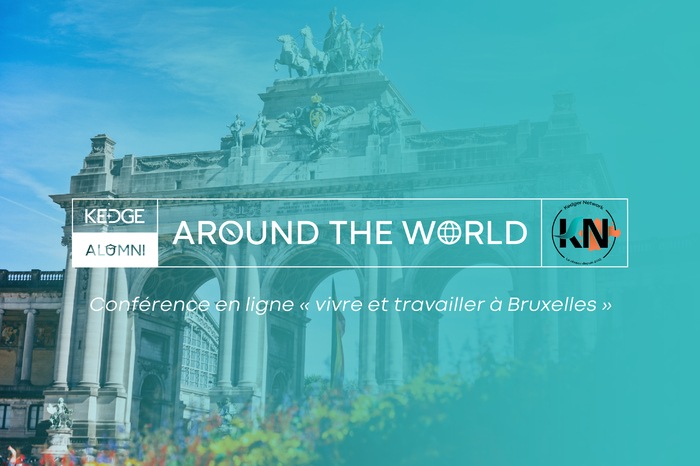 Online conference: Live and work in Bruxelles
As part of our monthly
Introduction 👋
Because of the current global health crisis, the 57 international branches of KEDGE Alumni have had to adapt. So this year they are holding a series of conferences highlighting a city, a country, or a region of the world.
This time we look at Brussels from the perspective of those who know it best: our expatriate graduates who receive support from KEDGE Alumni throughout the year, despite living far away, thanks to our range of online services.
SEE OUR SERVICES FOR ALUMNI LIVING ABROAD
Conference objectives 🧭️
Led by the KEDGE Alumni teams, together with the students of the Kedger Network Association, branch managers, and local graduates, this interactive conference strives to bring our graduates and students closer together and answers the questions of Kedgers who are curious about living abroad.
Who's this online conference for?

👤
This conference is open to all Kedgers, whether graduate or student. Have you already received your degree and want a change of scenery? Are you a student and want to do an internship in this region of the world? Or are you a Kedger who is simply curious about the experiences of Alumni with a different path than yours? Then this conference is for you!

Programme 📝
Introduction by the KEDGE Alumni network
Exchanges and discussions with Alumni living in Brussels: What you need to know before choosing to live, whether temporarily or permanently, in Brussels

Employment: salaries, local companies, the local economy, risks and opportunities associated with your own business in Brussels today, the local Alumni network
Internships: the openness of the country to interns, advice on finding an internship, companies that are recruiting (internships & jobs), start-ups, etc.
Environment and living there: security, freedom of movement and expression, climate, transportation in the city and throughout the country, the lifestyle of those living there: habits, traditions, culture, etc.

Questions / Answers
USEFUL LINKS 📎
---
Conference led by students of the Kedger Network Association

Kedger Network is the school's sports and cultural events association. More than just an events association, its team has a key role: it brings together students and professionals. This helps meet the main challenge of any newcomer to a business school, which is to know what makes up the network. Created in March 2015, this young and dynamic association has seen its projects grow and develop from year to year.
Rozenn MARECHAL
Public Affairs Experienced specialist - Brittany Region European Office

A 1998 KEDGE graduate, Rozenn works in European public affairs. Rozenn has held several positions of responsibility in companies, professional unions, and institutions. She now works at the Permanent Delegation of Brittany to the EU on R&D, transport and social affairs issues. She has lived in Brussels for 20 years and has managed the KEDGE Alumni branch there for several years.

Linkedin :

Randolf DE CAT
Senior Client Manager - Global NTT

After graduating in 2005, Randolf advanced in his career at Dimension Data (which became NTT in 2019) over the last 10 years. In 2014,he transferred to Belgium. He currently holds the position of Senior Client Manager in the company's strategic corporate accounts team.

Linkedin :

Benoît TOURNANT
Management Consulting Procurement & Supply Chain Advisory Services - KPMG

A 2015 graduate, Benoît moved to Brussels after spending time in the United Kingdom, which piqued his interest in living abroad. After working as a senior buyer at a financial group in Brussels, Benoît turned to the corporate consulting sector. He is now a Manager Advisor in Procurement & Supply Chain for KPMG Advisory.

Linkedin :