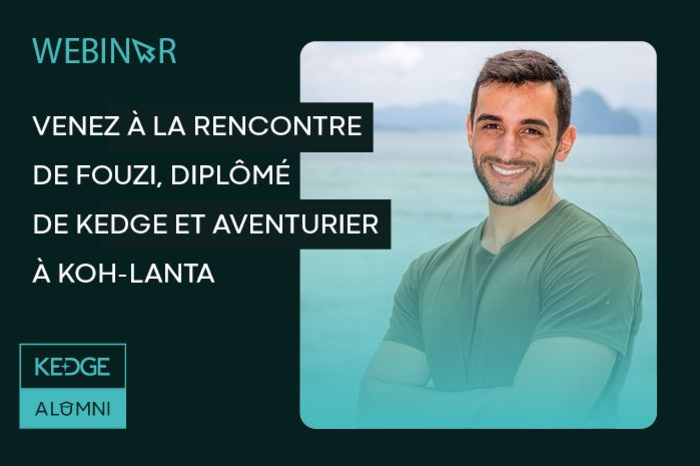 Interview, testimonial, and questions and answers with Fouzi, KEDGE Alumnus and Koh-Lanta adventurer
An overview of his studies at KEDGE, his career path and his adventure on the reality show, Koh-Lanta.
Meet Fouzi OULD BOUAMAMA, KEDGE graduate and participant in last season's Koh-Lanta adventure, via a KEDGE Alumni online conference. Don't miss the chance to ask him all your questions and find out about his career path and get his advice.
---
👉ON THE AGENDA:
Introduction by the KEDGE ALUMNI team
A description by Fouzi OULD BOUAMAMA of the Grande Ecole Programme he completed at KEDGE, his first positions after graduation, his challenges, his professional experiences, etc.
His appointment as Group Financial Director at Montreux Comedy
His participation in Koh-Lanta and his remarks on the experience
Conclusion with a question and answer session
---
👩‍💻 Information and registration
Who is this Webinar for? Whether you're a KEDGE graduate or a student (or simply a fan of the reality show Koh-Lanta), interested in this event, you're welcome to attend!
How to attend? The event will be held by videoconference and is therefore accessible to EVERYONE, whether in France or abroad! You will receive a link the day before the session that will allow you to join the conference.

Join us

on Wednesday, 26 October from 7 to 8 pm
If you'd like to learn more about Fouzi, we interviewed him in March 2022.
Read the article here👇
Spoiler: He shares his best moments in the show!