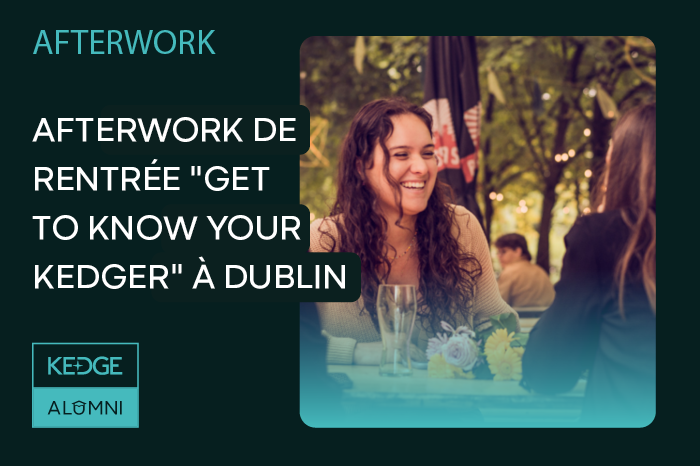 Get to know your kedger" afterwork in Dublin
Enjoy a convivial moment between kedgers living in or visiting Ireland
To get the year off to a good start, your KEDGE Alumni Dublin branch invites you to a special back-to-school networking evening!
For this afterwork,
🗓️
Tuesday September 19th 2023
Starting at 6.30pm
For this "get to know your kedger" evening, your antenna hosts Camille TOUSSAINT & Gaël MOSENEGO invite you to meet up at The House Dublin bar 🍻
From the ambience to the quality of the food and drinks served, this is an establishment that has not finished making a name for itself. The House Dublin, located on Leeson Street, occupies two charming-looking Georgian townhouses. Its exterior is already welcoming. Wait until you step inside and discover the elegance of the place.
The ideal bar for local kedgers!
Don't miss this evening and join other members of the community! It's the perfect time to share your experiences and maybe find some new opportunities.
Confirm your attendance now
Camille TOUSSAINT

Entrepreneuse dans l'âme et ayant un esprit de conquête, j'aspire à travailler sur la vision stratégique d'une entreprise, à faire du liant entre les différentes parties prenantes et à développer ma capacité à apporter des solutions. Ainsi, j'aide aujourd'hui les PME, start-up et scale up françaises dans leur croissance en ligne en tant que New Business Account Manager à Google Diplômée depuis septembre 2021, et à Dublin depuis août 2022, je profite de la culture locale et reprends fièrement l'antenne Kedge Alumni.

Email :
Location
About Your Event
The House
26 Leeson Street Lower
Dublin