14/01/2019
Alumni Interview | George JI: Unforgettable Years in Hospitality
George JI, KEDGE-SJTU Global MBA 2011 Intake, Director of Procurement, AccorHotels Greater China
With almost 30 years of experience in high-end hospitality industry, George has been in charge of a considerable number of pre-opening and rebranding projects in China for many foreign-funded hotels (e.g.: Novotel under AccorHotels, Crown Plaza hotel under IHG, Peninsula Hotel, Mandarin Oriental Hotel, Ritz-Carlton Hotel under Marriott Group, etc.). He is the participant as well as the witness of the entry and the development of foreign-funded hotels in China Market.
Expert in F&B cost control, pre-opening purchasing, operational management, import and export laws and logistics/supply chain, he has obtained a series of certifications such as CPP & CPPM (Certified Professional Purchasing Manager), IFA (The Institute of Financial Accountants), FE (Financial Engineer) and FChFP (Fellow Chartered Financial Practitioner), etc. He is now Director of Procurement at AccorHotels, a worldwide leader in hospitality with over 4,000 hotels located in 95 countries.
Green Hand in Hospitality: A change of mindset in the eastern and western cultural collision
In the late 80s, with the policies of reform and opening in China, the first joint ventures were established and the hospitality marked its initial step towards its future boom. At university, majors aimed at foreign affairs became highly sought after and the young generation flooded into the field of external services instead of state-owned enterprises. Following the trend of learning from the west, George made the decision to start his career at joint venture hotels.
"At that time, working at joint venture hotels was really an enviable job, but little was known about the difficulties behind that bright and neat image." For a young man like George who just started working, the impact brought about by eastern and western cultural collision was significant, "we were under great pressure caused by problems such as the linguistic and cultural differences, the unknown and rigorous modern management ideas and models, the fast-paced and highly intense pre-opening works, etc. One can hardly make it through without resilience and determination."
Even now, the memory of these early days stays vivid in George's mind. He cherished the bitter-sweet experience a lot as for him, it was exactly that period of time that allowed him to achieve a change of mindset from "we can solve any problems if we have passion and enthusiasm" to "when faced with problems, a general service spirit of co-benefits and cooperation is a first and a must".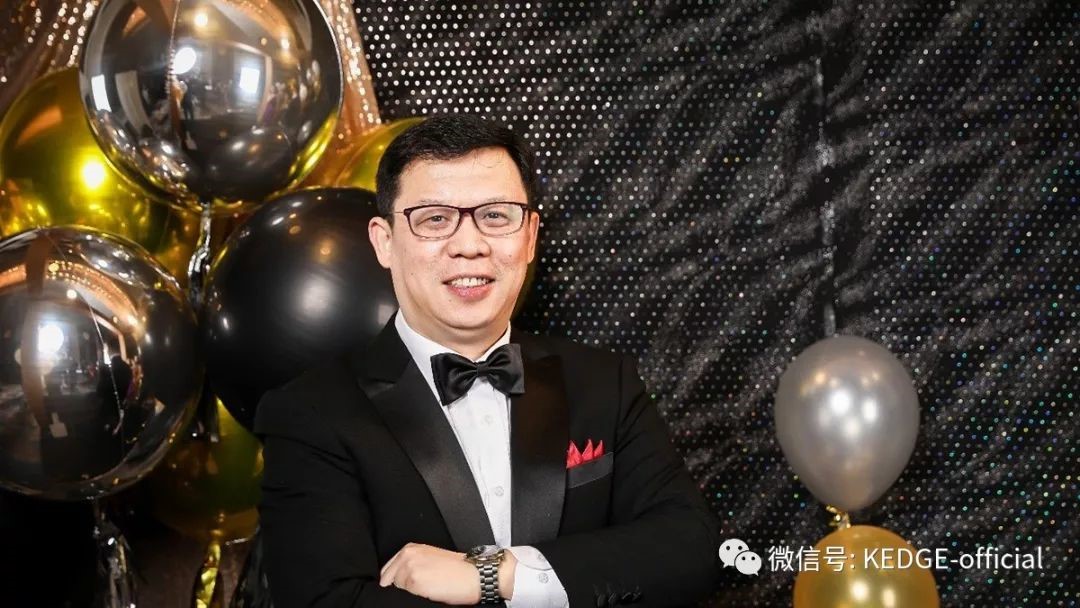 In those days when job opportunities flourished, people working in the hospitality industry would seek for a job hopping normally within 2 years while George chose to spend 4 years for the first job he had in the same hotel. "At that time, work meant more than just promotion and salary increase. Many people, I included, dreamed of making our own contribution to the western development in west China, and that's why I joined the taskforce designated to Chengdu, in charge of the opening project of the 1st foreign-funded hotel and later on that of the hotels of other foreign brands." As a local expatriate who had a good master of western way of working and management, George, with the help of his team members, brought the advanced hotel management models to these regions. With many projects successfully completed, they became subject to the local media spotlight and were presented as the example of the new way of thinking and the rising industry. The specific sense of accomplishment was also one of the reasons why George devoted himself to the hospitality industry.
Personal Growth: Skills cultivated in tune with its times
By the end of the 20th century, the world of work was profoundly affected by the popularization of the Internet. One of the first hospitality practitioners who got access to the Internet, George, with his rich experience and knowledge in hotel management system, was often sent to other cities like Hangzhou and Qingdao to assist the local team for the opening projects as well as the learning of new working tools like "E-mail". However, regarding the "Y2K problem" in 2000, George was no longer satisfied with being only a system user, he wanted to learn how to maintain the system stability, guard against system security hidden damages and implement risk prevention.
"It was a period of time when the Internet enjoyed a rapid growth and a great number of websites were created for doing business online. Finding it worth trying, I, with several partners from Hong Kong, built an online B2B platform for hotel purchasing." Although the platform came to an end at last together with the termination of the Internet bubble era due to reasons such as low levels of access to the Internet, lack of customary use, tedious and cumbersome operational requirements etc., it was not considered as an attempt of failure in the eyes of George: "Indeed, the platform didn't bring me the business outcome expected, but I have gained, thanks to this experience, the IT knowledge and skills that play an essential role in today's digitalised world."
After that, George went back to the hospitality industry, taking care of the cost control and purchasing work in Peninsula Beijing (Wangfujing). Since foreign luxury brands were not yet entitled to business licenses in China at that time, one could only find their boutiques in luxury hotels. Purchasing Manager at Peninsula, George was also in charge of the customs declaration for these brands. Through this job, he got the chance to know about their business in China and mastered the import and export laws and the operational procedure. Since a big part of the income for the hotel came from the rental charges paid by the brands boutiques, an employee familiar with the brands and the customs declaration operation was very much appreciated. "Whether in the area of IT or that of import and export trade, the knowledge and skills that I've required have not only helped me achieve professional promotion, but also enabled me to be more competent in later career development and to see things in a deeper and more comprehensive way." Said George while reviewing these experiences.
High-end Hotels: Top-level service and humanistic care
For the general public, the high-end hotels are symbols of luxury and social status, while for a senior hotel practitioner, they stand more for an insistency on top-level service and humanistic care. From Peninsula to Ritz-Carlton, from Mandarin Oriental to AccorHotels, the career path of George was also the process in which he came to understand, define and redefine the true meaning of "service" and "luxury".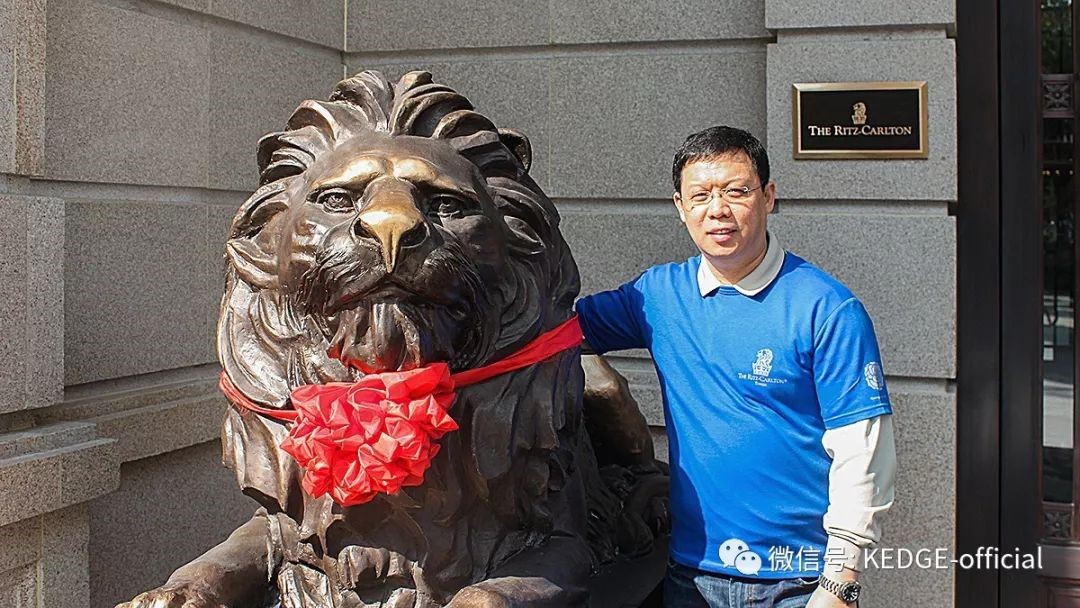 To give us an example, George shared his experience in Ritz-Carlton, Peninsula and Mandarin Oriental. In 2006, when the Ritz-Carlton Beijing (Financial Street) was under opening preparation, George joined the opening project team. There, for the first time, he realised the vital importance of "service", a soft power that promotes the enterprise development with the support of infrastructures and facilities of high quality. For example, in Ritz-Carlton, the corporate culture advocates a "Ladies & gentlemen services ladies & gentlemen" service spirit based on equal human relationship, which enables hotel professionals to raise their self-confidence and maintain a very rigorous self-discipline so that they could provide better service to customers. In another example, the hotel insists on the idea that the employees should not limit their service to past experience, but try to tap into customers' potential needs and allow them to be understood and satisfied before they turn to verbal exchanges. Moreover, an exceptional three-step service is strictly observed, including the requirement that hotel professionals should see their customers off until they are completely out of sight. It is exactly thanks to this corporate culture and spirit, Ritz-Carlton becomes the gold standard in the service industry. And deeply influenced by the years spent there, George still keeps the same service spirit and habits in today's work.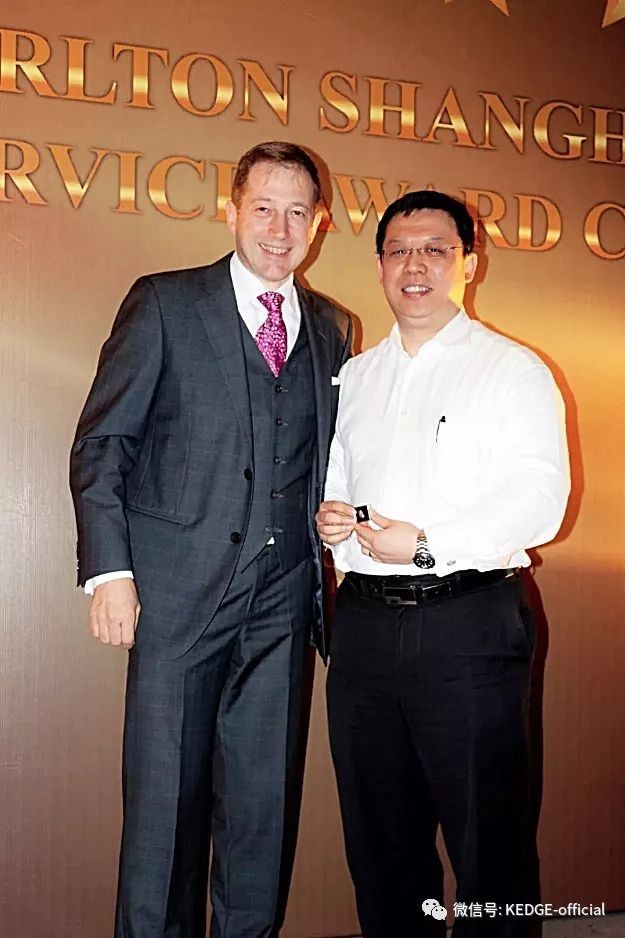 In addition to the top-level service, "luxury" also lies in the humanistic care provided by high-end hotels. In Peninsula and Mandarin Oriental, hotels adhering to the self-effacing and details-oriented eastern culture, George learned about a service concept that makes "distance" and "privacy" as its core principles.
"We always talk about how to make customers feel at home, but what is exactly the kind of service that could really make people feel that way? Compared to responding immediately to their needs, maybe keeping proper distance and giving enough space could strike more to the very core." The caring and considerate details contained in the services in Peninsula and Mandarin Oriental inspired George and led him to re-examine his attitude and behaviours towards others in the workplace, "After we have mastered proficiently the social skills, we need to spend more time on putting ourselves into others' position, caring about the feelings of all stakeholders such as our customers, colleagues, business proprietors and vendors to nurture the relationship in a warmer way."
MBA Education: An integrated improvement in management
Like many executives of top management, George made the decision to participate in an MBA programme during the period of his career bottleneck. He was not yet employed by AccorHotels, but identified with the value of "individuality" to which the French culture attaches great importance. Apart from this, his aspiration for an international learning environment also encouraged him to make KEDGE-SJTU Global MBA programme his final choice.
"MBA is a platform where you can make up for the structural lacks in your management knowledge. The courses help you to reach an integrated improvement of management ability and the exchanges with participants from all kinds of industries led you to walk out of your zone for more knowledge and a broader perspective." Said George recalling the impacts brought by his MBA experience.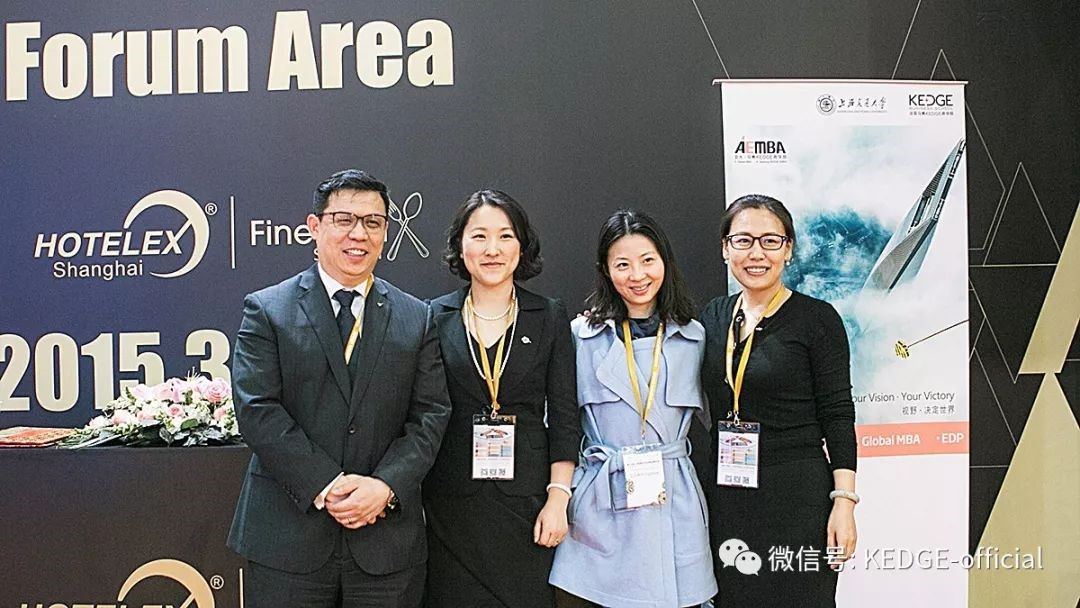 In George's point of view, it is exactly the MBA study that has freed him from the idea of "performance orientation as the measurement for all work" and equipped him with a holistic perspective. Furthermore, the courses on CSR and supply chain management opened his eyes and offered him a new understanding of modern business.
Concerning the time management often brought up by many MBA participants, George suggested that people follow their steps to "race with the time":"Wechat was then not yet popularised and we had very limited time after class for group discussion and assignments. So we tried to make every minute count by raising all the questions at class and completing our schoolwork during class breaks. It turned out to be a very efficient way of learning and alleviated the burdens for our daily work." Through this, George also realized that "the personal value will only be maximized when it serves the majority": "Within a limited time, everyone fights for the same goal. It requires not only that you express your ideas as briefly and clearly as possible, but also try your best to understand others' point of view. It is more challenging when you have to deal with frequent group rotations, but at last, it does help your personal growth in an accelerated way. "This kind of precise efficiency is also reflected in George's work at that time. During the MBA, he accomplished the opening planning and training work for 3 Ritz-Carlton hotels in first and second tier cities in greater china.
Future Plan: Digital purchasing and sustainable management in hospitality industry
Speaking of the future development, George has three visions for the hospitality industry. At first, in order to promote the ever-developing purchasing and supply chain management, he intends to make most of the leading and advanced online purchasing platform in China to build an early warning mechanism of hospitality suppliers' integrity and an open manifest digital system for their certifications and accreditations. And when it works well, he hopes to promote the implementation in the whole industry.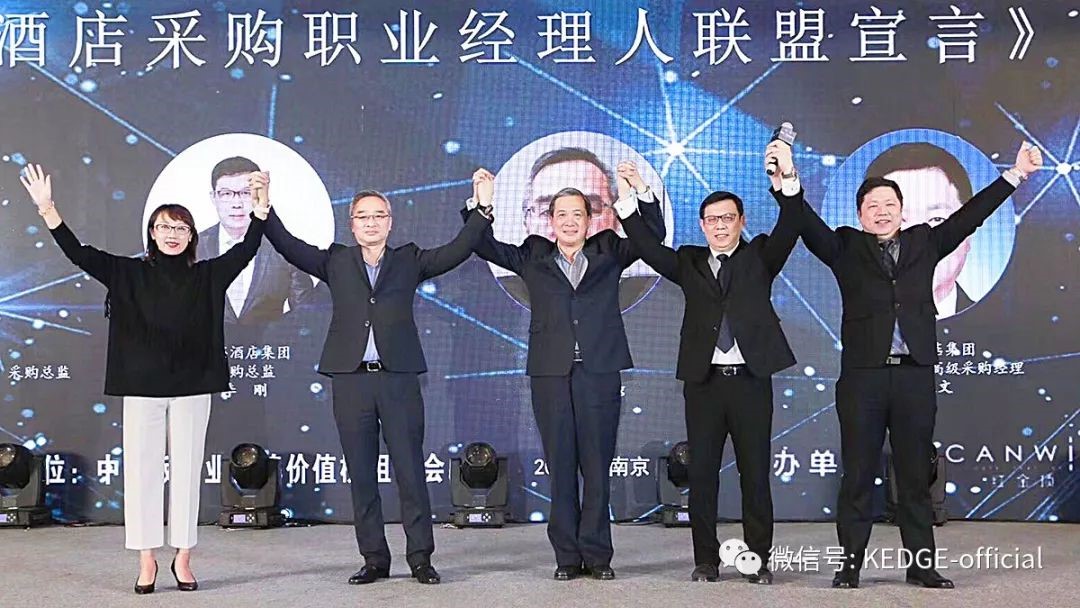 Secondly, he wishes to contribute to the sustainable development of local hospitality industry by breaking the isolation of hotel groups from one another in China and creating a bigger union to implement "the homing of migrating birds", a project aimed to facilitate the mobility of hotel professionals and to improve their life quality (as many leave their hometown for work, the union of hotels can help them to have both family and career life in the same city). The main idea is to make the professionals to have a sense of belonging not only to the hotel he or she works for, but also to the big family of hospitality industry.
At last, he hopes to promote a more balanced landscape of hospitality industry in the future. With the support from unions of hotels in greater china and from the theories such as TOC (Theory of constraints), Lean Production, Six Sigma, etc., he plans to create a data & case sharing platform with the objective of bringing more efficient and transparent models of partnership that will improve the global competitiveness of hotels and all the stakeholders both upstream and downstream of the supply chain in greater china. He believes that with better profitability, productivity and services, our Chinese suppliers could also go global and share with the whole world their excellent products and services.
"I've worked almost 30 years in hospitality industry and have participated in and witnessed the ups and downs. In the future, I will continue to devote myself to making more contributions to the hospitality industry in China by use of my experience and strategic vision."
VOUS ÊTES NOMINÉ(E), VOUS LANCEZ UN PROJET, UNE START-UP ?