Conference in Los Angeles
French Cluster Conference - Business & Economy in Los Angeles
Avis aux diplômés de Los Angeles !
Bérengère Ferrier, Gratuated 2003, Member of the board of Kedge Alumni, is pleased to invite Kedge Graduates to the :
FRENCH CLUSTER CONFERENCE - Business & Economy in Los Angeles
by French Cluster - Los Angeles
Tue, May 14, 2019
A first and unique conference about Los Angeles business and history, seen by the French working and living here for decades. They will share how they have seen the city evolving though decades, and their vision of the future. The main focus will be: how the city we know today has been shaped by history, business, and what is ahead for entrepreneurs and investors. Speakers will also touch on the role of the French in history of LA and current presence.
SPEAKERS
Helene DEMEESTERE - Historian & Curator at HISTORICALLYCORRECT
Thesis on XIX century immigration to California California History, Los Angeles History, Food history,Historic preservation French Immigrants and the nineteen century American West. Helene is French, she has been living in USA for 25 years.
https://www.linkedin.com/in/helene-demeestere-07059510/
http://www.historicallycorrect.com/
Franck MORINEAU - Principal at WILSHIREWEST
Experienced Principal with a demonstrated history of working in the commercial real estate industry. Strong education professional skilled in Negotiation, Retail, Sales, Asset Management, and Management. Franck is French, he has been living in USA for 30 years.
https://www.linkedin.com/in/franck-morineau-8292a514/
http://wilshirewest.net/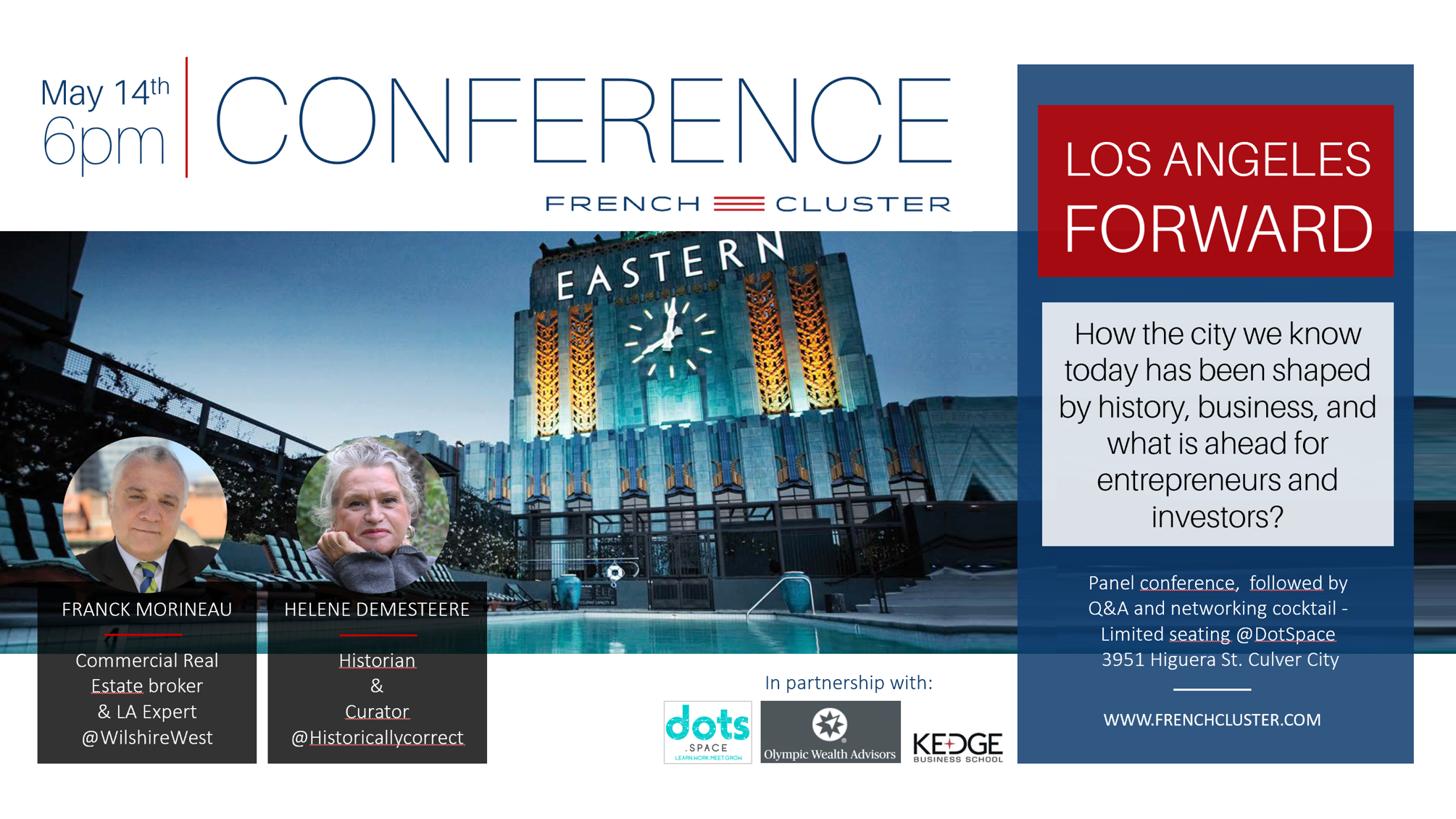 AGENDA
Panel conference, followed by Q&A and networking cocktail - Limited seating
Bérengère FERRIER

Bérengère Ferrier is a seasoned strategy and marketing advisor who specializes in brand strategy. She is originally from Toulouse, France, and is a contemporary art enthusiast. For more than ten years, she has managed the design and execution of various brand strategies and multichannel communication plans. She began her career at Airbus Helicopters, and then joined Saatchi & Saatchi, Publicis. As a Group Account Director, she worked for many large companies with strong global marketing track records. Her experience includes advertising campaign management with an emphasis on mixing print and digital media. Her primary focuses were advising strategy and strategic planning, creating advertising campaigns, and spearheading launches of products and services. In 2013 Bérengère created CREAVILIA in Los Angeles. CREAVILIA is a strategy and marketing advising company, enriched by both French and American clients. This cultural duality makes it unique and constantly nurtures its creativity.

Email :
Localisation
De Votre Évènement
DOTS SPACE - Culver City
3951 Higuera Street
Culver City CA 90232 Los Angeles